Under government oversight, Lawmaker says that Crypto mining and gold-backed stablecoins may be permitted in Russia. This declaration comes in response to the Bank of Russia's proposal to prohibit cryptocurrency mining and trade.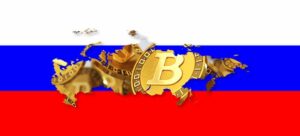 Cryptocurrencies should not be openly distributed because they pose a risk to unqualified investors. However, according to Vladimir Gutenev, Chairman of the Governmental Duma Committee on Industry and Trade, Russia may enable gold-backed stablecoins and cryptocurrency mining to be done under state control.
Lawmaker says that Crypto mining and gold-backed stablecoins may be permitted in Russia
On Thursday, the Central Bank of Russia released a consultation paper outlining the central bank's entire views on cryptocurrencies. Coin transactions through Russia's financial system, as well as crypto investing, trading, and mining within the country, would be forbidden, according to the monetary authority. The trial phase of the bank's digital ruble effort has begun.
Although Gutenev agrees that cryptocurrencies must be banned, he believes that Russia may still employ a stablecoin valued in gold and stored under government supervision. A solution like this would appeal to both private investors and businesses. It might also be used as a savings tool, according to the Prime business news portal.
The gold-backed stablecoin, according to the MP, may resemble the ruble. Russia can utilize it to get around sanctions and circumvent the containment policy imposed on the country. This coin could potentially be used to promote regular, open, and transparent international business connections.
Gutenev said he discussed the proposal with CBR Governor Elvira Nabinullina. Gold, as an asset rather than a reserve currency like the US dollar or the euro, according to the chairman of the Industry and Trade Committee, is undervalued.
According to Russia's Ministry of Foreign Affairs, the dollar may be replaced in part in currency reserves, trade settlements, and the exchange rate with foreign currencies. It could potentially be interesting in purchasing digital assets. Moscow is focusing on "de-dollarization" in the face of growing US sanctions, according to Deputy Foreign Minister Alexander Pankin in an interview with Interfax.
In response to the Bank of Russia's request for a ban on crypto mining, Vladimir Gutenev stated that he believes cryptocurrency farms can operate legally if their activities are strictly regulated by the government. Miners can benefit from Russia's abundant energy and excellent climate conditions if their operations are run transparently and pay all taxes.
After the enactment of the law "On Digital Financial Assets," a working group at the State Duma, Russia's lower house of parliament, is now preparing ideas to solve the regulatory gaps in the Russian crypto market. Its members are intended to address unresolved issues in a variety of sectors, including the legal status of cryptocurrencies, cryptocurrency trading, and mining. According to media accounts, not all government officials are on the same page.
If you find this article informative then do share it with your friends and family!
Also read: Everything You Need to Know About Moss Carbon Credit