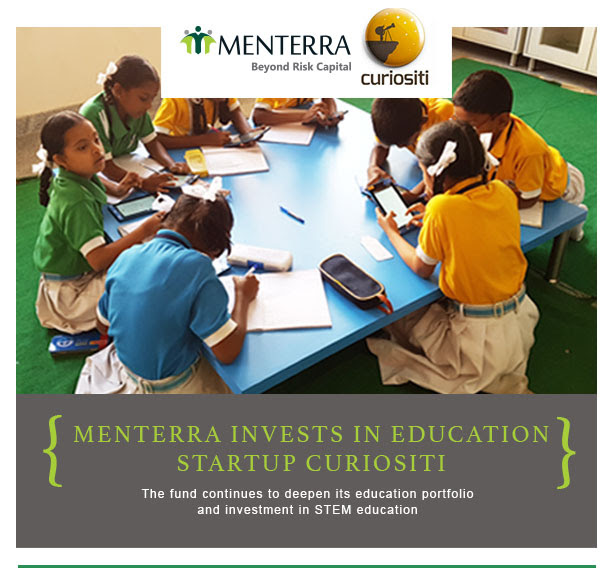 17 January 2017, India:
Menterra has announced its latest investment in the education sector – Bengaluru-based Curiositi Learning Solutions, which develops learning programs that uniquely integrate the benefits of activity-based learning with personalized software. Existing investor, Unitus Seed Fund, also participated in the round.
Co-founded by Manoj Thandassery, Vinod Abraham and Sathish Hariharan, Curiositi has over 20,000 paid subscribers benefitting from its science and mathematics program. The company plans to cater to 100,000 students in the next two years as it works towards the goal of impacting a million students.
Vinod Abraham, Co-founder, Curiositi Learning Solutions said, "Over three years, we developed an exciting, comprehensive activity-led program for these subjects that are effective, teacher-friendly and affordable for schools. India has the world's largest cohort of school-age children, and we are deeply excited by the opportunity to bring improved learning outcomes in an affordable and exciting manner to children."
Maya Chandrasekar, Practice leader, Education and Skills, Menterra said, "We believe that the hands-on engagement and activity-based learning are critical for strong conceptual understanding. By democratizing access to these kinds of activities and this type of education, Curiositi is enabling students in all types of schools to be better prepared."
The Curiositi School Program offers a new way of learning Science and Math for children in school that goes beyond textbooks – students work on physical models and activity kits in both Science and Math. These activities are closely linked to specific concepts being introduced in that class, and help transform the curriculum to activity-based learning, resulting in improved learning outcomes. Launched in January 2016, Menterra Social Impact Fund I is an impact investment fund that invests in early-stage social enterprises working in the sectors of education, health, and agriculture.
Comments
comments