Housing.com is a Mumbai-based real estate search portal, found by a group of twelve students from Indian Institute of Technology, Bombay.  It allows customers to search for housing based on geography, number of rooms, and various other filters. The company has 6,000 brokers and serves 40 cities in India including Chennai, Mumbai, Bangalore, Kolkata and Delhi.
How It Took Flight
Advitiya Sharma and Rahul Yadav had been warned about the difficulty of finding a house after graduating. When they started contacting brokers they realised how limited the information on online listed properties was; they also realised how good the money in Mumbai's real estate brokerage business was.
Housing.com lists properties submitted by users, either brokers or owners, on an interactive map. Search results are filtered by available rooms, lifestyle ratings, child friendliness index (CFI), and area-based pricing. The company has mapped approximately 650,000 houses in India.
Data Crunching
Data analytics is the only woman in the life of Housing.com.  The DSL crunches information (like offline transactions) from brokers to create innovative features such as a heat-map of the city based on per sq ft prices, a topographic representation of amenities near property locations and time-decay algorithms to check by when a listing should have materialised into a deal.
Led by passionate problem-solvers, and backed by top investors from around the world, they are poised to become the most trusted place to find a home in India. The team is busy preparing for the launch of a one-stop portal for large developers, fresh after a product for paying guests.
While everyone else was trying to target prime, revenue generating consumers, Housing.com identified a consumer pain point and solved it.
The Timeline
The Beginning
Since its founding in 2012 Housing.com has raised four rounds of funding. The company raised $2.5 million in Series A funding from Nexus Venture Partners in June 2013.The company used the funds to create its Data Science Lab and to expand to four cities: Bangalore, Gurgaon, Pune, Hyderabad.
Making hay while the Sun Shines
Housing.com's Data Science Lab (DSL) generated a number of "Heat Map" algorithms and demand flux maps that show child friendliness in a particular area. It measures neighbourhoods on three different criteria: number of schools, number of hospitals and parks, and proximity of these facilities to the area. Armed with these revolutionary tools and necessary data, Housing.com raised another $19M in venture funding, led by Helion Venture Partners, in April 2014.
Born out of the need to simplify the search for a home, free of fake listings and endless site visits, Housing.com was created as a unique property search platform to fill the gaps left by others in the market.
The curtain goes up
In early March 2015, Housing.com had a nationwide brand launch, and revealed its new brand logo, colours and brand philosophy; with the tagline 'Look Up'. The brand launch was advertised in national newspapers and hoardings in several cities across India; and notably, on the company's social media pages.
Housing.com sends out teams to take photographs of properties and survey nearby amenities. Within the first few years, they have built operational capabilities usually seen in older companies.
Courting Controversy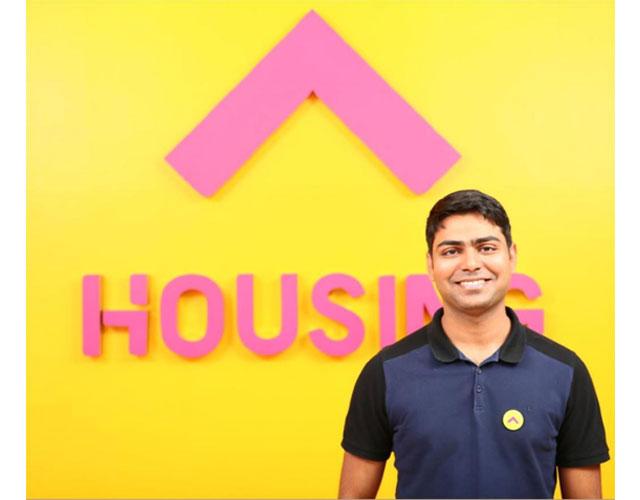 In late April 2015, the tension that was bubbling under the surface of Housing.com was bared for all to see. Rahul Yadav, who had been the poster boy of the e-commerce space, resigned from the post of CEO of the company, citing differences of vision and thought flow, with investors and the board of directors. He later withdrew his resignation. He later quit again in late June, after allotting all his persona shares to the then 2251 employees of Housing.com.
The March Forward
In June 2015, Housing.com acquired risk assessment service provider Realty Business Intelligence for Rs. 10 crores. This enabled its customers to make informed decisions before investing in any realty project.  By August 2015, Housing.com had listed over one million verified properties.  To rapidly expand its portfolio and reach, the company acquired HomeBuy360, a cloud-based sales lifecycle management platform that connects developers, agents and buyers, for $2 million (roughly Rs. 13.06 crores). In an attempt to further expand its presence in different verticals and strengthen its product portfolio, Housing.com announced two acqui-hires in September 2015 – Plat and BigBHK.
Plat was an online network for agents enabling them to share real estate inventories and requirements, while BigBHK was a property management software (PMS) targeted at rental suppliers, strengthening its supply product portfolio.
Japan-based SoftBank invested an additional Rs. 100 crores in Housing.com, in January 2016, to drive the growth of the realty portal.
Merger with PropTiger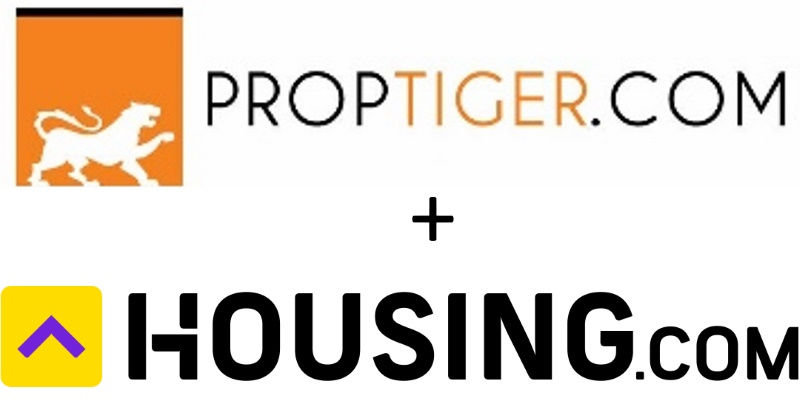 PropTiger.com and Housing.com announced on 10th January that they are merging their businesses. As part of the transaction, online real estate advertising firm REA Group Limited will invest $50 million (approximately Rs. 340 crores) in the joint entity, while an affiliate of SoftBank Group Corp will invest $5 million (approximately Rs. 34 crores). A report by Mint puts the valuation of the new PropTiger-Housing.com joint entity now stands at $270-$285 million (roughly Rs. 1,837-1,939 crores).
A Mint report says the transaction valued Housing.com at about $70-$75 million (roughly Rs. 476-510 crores), quite a fall for a company that had raised over $120 million during its heydays.
Everything considered, it has truly been a roller coaster journey for Housing.com. From being the poster boy of the Indian Real Estate sector and an out-of-the-world growth story to courting controversies and fallouts, and finally merging with PropTiger. Let's wait and see what's next!
Also Read: Yahoo Early Days – The King Of The Dot Com Era !