Dark Sky, the favorite weather forecast app for iOS has finally stopped working on January 1st, 2023. After being acquired by Apple in 2020, it had been the most used weather app for Apple devices.It was removed from the Apple's App store in September last year and ultimately stopped functioning for all users from January 1st.
Although, The Dark Sky API support for third party weather apps will end on 31st March 2023, replacing it with Apple's own WeatherKit API. In August 2020, Apple declared that the Android users won't be able to access the app.
According to Dark Sky, it offers hyperlocal, down-to-the-minute forecasts that let you know exactly when the rain will start or stop, right where you are standing. That is the level of accuracy Dark Sky provides and it was the reason it got so popular in the first place.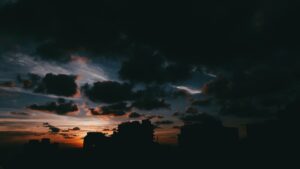 After acquiring the Dark Sky, Apple incorporated most of its leading features into its pre-installed weather application. Some of the latest features of Weather app are hourly weather updates for upcoming 10 days, and severe weather alerts. However, to use these features users must update the native Weather app to the latest iOS and iPadOS versions i.e., 16.
Since users won't be able to use dark sky anymore, there are some alternative weather applications both paid and free versions. Few of them are: 1Weather, Accuweather, WeatherBug. Dark Sky users loved the app so much because it provided all the necessary details in just a single click and there is no need of scrolling through sub menus. Users have also been complaining that the Apple's native weather app is not at par with the Dark sky because it doesn't provide the simple and necessary UI.
All that a user wants is simple navigation through the app, all the crucial weather updates be provided on the main screen, and he/she doesn't have to waste time scrolling through the submenus. What a casual user wants to know from the weather application is if he should carry an umbrella or should expect a peak sun heat same day or in the coming days.
We hope Apple will keep in mind the major key points that users have expressed in their reviews and make future updates accordingly.