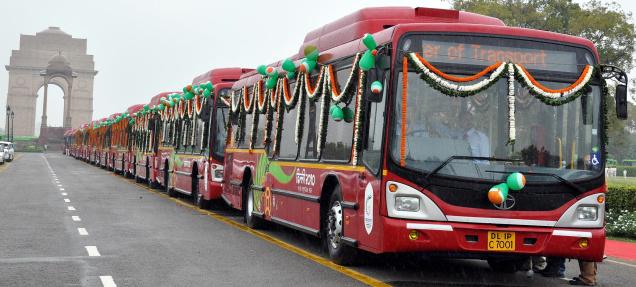 25 April, 2016, New Delhi: To provide an extra cushion to commuters who commute daily through public transport, especially during odd-even phase, the Delhi government has announced that it will be launching an app based AC bus service in June. The announcement was made by Transport Minister, Gopal Rai on Friday; he stated that government is on the move to introduce app based AC buses under an aggregator scheme.
Arvind Kejriwal, Chief Minister, Delhi and his cabinet have already given their node to the aforementioned scheme which will be accessible from 1 June, 2016. "The decision was approved by the cabinet Friday, and the registration of private buses under the scheme will start on June 1. The government will come up with a similar aggregator scheme for taxis," Rai elaborated.
""We are often asked what alternative we can give to those who leave their cars behind. The last time (first phase of odd-even), car owners used DTC buses to travel but many have found it difficult to do that in this heat. The Metro has also seen increased rush. Keeping that in mind, we will launch app-based premium AC bus services in which two CCTV cameras, WiFi, GPS, fire-extinguishers and first-aid kits will be mandatory," said Rai.
He added that bookings of seats on these buses will be made through an app, and the list of passengers will be frozen five minutes before the bus departs. "These buses will not turn into Blueline buses because they would compete to pick up passengers on the streets. These buses will accept only app-based bookings, and there will be no standing passengers," said Rai.
Image- saddahaq
Also Read-
InTouchApp Acquires Funding From Blume Ventures
YourGuy Becomes The Part Of LogiNext's Team