The day after the firm revealed it would be cutting off approximately 10% of its total workforce, on January 5, Marc Benioff, the co-CEO of Salesforce, appeared more than 15 minutes late to a meeting for the entire company.
Ashley Stewart and Ellen Thomas of Insider claim that Benioff came for the session, which was supposed to start at 10:00 a.m. PT on January 5, about 18 minutes late.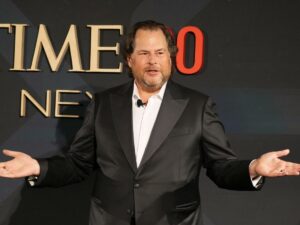 As reported by the Times of London, Benioff made a joke upon entering the conference: "Did I miss something?"
Based on a prior Insider article, Benioff reportedly questioned whether the conference had been postponed after Salesforce cofounder Parker Harris had apologised.
One person on the call told The Times: "We knew more [layoffs] were coming, so we were all there to find out if we would still have jobs."
"It was so inappropriate," they added. "Employees were very, very upset."
Benioff allegedly compared the reductions to death, and members of staff complained that he was avoiding queries at a town hall meeting.
Furthermore, according to Insider, Benioff advised members of staff against leaking information to the media and posted a YouTube joke about establishing a "circle of trust" from the film "Meet the Fockers" from 2004.
A day before, Salesforce issued a 10% employee reduction announcement. No definite number of employees who would be let go was revealed, but based on data on Salesforce's webpage, the firm had about 79,000 employees worldwide as of December 2022, so the reductions will certainly affect close to 8,000 individuals.
It occurred in the middle of a surge of industry reductions, with Twitter, Amazon, and Meta among the various firms that have decreased their staff during the past few months. A daily average of 1,600 tech workers were let go during the first 15 days of the year.
In an email to staff, Benioff said: "As our revenue accelerated through the pandemic, we hired too many people leading into this economic downturn we're now facing, and I take responsibility for that."
According to reports, based on financial success, the firm may also choose to let go of yet another 10% of its employees.
Since 2018, Salesforce has bought companies for more than $50 billion, with $27.7 billion flowing to the loss-making messaging system Slack in 2021. The co-founder of Slack, Stewart Butterfield, later left the firm together with two more executives.
Outside of US office hours, Insider approached Salesforce for comments, but they did not answer right away.