The staggering $1.6 billion damage allegation came out when Fox News got sued by Dominion Voting Systems for misleading data that the conservative television network published about the election technology company in 2020.
The jury's main concerns in the Delaware trial, which starts next week, will be whether Fox and its management are accountable for airing the lies and, assuming so, whether $1.6 billion is even a somewhat reasonable amount to ask for as damages.
Dominion, a company based in Denver, claimed that it made enormous attempts to notify Fox News of both the falsity of the information that was being reported live and the harm that it caused to Dominion.
"The evidence will show that Dominion was a valuable, rapidly growing business that was executing on its plan to expand prior to the time that Fox began endorsing baseless lies about Dominion voting machines," said a Dominion spokesperson in a statement.
"Following Fox's defamatory statements, Dominion's business suffered enormously, and its claim for compensatory damages is based on industry-standard valuation metrics and conservative methodologies. We look forward to proving this aspect of our case at trial."
The employees faced violent threats as per the company due to conspiracy theories that Dominion changed votes for former president Donald Trump in 2020.
The legal filings of Fox have affected Dominion's damage claims, arguing "that figure has no connection to Dominion's financial value as a company."
Penn Wharton Public Policy Initiative at the University of Pennsylvania in a 2018 estimate stated the company's annual revenue stands at $100 million.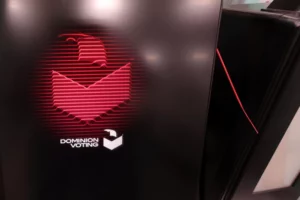 Compensation cannot be proven with mathematical accuracy
The jury will award compensatory damages for the loss incurred upon Dominion if it finds Fox liable in the case. On the contrary, Dominion will be also asked to show the comments were made with "actual malice."
Dominion's attorneys will then have to convince a jury that Fox either intentionally broadcasted false information causing damages to the tech firm's prestige or willfully disregarded facts.
"You're talking about economic damages and economic disturbance, and so emotional feelings, hurt feelings, emotional damages, those kinds of things typically are not going to enter into the calculation," said Len Niehoff, a professor at the University of Michigan law school.
Dominion reported it failed $16 million in profits, more than $70 million in potential business, $14 million in legal, safety, and other expenses, and more than $900 million in value due to defamation statements made by the broadcasting company.
However, Len said making the lawsuit on a compensation basis can be difficult as the case is complex, and connecting the dots would prove challenging between a business loss and why the loss actually happened.
"These are things that very often can't be proven with mathematical precision. It can be very hard to show that people who didn't do business with you didn't do it for this reason as opposed to for some other reason," he said.
Impact on Dominion
The corporation is certain to mention the latest decisions made by the Shasta County Board of Supervisors in Northern California, which lately terminated its agreement with Dominion claiming unproven conspiracy opinions.
After studying Dominion's machines, Shasta County Supervisor Patrick Henry Jones, who presented the decision to terminate the agreement, claimed he could not depend on the mainstream press for information concerning their accuracy.
"When anyone comes forward and says there is no election fraud, the mainstream media supports those claims." Jones said trust in the company "doesn't exist within Shasta County."
Joanna Francescut, the assistant county clerk in charge of the Shasta county elections office, claimed in an interview with NPR that many electors in the remote and strongly pro-Trump area quickly believed the claims about Dominion. "After they realized, you know, Trump lost, it was blamed on the voting system."
Dominion claims that numerous instances of its agreements being terminated or not renewed around the nation are due to the misinformation that spread following the 2020 election. These cases are detailed in Dominion's legal documents.
Verified Voting, an entity that specializes in election security, performed a study for NPR and found that since 2020, the amount of jurisdictions employing Dominion equipment has increased overall. The nonprofit organization maintains records of all national agreements for election equipment.
1,161 jurisdictions, for instance, used Dominion election day tabulation equipment in 2020. According to Verified Voting's analysis, Dominion equipment will be used in 1,861 jurisdictions in 2024. However, the overall amount of voters with registration who will use Dominion's voting machines in future elections has decreased.
"So I think what's notable is that you can have many jurisdictions, some of which are quite small," said Verified Voting CEO Pamela Smith about the discrepancy.
She claimed that despite the false assurances, it is not especially surprising that countries have stuck with the corporation.
"Most jurisdictions don't change their voting systems like every couple of years, right? They change them 10 years, 15 years." She said a lot of that is due to the huge cost and administrative challenges of switching election equipment vendors.
However, she noted that it is highly difficult to anticipate what would happen to Dominion's operations in the years to come, for example, if a state excludes Dominion from the bidding process.
"Where previously they had an okay relationship, or a state might say, 'well, we're gonna go with this brand and then find out, oh, on second thought, we're not because the pushback is really hard.' I suspect there's a lot of that and more than what actually shows on the surface," said Smith.
Although a rise as a company is somewhat at odds with pursuing monetary damages, Niehoff said Dominion continues to contend that its expansion has been obstructed.
"Dominion could have an argument that, although their business statements have gone up, it hasn't gone up as much as it would've gone up, but for the defamatory statements."
Damages claimed by Dominion is a trick to grab money
Fox News states Dominion's claims to be more of a trick to grab money through its private equity owners, State Street Capital Partners. It criticized that its reporting is supported by the First Amendment and that Fox News was reporting only news that was worthy to show. It claimed in a court filing that the damages Dominion is seeking aren't the actual damage it has faced.
"Staple Street Capital Partners paid a small fraction of that amount to acquire a controlling interest in Dominion only four years ago. And even under the most optimistic projections, Staple Street has never estimated Dominion's value as a business to be anywhere near $1.6 billion."
For its part, Fox asked the court to not deliver any compensation as the damages claimed are not based on any financial reports but only assumptions. Moreover, Dominion's financial record stated that the year 2022 was the second strongest year in terms of revenue.
Dominion's damage claims assume that it "is not going to gain any new customers, not a single new customer is going to walk in the door. In addition, for the existing customers, they are not going to get any new business from existing customers after 2024," said Scott Ahmad, an attorney representing Fox News, in a recent court appearance.