"Play is the highest form of research"
Eduisfun is an edutech venture by IIT Alumnus that is conceptualized based on gamified learning. Eduisfun brings to you the magnificent collection of educational games designed for secondary students. These games offer an aesthetic mélange of learning and fun to students. The unique feature is that these games does not bifurcate learning into standards but are dedicated to concepts and their profoundness. Eduisfun's digital games, currently live on the google play store are designed around concepts of Maths, Physics and Chemistry with users across the globe. Eduisfun inspires students, engages parents and empowers educators, to ensure students achieve their full potential.
Inspiration
Today's generation is a tech savvy and dynamic set of youngsters who spend a colossal amount of their time and energy in playing games and are unimpressed by conventional learning. Learning needs to be made more engaging, relevant and charismatic to capture the attention of the child for long. Children have always loved playing video games. The fun element of the games is so attention arresting that kids master the nitty gritties of these games effortlessly. They forget the time they give to these games and are hooked on to them. That's when we came up with the idea of incorporating fun element into learning so as to make it appealing to youngsters.
Incepted during July 2014, Eduisfun was cofounded by JatinSolanki(IIT-B Alumnus) and Praveen Tyagi (IIT-D Alumnus). Eduisfun is bridging the concerning gap, making learning fun for children by  providing an enhanced gamified learning experience to facilitate conceptual learning taking care of child's requirements and grasping potential.
Market Scenario & Competition
The edugaming sector is yet in its early stage and offers abundant opportunity to grow without any chance of getting saturated in the forthcoming times. With increasing internet penetration and growing digitization, it is bound to expand.
There are no direct competitors for Eduisfun, as other edugaming ventures are targeting  a different set of audience like primary standard students, whereas Eduisfun is by large targeting secondary students. Also the format of the games are quiet unique and different from any game available out in market.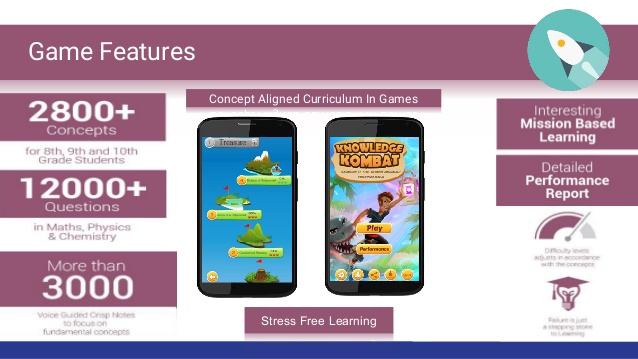 Achievements
Eduisfun has successfully  tied up with many central as well as international schools of India in a short span of time. It has received positive feedback from students/parents/teachers & also reported performance improvement in students. Collectively the users have solved over 2,50,000 questions & collected over One Billion points in the span of less than 30 days. The games of eduisfun on the Google Playstore has crossed over 7000+ downloads with zero marketing budget.
[box type="shadow" align="aligncenter" class="" width=""]Related Read:
Orion Edutech – Bridging the skill gap between academia and industry requirements[/box]
Global Reach
 SnailRush ranked in Top New Free Category under 100 ranks in 8 countries including Spain, Russia, Brazil, Germany, France, UK, US.
There are 45 countries where Snailrush ranks under 500 in Top Free Trivia Game.
 In 3 countries, Snailrush ranks under 100 in Top Free Trivia Game Category.
Future Plans
Eduisfun aims to reach out to larger student community in future and to extend the games to cover more courses with hi-tech to appeal to current tech-savy generation
[box type="shadow" align="aligncenter" class="" width=""]Related Read:
Nittio Learn – An Innovation In Education System, Revolutionizing The Way Teachers Teach ![/box]