Prosecutors said in a legal brief this week that Theranos founder Elizabeth Holmes made an effort to escape the country soon after she was found to have committed fraud the year before.
In reply to Holmes' demand to be freed from custody while she files an appeal, a new legal document alleges that the 38-year-old booked a one-way ticket to Mexico in January.
"Only after the government raised this unauthorized flight with defense counsel was the trip canceled," the filing claimed.
The filing added: "The government anticipates [Holmes] will note in reply that she did not in fact leave the country as scheduled – but it is difficult to know with certainty what [she] would have done had the government not intervened."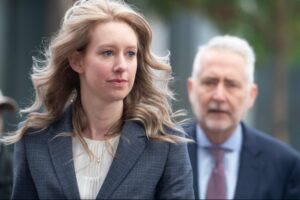 In reply, Holmes' attorneys presented letters to the court arguing that Holmes had booked the trip to Mexico even the before the conclusion of her case and that she was heading there to visit a friend's wedding.
"Given the verdict, she does not plan to take the trip…But she also had not canceled the trip, amidst everything that has been going on," the email read.
Following her sentencing on deception and conspiracy charges linked to her firm's failing blood-testing technology, Holmes got a penalty of more than 11 years in prison.
U.S. District Judge Edward Davila issued a penalty of $400 in fines, $100 for each count, and three more years of surveillance after the accused's discharge. In April 2022, Holmes was told to show up for detention.
At the age of 19, Holmes stepped out of Stanford University and went on to build the now-defunct Theranos, promising that the firm's ground-breaking technology could detect a wide range of illnesses, even cancer, from just a few droplets of human blood.
The youthful CEO became a brief billionaire in 2015 thanks to Silicon Valley's stream of venture investors. However, that year's Wall Street Journal exposé marked the start of her swift collapse.
Her trial started on August 31 after she was charged in 2018.
Earlier Prosecutors claimed that Theranos owner Elizabeth Holmes is still showing "no remorse to victims" and is a residing estate that costs $13,000 a month while she pursues an appeal.
Government attorneys argued that Holmes had stayed on the site for more than a year in a court document provided on Thursday. According to the financial statements Holmes sent to the US probation office, according to the papers examined by Insider, they claimed the mansion costs more than $13,000 to operate each month.