Google in an attempt to indefinitely postpone bonuses, management are delaying a part of workers' year-end incentive cheques, according to records seen by CNBC.
In previous years, January was when staff got their complete bonus. Nevertheless, the records stated that Google will send 80 per cent of the reward cheques to eligible full-time workers this month and the other 20 per cent in March or April.
In correspondence with workers, Google refers to the January payment as an "advance." Due to the "transition" of its employee-evaluation method and the revised schedule for upcoming incentives, management claimed it will only be a one-time adjustment.
"After 2023, full bonuses will be paid in March," the company said in the memo.
Following the publication of this story, a Google spokesperson told CNBC in an email, "This one-time 80% bonus advance was extensively communicated to employees in May 2022 and subsequent communications since, as part of the transition to our new performance management timeline."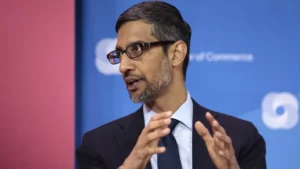 The payout is being held up as Google CEO Sundar Pichai tries to manage expenses while preventing massive layoffs. Google parent Alphabet has so far refrained from making big job reductions in favour of focusing on getting rid of underperforming products and teams, in comparison to its major tech competitors Meta, Microsoft, and Amazon.
Approximately 240 positions were eliminated last week as a consequence of workforce reductions revealed by Alphabet's Verily health sciences division and its Intrinsic robotics division.
In the second part of 2022, Alphabet declared it will be closing down its online gaming service Stadia, cancelling the next version of its Google Pixelbook laptop and cutting budgets to its internal incubator Area 120. Pichai declared in September that he intended to improve the productivity of the company by 20%.
Google has been upgrading its performance evaluation method in the meantime. According to the latest information from the firm, more individuals will probably fall into lower-rated groups, according to a statement by CNBC last month. Employees expressed concern that it would be utilized to decrease staff without performing termination.
Concerns about the most recent modifications to bonus payments were also raised by workers. Some individuals told CNBC they were unaware of the temporary deferment and stated they had difficulty finding support internally.
One graphic on Memegen, an employee meme generator, showed a split screen of Prince Harry and Meghan Markle, with a quote from Markle that's edited to say, "Harry is adjusting great to Google" next to an image of a disturbed-looking Prince Harry with the text "Where the hell did 20% of my bonus go?"
On February 2, Alphabet is expected to announce its fourth-quarter results. Refinitiv predicts that experts anticipate sales growth of less than 2 per cent from the previous year, while they estimate a fall in per-share earnings to $1.18 from $1.53. Within the most recent year, the share price has decreased by 31%.