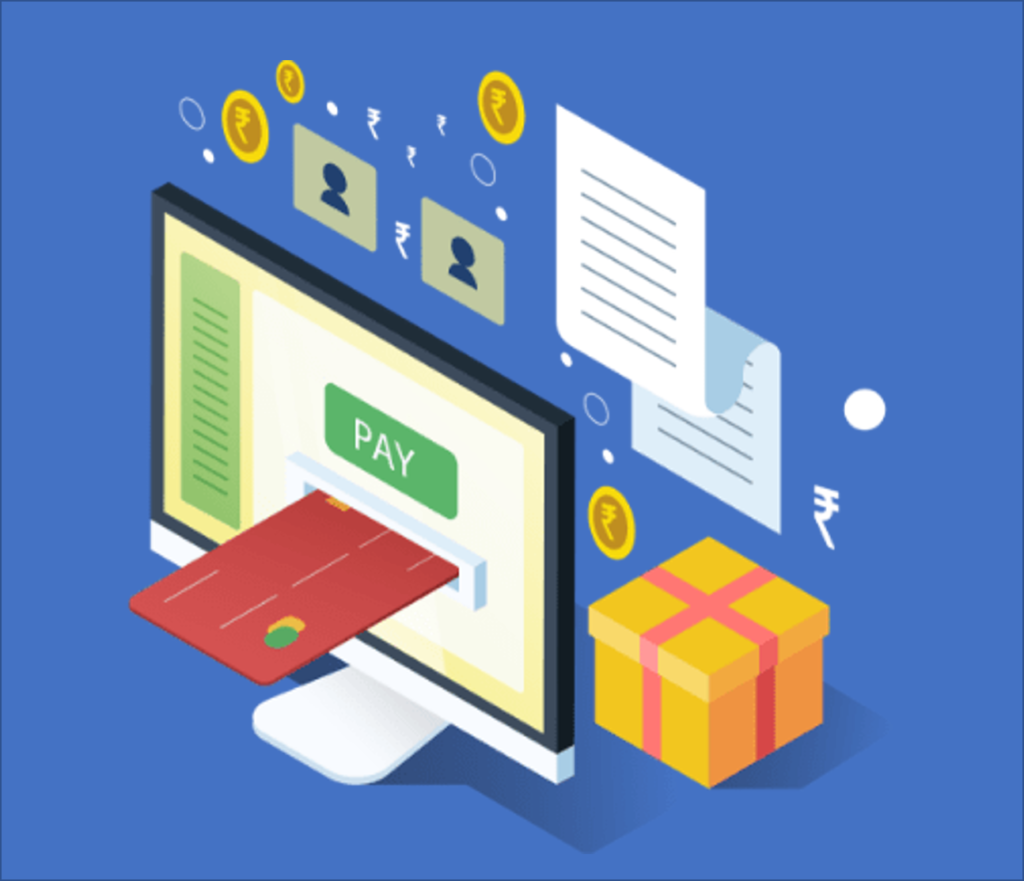 Did you know that around 67% millennials and 56% GenXers choose to shop online rather than from a store? (According to Big Commerce:The 19 Ecommerce Trend). They're looking speed, better convenience, greater value, and most importantly faster checkout.  All this has been fueling the growth of digital payment systems greatly.
The global payments landscape is evolving at a dizzying rate. The last one year has seen a sharp rise with four major shifts in the global landscape – growing penetration of smartphones and internet, non-banking institutions offering payment services, consumers demanding one-touch payments, etc.
Talking about India – it has also mirrored developments happening in the global payments field, with a time lag. Today, it represents one of the largest marketing opportunities for digital payments. This growth is said to be driven by the following major trends that will also impact the future:
India becoming digital: India ranks second in the world with over 1 billion mobile subscriptions. Out of which 240 million use smart phones and this user-base is projected to rise to over 520 million by 2020. (According to Business Standard).
Also, with the growing 3G 4G penetration, number of internet users is predicted to double to 650 million by 2020.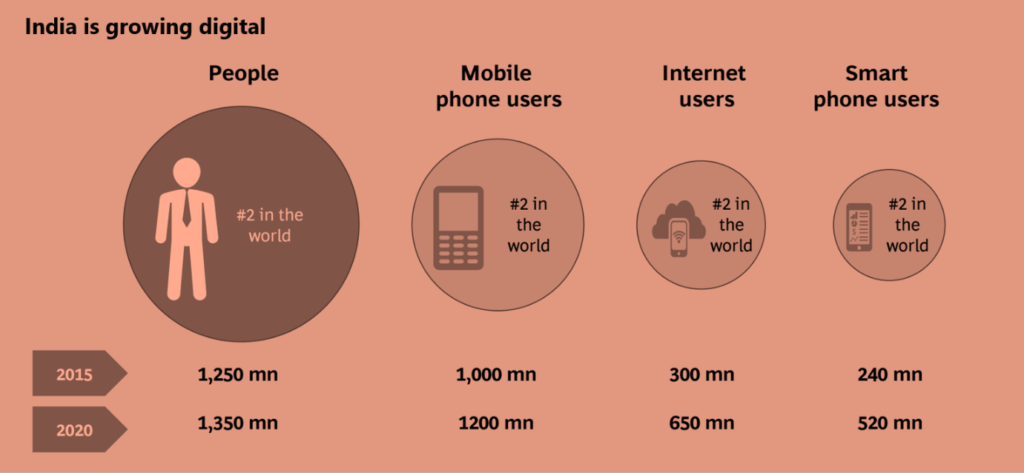 Source: BCG
A Google-BCG Report estimated that India's digital payments industry would grow up to $500 billion by 2020, contributing to 15% of our GDP. A deciding driver of this increase is India's vast smartphone user base.
Favourable Regulatory environment
The government and other regulatory bodies have recognized the need to keep up with the constantly changing environment in relevance to both technology and customer outlook.
Policies like – KYC relaxation for small transactions, Adhaar making the process of KYC easier, exemption from 2 factor authentications, and promotion of cashless transaction by the Modi government – have done a lot to make digital payments succeed.
Enhanced customer experience
Indian customers are now used to a superior experience owing to the popularity of ecommerce. The convenience of buying almost everything, sitting at home, and even preferring Uber and Ola rides to avoid the hassle of applying the exact amount by cash later. Payment Gateways become the background activity in ensuring seamless user experience.
Growth in the ecommerce segment
Ecommerce has led to a parallel growth in the payment gateway market in India. Payment gateways are the key solution for all transactions done online and are responsible for taking care of all payments safely and securely. This segment is going to mature and rise up at an annual growth rate of 61% and reach a big 40 billion dollars by this year end.
According to the Future Market Insights (FMI) report, the global online payment gateway market is expected to witness a CAGR of 10.3% from 2018 to 2028. The market is expected to reach a valuation of US$ 191.7 Bn by the end of the forecast period rising from a valuation of $ 65.5 Bn in 2017.
In India, these numbers saw a record jump after the government demonetized high currency notes (Rs 500 and 1000) – which counts to 86% of India's cash in circulation. Digital wallet companies confirmed a growth of 271% for a total value of $2.8 billion (Rs191 crore).
Also Read: Mobile Wallet Industry in India: Are We Asking the Right Questions?
Factors enhancing payments gateways in India from end-users perspective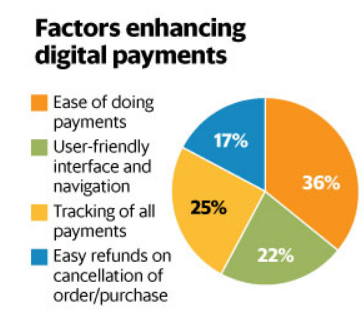 Source: KPMG
What the consumer looks for is a one-click (rather one touch) payment today, and furthermore an easy process to track, cancel or get refunds for the purchase they made. A simple-to-use and an efficient payment gateway provider like Easebuzz allow all this more for seamless online transactions for the customers.
Factors enhancing payments gateways in India from merchants' perspective
Efficiency
Cashless payment systems are offering unmatched efficiency to the buyers and even more to the merchants. Using payment gateways, merchants are able to address cash flow issues, receive payments for their sales made directly into their online merchant banking accounts easily.
It allows for payments made through debit or credit cards, digital wallets, online banking services and mobile banking, which facilitates the merchant to process payment easily and without hassle.
Reduced time and cost efforts
Worrying about preparing payments and managing payment issues can be immoderate and tedious. An online payment framework is equipped for taking care of payment procedures continuously.
No machines are required nor any extra regulatory help needed for the system to work. This implies less cost of doing business, and more opportunity for you to concentrate on more imperative business matters.
Unlimited features
Online payment services offer a lot of features for that makes payments through the merchant's digital payment system a cake walk. Like multi-currency payments for popular international currencies, such as USD, GBP, INR, AUD, etc., to accept payments from consumers all over the world. Integrated SM and email marketing are other amazing additions that make business owner's life easier.
Also, with a link based payment, merchants can collect payments from buyers by sending a link which only requires the user to have a working Debit/Credit Card to make payments.
Security
Online payment gateway systems offer unparalleled safety. Payment system like Easebuzz has PCI-DSS compliant servers which makes your online transactions compliant with bank level security. They are capable of  blocking fraud online transactions and save the business' time which otherwise would go wasted in identifying and resolving such issues.
What's more? The payment gateway also stops losses occurred when dealing with duplicate currency notes which are used for payments.
Faster transactions
Online payment systems are intended to save effort and time of the consumer and merchant alike. For the merchants, there's quick on-boarding process with just the requirement of the KYC documents and their bank details, and they are good to go.
These systems are designed to offer unobstructed transaction by handling the complete authentication and authorization of payment process automatically.
These clear benefits to consumers and merchants have caused a decrease in the traditional ways of accepting payments and India is now witnessing an immense rise in cashless methods of payments.
To sum it up, cashless payments provided by payment gateway providers in India are clearly set to transform online transaction processing. These gateways can act as your secure portal to not just increase conversions, further your sales, but also protect your customers' transactions and gradually grow your business.
Have you finalized your payment solutions provider? Are you happy with the services? Or there's anything more that you are looking for in the future as this segment evolves? Write to us and we'd be happy to discuss.
Also Read: Need of Digital Marketing Solutions for Quicker Growth
(Disclaimer: This is a guest post submitted on Techstory by Rohit Prasad, Co-Founder & Director, SRV Media and EaseBuzz. All the contents and images in the article have been provided to Techstory by the authors of the article. Techstory is not responsible or liable for any content in this article.)
Comments
comments