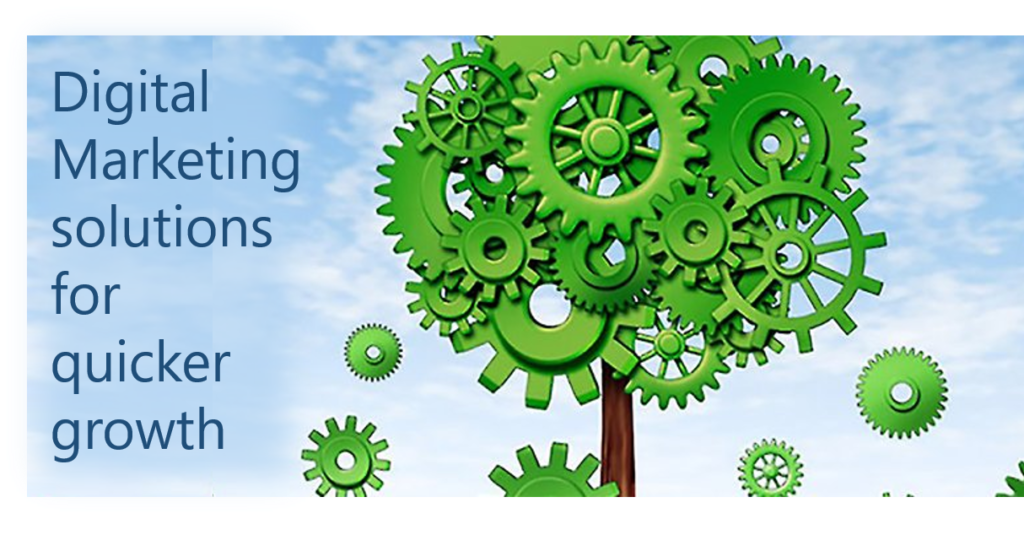 According to the Darwinian evolutionary theory – only those species survive and grow who adapt to their changing surroundings. Similarly, facts indicate that – akin to the natural world– the 'survival of the fittest' in the corporate world comes to those who are well–prepared to change quickly and effectively.
According to experts at stuartkerrs, today, digital marketing forms the pillar of any healthy organization. Those who have adapted quickly are growing fast, while others have vanished. And, why not? Such is the impact of digital technology that there are places where people don't have access to running water, but own internet and mobile devices.
Digital marketing solutions allow presenting and promoting your products/services on the media platforms where your target audience spends most of its time.
The right mix of digital marketing strategies can have an incredible influence on your audience's interactions, behaviours, interests and purchases.

(Image Source: Created in–house)
According to a survey conducted by Ascend2, out of the 93% of marketing influencers who expect to increase their spend on digital marketing in 2018, 52% of respondents said they expect their digital marketing budget to increase slightly in the year ahead, and 41% expect their digital marketing budget to increase significantly.
Why Businesses Need Digital Marketing Solutions?
In 2018, India has 369.01 million internet users. The number is predicted to grow to 511.89 million in year 2022. Internet used on desktops, smartphones, laptops, tabs have weaved a web around people's life, and they're spending 72% of their time to access online content.
This digital network surrounding users is the key reason why digital marketing has become important for all companies alike – small, medium or big – to reach their audience where they are spending most of their time.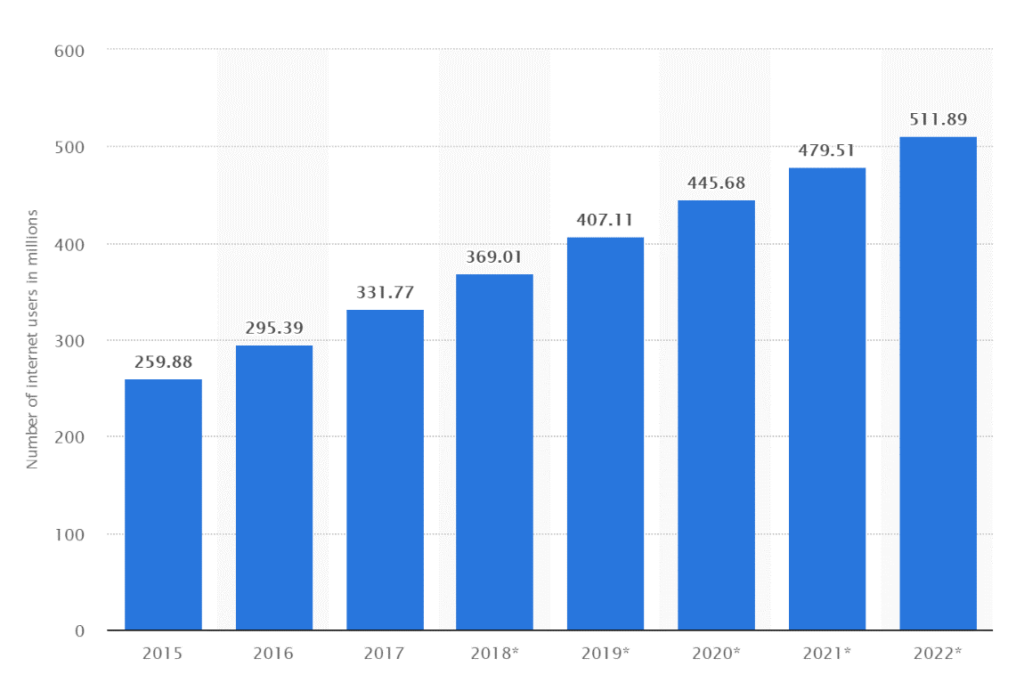 (Image Source: Statista)
Faster Growth
According to a survey by Hinge Research Institute, firms that adopt online marketing techniques have been seen to grow faster than those who don't. The survey included 500 firms and many digital marketing experts.
The high growth companies are more into all the online channels: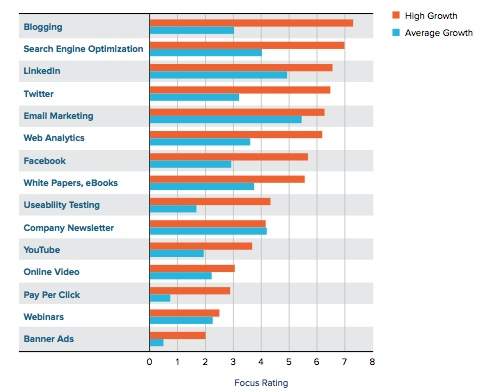 (Image Source: Hinge Research Institute)
Key findings of the study about the faster growing companies include:
Companies that are generating 40% or more of their leads online grow 4 times faster than those with no online leads
High growth companies obtain 63% of leads online while average firms obtain 12%
Companies generating 60% or more of their leads online are 2 times more profitable than those producing less than 20% of their leads online
Less expensive
As per Gartner's Digital Marketing Spend Report– "Up to 40% of the respondents claimed considerable savings by using digital marketing methods of promotion for their products and services".
There was a time when marketing campaigns used to be costly and was considered something exclusive to big enterprises. Things have changed since past some years. Digital marketing can serve to the needs of all businesses – big or small, as it carries a range of techniques and tools that fits in the budget for all.
Higher Revenue
Internet or Digital Marketing is more of a result oriented (pay for your results) form of marketing. With lesser costs per lead and higher conversion rates, Return on Investment (ROI) from a well-planned digital strategy can significantly exceed the ROI from a traditional form of advertising.
Through tactically designed websites, search optimization, edgy content creation, and paid campaigns – companies are witnessing improvements to their bottom lines.

(Image Source: Created in–house)
According to Google, companies using digital marketing strategies have 2.8 times better revenue growth expectancy than those who don't. And sure, you wouldn't want to fall in the latter category! Also, small and medium enterprises using digital marketing techniques have 3.3 times better chances of expanding their business quickly.
Targeted Audience and Reach
Nearly 97% of consumers use online media to research and find products prior to making a purchase – according to Hubspot.
While traditional approaches (radio, TV, print) emphasize on reaching broad audiences and large number of people, digital marketing methods like SEO, Social Media, helps you keep your campaigns much more refined to hit the specific audience that is interested in and searching for your product/service.
Further, you can customize a campaign to specific audience demographics, such as gender, location, age or interests to make it more effective. The results are then, of course, less wasted marketing dollars and more sales!
Quick Results
With Analytics and the insights tools offered by all digital media channels, you can monitor your campaigns at any time. Unlike traditional marketing methods, you can see in real time what is or is not working for your business and you can adapt very quickly to improve your results.
Say you run a newspaper or TV ad, would you exactly know how many people saw that advert? Probably not! Also, you wouldn't know how many customers called you as a result of that ad.
Future Trends of Digital Marketing in India
Survey reports from Forrester Research, eMarketer, and Hubspot provides the projected allocation of marketing funds offline vs. across the digital channels. Here are some of the trends:
Digital marketing is at an 11 percent compound yearly growth rate between 2016 and 2021 with the biggest growth occurring in video marketing.
The allocation of marketing budget to online is expected to grow from 41% in the year 2018 to 45% by 2020.
Search engine marketing (SEO) is going to capture the major share of spending with display (banner ads, online video,) taking the second major share
Social media investments will continue to rise, with a 17 percent compound annual growth rate from the year 2016 to 2021 and is projected to demonstrate 25 percent of total online spending in 2018.
Investment in paid marketing methods, display adverts, social media advertising campaigns, online video advertising and email marketing is forecasted to account for 46 percent of all advertising by 2021.
Leads from organic search results are 750 percent more likely to close compared to leads from traditional media
Ready to grow your business quickly in this digitally–driven era?
Digital marketing is undoubtedly the future of business. Looking at the current market scenario, no business can survive, or compete in the market without having a well–integrated digital marketing strategy in India.
And those who have understood this business essentiality are already reaping the benefits. Companies like SRV Media meets the unique business needs of customers and customizes plans as per their budget.
The uniqueness of digital companies will not only let businesses survive but also thrive in the most result–oriented fashion in this competitive space.
Also Read: 7 Digital Marketing Trends That Are Transforming Business
(Disclaimer: This is a guest post submitted on Techstory by Rohit Prasad, Co-Founder & Director, SRV Media and EaseBuzz. All the contents and images in the article have been provided to Techstory by the authors of the article. Techstory is not responsible or liable for any content in this article.)