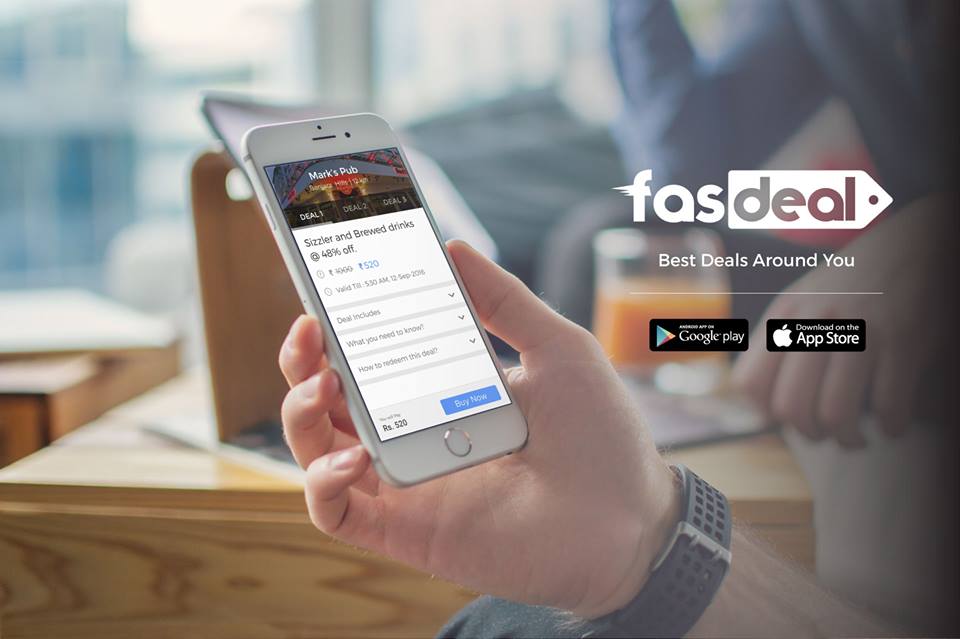 Fasdeal Mobile App offers great deals around your location on restaurants, saloons & spas, health services, movies, education and many more. With Fasdeal, customers can avail discounts on buffets, hookah lounges, spas, bowling alley, day outings, movie tickets, education and sports and many more services in the city.
Inspiration
Fasdeal popped up when the founders were looking for deals to go to a buffet and were also looking to buy a gift online.It was observed  that students from far off places found difficult to get into institutes and they checked the available deals site only to find that the deals were available 20 KM away from their location and there was no way for them to get the nearest ones. While they were still discussing on where to buy a gift, they tried to shop online but dropped as we had limited time window. The two problems seemed to be an issue to them. They wanted to find out how many people would use location aware app and found that overwhelming number of people would use it if they knew about it. This exercise helped the founders in the development of the product that can solve these problems.
[box type="shadow" align="aligncenter" class="" width=""]Related Read:
How People Shop and Use Online Coupons Globally – A CupoNation report[/box]
Conceptualized in December 2015, Fasdeal was officially launched in March 2016.With  a team size of 10 individuals with diverse skills and capabilities, Fasdeal is currently operating in Hyderabad and have limited number of deals across other cities in India. Fasdeal app currently offers 1000+ deals in Hyderabad and is on the outlook to expand to Bangalore, Chennai and Mumbai before 2016.
Founders

Anirudh is the CEO and is a developer by heart. He has worked as an Android developer for 4 years prior to founding Fasdeal.
Abhishek is the Manager of operations. Studied medicine at Gandhi Medical College and decided to change paths to management.
Aslam is a practicing surgeon. He is the creative marketing genius and the brain behind the videos of Startup hiring problems to find talent.
Have a look at their hiring video
Scope & Challenges
The local coupons market is estimated to be around $ 1 Billion and is largely untapped till now. Eventually, Fasdeal would like to become one stop destination for any local deal by venturing into product division too, i.e. to be able to deliver any product in 6 hours. It is very hard for us to recollect any name about deals on local services. However, to be fair, Fasdeal competes primarily with NearBuy (Formerly Groupon) and Little. The key factors that need to be looked at are the time within which the deals are consumed and the industry standard is around 75% of the purchased deals get consumed within 8 hours. The market trend is moving towards location relevant and dynamic deals that push for quick buy and redemption.
[box type="shadow" align="aligncenter" class="" width=""]Related Read:
How CashKaro Is Carving A Place At The Top In India's Cashback & Couponing Market ![/box]
Features
Fasdeal, is unique in the sense that it is a location based deals app which quickly gives relevant feed around their locations to the customers. Also, Instead of restricting the merchant offerings, Fasdeal provides the merchants with their own controls to drop the price dynamically to enable more footfalls. Another feature is the ability to purchase education related services such as Digital Marketing Courses, GRE, IELTS courses at quality training institutes for deep discounts.
Future Plans & Funding
Fasdeal will be launched on web and iOS platforms in the next month and will expand to 3-4 cities by year end and will get into hyperlocal deliveries of niche products in these markets. One can also expect innovative things on app to make buying fun and sporty Fasdeal is on an outlook for funding partners with similar interest.
Comments
comments