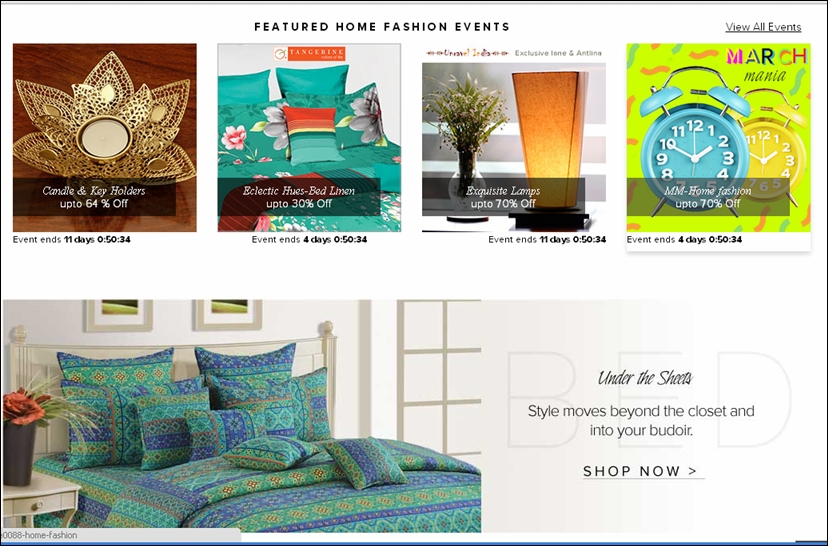 Follows launch of F.Lea Bazaar, a one-of-a-kind virtual flea market
March 27, 2015, Bangalore: Fashionara, the leading e-fashion mall, has today announced its entry into India's burgeoning home-furnishing market with the launch of 36 brands across 7 new categories. The company has added close to 7500 new products to its Home Fashion catalogue and plans to increase this number to 20000 in the next 3 to 4 months. Customers can access these products under the 'Home Fashion' segment on www.Fashionara.com. Some of the brands that Fashionara has on board include Mesleep, Swayam, Portico New York, Bombay Dyeing, Tangerine, Stellar Home USA, Corelle, Skipper furnishings and House this. Fashionara's current offerings include a wide range of products across categories like apparel, accessories, innerwear and cosmetics.
India's online home and furnishing market is booming with more and more people shifting their purchases online owing to access to a large variety, latest designs and convenient door-to-door delivery and hassle free installation. Pegged at $20 billion, the market is growing at the rate of around 15 percent year on year, with online players in this space growing by 3 to 5 times every year. With over 90% of this market still being unorganized, there is a huge opportunity for e-commerce companies to own a large market share in this space. Some of the most searched products in this category on Google are bed linen, kitchenware, clocks and home decorative. Fashionara aims to offer these and a lot more on its platform.

According to Arun Sirdeshmukh, Co-founder and CEO, Fashionara, "We are very excited to enter the Home Fashion category. Home Fashion is a segment that is growing extremely fast. It is a perfect fit for us as most of our customers are between 25 and 35 years of age, with many in the process of setting up their first independent homes.  We expect to continue to double our business every second quarter on the back of this new category."
Under Home Fashion, Fashionara has divided its collection across different living spaces like bed n bath, living, kitchen and dining, décor and study. It also offers products that can be used across these spaces under a 'miscellaneous' category. For those who are looking for eclectic and chic, it offers its collection of F.lea home décor products as a separate category.
"Our homes are extension of our personalities and we at Fashionara aim to offer a curated and really stylish collection of home fashion that goes with the eclectic taste of our customers. By putting our F.Lea Market products side by side with the top brands, we are merging contemporary with chic here. We are confident our customers will love the collection!" added Arun.
In the second half of 2014, Fashionara had introduced F.Lea Bazaar, where it enabled selected sellers from flea markets across the country, to retail their products on its portal. In the recent past, Fashionara has debuted a slew of niche international design labels, offering a range of apparel and accessories never before seen in India. With over 8000 dresses, Fashionara also offers the largest collection of formal and party wear 'dresses' across all e-tailers in India. The leading categories retailed on the portal include apparel, footwear, accessories, cosmetics, watches, kids wear and lingerie. In addition, Fashionara offers detailed lookbooks and services like on-demand style advisor that its customers can consult to get that perfect look.
Fashionara.com is an e-fashion mall that offers premium merchandise in the space of fashion, lifestyle and home furnishing. The company aims to provide best-in-class shopping experience to customers by way of stunning visual content, unexpected customer service, constantly building on trust and dependability, and offering best of the premium and luxury brands in the country. The company has been founded by former CEO, Reliance Trends, Arun Sirdeshmukh and global e-commerce expert, Darpan Munjal.
With game-changing features, Fashionara has many firsts to its credit. The company was the first e-commerce portal to introduce a video catalogue and has Look Book, a fashion magazine, featuring international trends. The company aims to provide best-in-class shopping experience to customers with features such as hassle-free assisted returns, assured date of delivery, express / 24-hour delivery, Try@Home, Instant Exchange and has introduced for the first time – 'Alterations' in Indian E-commerce.
Also, the fashion portal had recently introduced F.lea Bazaar, a first of its kind initiative in Indian ecommerce. F.lea Bazaar is an online marketplace that brings together a curated collection of the best offbeat, eclectic products from select sellers and boutiques from across the country.
Some of the key brands that Fashionara.com retails are: Adidas, Benetton, Elle, Urban Yoga, Jealous 21, W, 109F, Biba, Inc 5, Catwalk, Swayam, Portico New York, Bombay Dyeing, Tangerine and more. Fashionara.com is based at Bangalore and funded by two large VC firms – Helion Venture Partners and Lightspeed Venture Partners.
Comments
comments