09 May 2017, India:
Gurgaon-based home rental service startup Fella Homes has laid off 70% of the workforce. Multiple sources said the layoff took place three months back and was completely unexpected. It didn't go smooth and people are still waiting for their dues. Fella Homes is down to 30 odd employees from the total headcount of 100 after the layoff.
One of the sources on the request of anonymity said, "I have been laid off in January for no reasons. It was not even related to performance. It has been five months and I haven't received my paycheck yet. The company claims to cut down people due to finances and somehow they have money to spend on parties."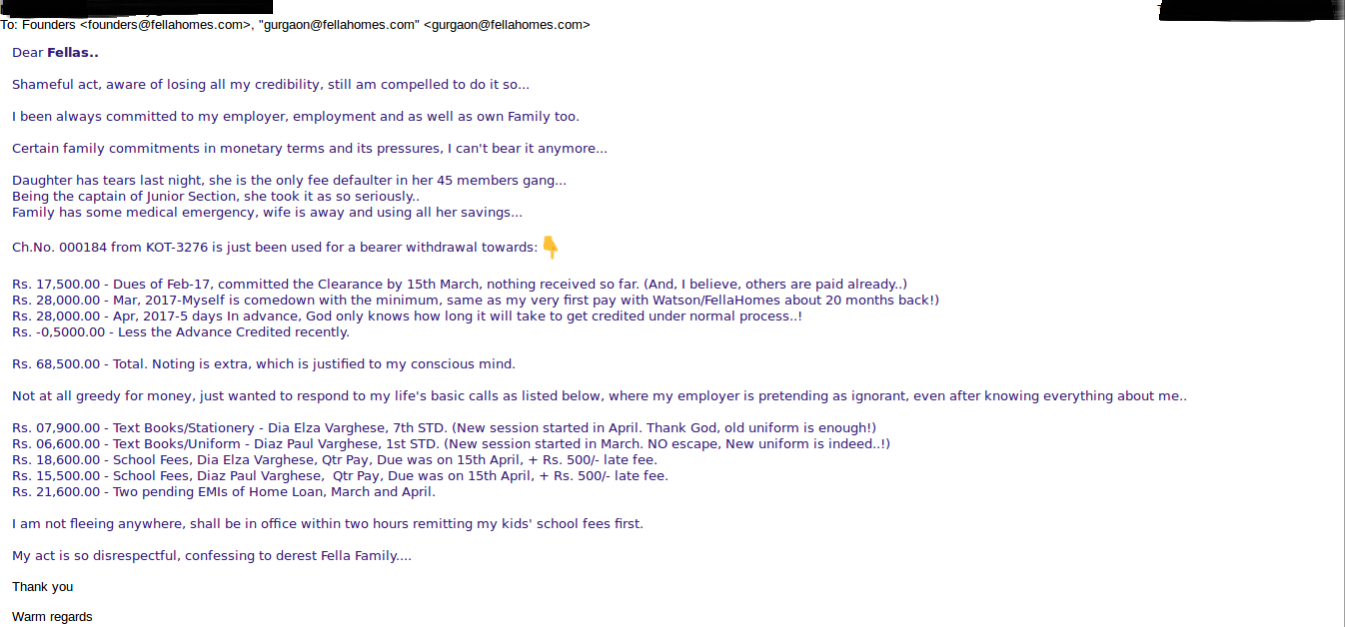 We managed to acquire the email interaction between an employee and the founders. The employee here stated how difficult it is to survive post the laid-off especially when the salaries are not cleared.
Digendra Singh Rathore, CEO of Fella Homes said, "Fella Homes was going through a tough time but it was as normal as any other startup/business in current times. We are not laying off 70% staff, we did cut-short our headcount 2-3 months back but not as drastic as mentioned."
Fella Homes was founded by IIT Roorkee and Stanford alumni Virender Pratap Singh, Yadwinder Paul Singh, Digendra Singh Rathore, Kunal Singh and Amit Gupta in October 2015. The startup raised $2million funds back in July 2016 and acquired Noida-based LifePad Homes, in the same domain, in an all-cash deal.
Related read- People Join Good Projects and Leave Bad Management
A medium blog post by Joii Ziya (alias) stated, "This is to bring to your notice that I have not received my salary, incentives and reimbursements. I have reminded you guys many times but you don't seem to care. When I asked my FnF amount, there were unnecessary deductions." The blogger also blamed that there's no work satisfaction as no matter how hard you work, there's no work appreciation.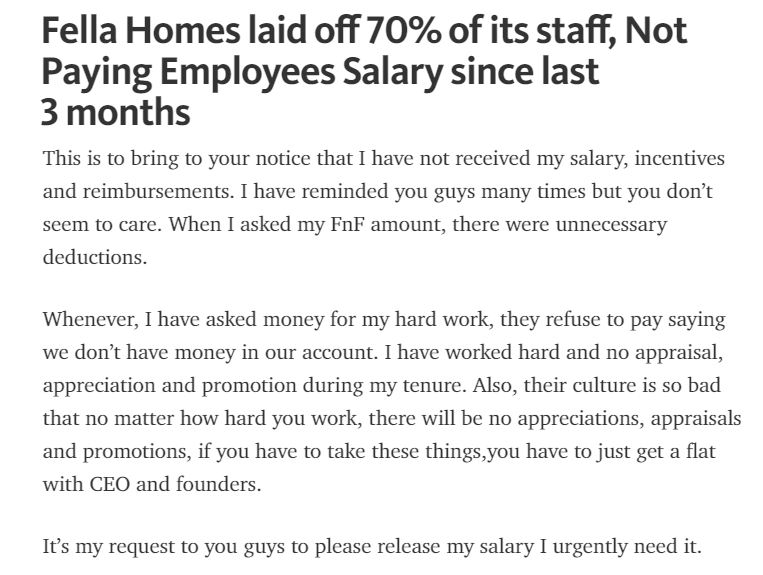 One of the sources stated that the startup is on the verge of shutting down and the sad part is the layoff didn't go smooth at all. It was all messed up. On the contrary, Digendra Singh Rathore said that the startup has already closed a fresh round of funding.
Though the term Layoff isn't new to the startup ecosystem as almost every venture goes through it but making it smooth is what is expected. Employees rely heavily on their monthly salary as most of them have loans and installments apart from the day-to-day expenditure. (Feature Image- Fella Homes Facebook page)
Also read-