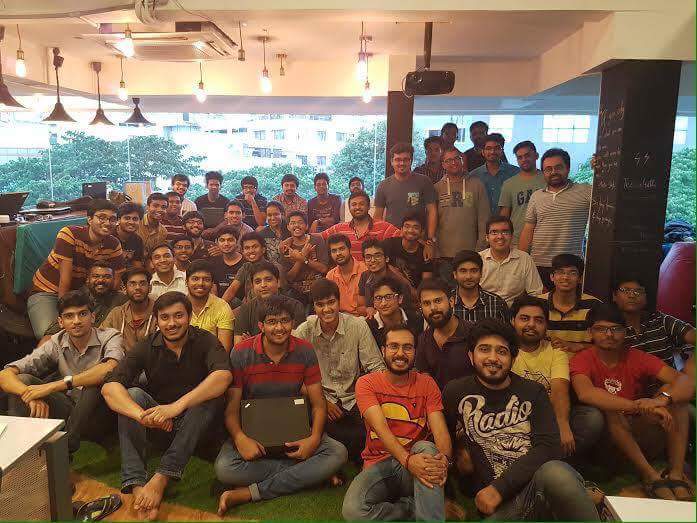 When you enter the Finomena office, a big quote written below the logo reads – "It's called a hustle, sweetheart!". When we quipped Riddhi, co-founder, about the quote, she said "We're all hustlers in our lives trying to move ahead and it's our dream to empower our customers with productive credit / gadgets so they can hustle better and move up to lead better lives. Hence, it's all about the hustle, sweetheart"
If you thought that was the only quirky thing about Finomena, you're in for a surprise. The company has a punching bag in their office for Finomenals (as they proudly call themselves) to release stress and fight it out, an in-house masseuse to keep everyone calm and a big bell that is rung whenever any employee, sorry Finomenal, does something great.
Completely opposite to all the quirkiness, Finomena is trying to solve a very serious problem of any economy – giving credit to the masses to improve their productivity and output. Finomena specially focuses on millenials, young people who are new to credit, or out of the financial services system. It counts all the millennials whose ages range from 20 to 30, those who do not have credit cards and are working on their own or earning something, as their target addressable market.
This number stands approximately at a staggering 150 million (more than the population of entire Russia). Riddhi has that number etched into her heart, and it was this number that pushed her to leave her comfortable life in Microsoft after being pampered by Silicon valley for 6 years, and hit the ground running in the traffic-laden, dusty-ridden roads of Bangalore, in order to contribute her bit to see the change and make it happen in India.
Related Read: 4 Benefits Of Availing Online Financing Through Fintech Companies !
While Abhishek, co-founder, recounts his personal experience of not being able to get a loan even with a great CIBIL score and tries to explain the problem as rather a deep one – "Banks give credit to people who have a CIBIL score, which people in-turn get either by getting a loan or a credit card. So, it's a chicken and egg problem". A management consultant with BCG and a private equity investor with Bain Capital in the past, Abhishek seems to be the numbers guy where he enthusiastically throws astounding stats one after the other at us. He explains, "It works well for US because almost every adult has a credit card with more than 70% penetration of credit cards, while India has less than 2% penetration".
Prodded on the same, he becomes a little angry and explains emphatically why it's not great to have. In his words, "We don't want to make India a credit hungry nation like US, where credit is available on the tap and people misuse it while not acting financially responsible and getting into a debt cycle. Credit should be taken responsibly only for important purposes in life & not for buying jeans and perfumes online"
Finomena gives out loans on specific categories that they consider as 'good' or 'productive' – Electronics, Laptops, Smartphone and Furniture. They claim to have the largest number of app installs in the online lender category and be far ahead of all its peers. Both the founders were tight-lipped when we asked them about the variables they analyze in determining who is eligible for a loan, when Riddhi chuckled "If we tell you our secret sauce, then all the fraudsters will read it and try to game our system". They claim to be able to do that by evaluating more than 22000 variables that can range from as behavioral as what time of the day did you install the app, to how many ATM withdrawals you do in a month.
Related Read: Lending Market In India – Rise Of The Fintech Industry !
Finomena has been the pioneer in financial innovation such as flexible monthly installments which they call FMIs – Finomena Monthly Installments. Combating stereotypes in the banking world such as "All bachelors are irresponsible people and should not be given a loan", to combating hierarchies in the industry to now tie up with big banks and FIs, has been a great learning journey for both the founders.
The market for digital lenders is becoming overcrowded with a new player coming out of the hood every few months. Finomena claims that it's highly unfortunate that people who don't understand credit as a business are also joining the bandwagon and propping up the market in the direction of easy credit / bad credit without knowing the nuances of the business. Abhishek jumps again with the top of his voice – "Credit is a very difficult business. It's not like e-commerce or food delivery, and young entrants in the hoard of growth are taking wrong steps which can hurt the industry overall"
With two floors of hustle and bustle in the office, Finomena seems to have expanded to about 75 people and currently operate from Bangalore only. They give out loans pan India, and plan to expand to 5 more cities with their offline presence in the next 6 months. They have given loans from as far as Srinagar in the north, to Nagaland in the north-east.

As Riddhi says, "Our team is giving in everything they can, to *solve lending* for the long-tail of smartphone-wielding, internet-using, dreaming Indians. More thought leadership, more loans done, more innovative features, a continuously evolving better product and more presence in the press is hopefully what our customers, stakeholders and followers can expect from us in the coming months. This is an insanely hard problem, with so much to optimise on, so much to learn from and so much to do, and we're happy to be on this journey."
Finomena had raised a seed round from Matrix Partners along with some angels this March, and is now looking to raise a Series A now since they claim to have left everyone behind to become the #1 digital consumer lender in India.