Are you worried about arranging funds to grow your small business? Don't be.
You have got a great business idea and a full proof execution plan in place.
What next? A regular inflow of funds, right?
You have enough money for seed capital for your small business; that's great! Now you want to see it growing, however, to keep it growing isn't an easy task when you lack sufficient funds.
So, what can you do during financial breakdowns? Obtain business financing in the form of business loans, equipment loans, personal loans or other forms of funding aid.
Business financing can help you get seed capital for a perfect business launch and manage operational tasks like stocking up inventory, purchasing equipment, paying off salaries of your employees, marketing and funding other business needs during the initial stage of your venture.
It also helps you support your business's growth by financing the purchase of a bigger office space, office renovation, innovation, and to keep your business going well during unexpected cash crunch situations.
Now that we have talked about funding needs of business, let's take a look at the business financing options available for a small business.
Related Read: Lending Market In India – Rise Of The Fintech Industry !
There are broadly two types of financing options – Traditional Funding and Online Lending; the latter has many advantages over the former, here are some of them.
Here are some of those benefits of availing online financing through fintech companies:
 1. Better Speed and Automation
Online application, documentation, approval, fund disbursement – each process is automated, much faster and safer than traditional lending with everything is in place.
 2. Better Customer Experience
Fintech companies provide better customer experience by making the loan application process fast and easy; giving them the flexibility to avail a wide range of business financing options anytime and anywhere.
3. Better Convenience
Availability of alternative lenders and various business financing options allow small business owners to get a quick and convenient online access to funds. Users can avail the funds whenever they need, no matter where they are, through a single platform.
4. Better choice of Financing Options
How many banks you can visit in a single day to apply for a business loan? What if all the lenders gather at a single platform with all the business lending options? Fintechs provide you that, so that you can compare easily between various options and choose the best as per your business needs.
Fintech platforms have simplified the entire financing processes for potential borrowers. They have become the smart and intelligent choice and not just an alternative for the borrowers today.
Try a fintech company today.
Related Read: Startups That Bet Big On the Fintech Space!
Get funded, Get growing!
(Disclaimer: This is a guest post submitted on Techstory by the mentioned authors. All the contents and images in the article have been provided to Techstory by the authors of the article. Techstory is not responsible or liable for any content in this article.)
Image Source: flipboard.com
About The Author: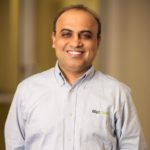 Rohit Arora, CEO and co-founder of Biz2Credit, is often quoted on small business lending by major news media, including the New York Times, Wall Street Journal, CNNMoney, and the Washington Post. He holds a Masters Degree from Columbia University and an Engineering Degree from India.
Under Rohit's leadership, Biz2Credit visualizes a growth of its customer base by about ten times in the next couple of years and is projected to go global soon.