While most of us are left aghast at how fast everything is adapting itself to a smartphone app, recent trends in technology and it's immersion into major disciplines of life suggest that this must be an expected phenomenon today.
A booming industry is often quickly adapted to the smartphone culture – apps designed to deliver the same or similar experience at your fingertips, the most effective and adaptive mechanisms possible! The same is the case when the healthcare and fitness industry experienced somewhat of a boom in 2014.
As app developers began adapting fitness requirements to create universally applicable apps, the global health and fitness mobile app industry went from being worth $4 Billion in 2014 to a mammoth $26 Billion today.
Moreover, such a boost fuelled the fire of other ancillary industries like those of wearable fitness technologies. While I still remember the days when a pea-sized device was inserted into your boot almost a decade back, today's Fitbits and Jawbones are meticulous and accurate, while being quite the style statement as well!
Thus, while the technological aspect of fitness apps earns greater amount of sophistication every year, the devices and wearable technology going with it also keeps updating itself. Simplicity in style matched with intricate evaluative measures make them ideal for a wide customer base – the fitness freaks, the ambitious life-changers as well as the dilettante dreamers!
C0mplementary Growth Patterns
What may not make sense to many readers is the paradoxical relationship of smartphone apps and wearable devices. If smartphones are supposed to serve all purposes, why must one require a separate device for tracking fitness? And, how do both these industries supplement one another?
Well, part of the that answer lies in aspects of human nature – we tend to find extrinsic sources of motivation to propel ourselves toward our lofty ambitions. While this might not actually end up working, one 'feels' that they're making a more serious effort if they make considerable investments (physical, monetary, etc.) towards achieving a goal.
Get a tracker that tracks every activity in your day, syncs to your phone, and suggests what you should do next? Sure, that would make you live the healthiest life out there! While we may not scale these peaks as soon as we would expect, our actions certainly reflect on the booming numbers of that market.
The apps themselves aid the process by seamless integration and compatibility to a series of wearable devices while a myriad of tools like the Jawbone UP and the Fitbit API are available for developers to integrate these wearables.
Types Of Workout Apps
Broadly, one can observe workout apps to follow distinct styles of interface: Personal Trainers or Workout apps, Activity trackers or Logbooks, and Device pairing apps. Personal trainers are all those apps that generalise basic requirements based on the body pattern and need of the user, and generates a routine that includes pre-arranged exercises and focused workouts.
The user is aided with videos, descriptions, step-wise illustrations and interactive texts as well. With increasing levels of difficulty, one can always keep raising the bar higher, and what's more, you don't even require sophisticated instruments or a gym to get back to fitness through these apps!
Logbook apps are more intricate in the sense that they allow planning and recording exercise and even dietary routines on a daily basis. These involve a more wholesome approach to health and well-being rather than a parochial focus on only fitness. Not too cumbersome to operate, these logbooks can be instrumental in mapping all the healthy and unhealthy portions that comprise your day.
Device pairing apps are the ones that have really picked up in the past few years – those that track your movement and provide evaluations and feedback to the same on a regular basis. The scrutiny within these apps has now reached a level such that smart gyms include tracking apps that count each rep and set of each exercise for a specific muscular group, finally consolidating a report on your smartphone.
Activity tracking apps can also track basic physical activities like steps taken, stairs climbed, sleep hours and quality, etc. Moreover, these apps can also have nutrition tracking integrated such that every activity that contributes to fitness is tracked regularly. 
So How Do These Apps Work?
The basic feature that allows everything to fall into place is undoubtedly that of transmitting sensors that respond to different activities. These sensors can be of varying types: Gyroscopes (devices that use gravity to determine orientation, compasses and accelerometers are basic instruments that allow for motion tracking. iPhone chips use such motion trackers, combined into integrated coprocessors that are then adapted to the Health app on the phone.
Global Positioning Systems (GPS) are used for just about everything now, and their purpose and function is ubiquitous. Running apps (like Strava and Runtastic) use GPS much more than home fitness apps, as they track distances, routes and exact positions of the users. Barometers and Altimeters tends to attain higher accuracy as against GPS when it come to object elevation and altitude tracking. However, different instruments combine different tracking devices.
Garmin's Fenix series combines the ABC – Altimeter, Barometer and Compass along with GPS while iPhones come with Barometers and Altimeters too, allowing for greater intricacy in feedback. Apple's WeatherRun app is a prime example of the same.
There are more sophisticated activity monitors that are used for specific heart rate monitoring by professionals as well as those with specific needs. These instruments use Optical Heart Rate Monitors (OHRM) with LED sensors that pass light through skin to track changes like blood saturation, allowing the processor to determine heart rate and cardiac cycle.
There are other devices like the Jawbone UP3 and UP4 use Bioimpedance sensors that measure the resistance of body tissue to small amounts of electric current to capture various physiological indicators such as heart rate, respiration rate and galvanic skin response.
Revenue Generation And Market Performance
While the intricate and elaborate workout apps on your smartphone are involve a subscription fee, different apps have different models of earning revenue. Some apps require long term subscription, other have a one-time charge, while some also have $1 a day workout plans. Another app, Pact, builds on the need to maintain a disciplined approach to fitness, charging you a fee for missing a gym session.
Other ways of earning revenue is through the sale of merchandise like sportswear and gym accessories, as well as nutritional supplements and medicaments. Moreover, there is much more to encourage someone to develop and invest in this industry.
The global digital healthcare market is predicted to explode to $379 Billion by 2024; the mobile health market is expected to experience CAGR of 36.5%, reaching $200 Billion by 2024 while Accenture's recent study found that the number of people using health apps has doubled from 2014 to 2016! Consequentially, even the wearable fitness technology market is expected to power forward with a CAGR of 13.7% by 2022.
Studies point out that the major factor that determines such growth would be those of increased awareness of fitness needs, greater sophistication of wearable gadgets and the eventual increase in popularity of trusted and effective devices. Thus, as is expected with the integration of technology with any market, the numbers and predictions seem to portray as extremely fertile and lucrative market developing in the coming 5 years!
What Else Can We Expect?
The future of activity trackers and wearables seems quite promising, as we have already discussed. But, if we were to look at the areas where specific improvement can be sought, there are a few that come to mind. We can expect that the accuracy of these trackers will keep improving, as there is no limit to the perfection that can be achieved in that respect.
Every update and technological jump will exhibit greater accuracy like more accurate calorific counts – something that is still a work-in-progress for many of the topmost apps. Another upgrade soon to be made smoother is that of integration.
Healthcare providers can gain insights from the evaluations and reports generated by activity trackers and use them in making more accurate diagnoses. They can also be used to monitor specific activity routines that have been suggested to clients.
Finally, we come to that point that was mentioned previously – about human nature and our need to keep motivating ourselves. Sometimes it's easier than others, but it is often starkly visible when simply wearing your new tracker does not bring your weight down!
It may, in fact, make you much more paranoid about your lifestyle. However, this is an area that fitness apps are targeting now – constant motivation to sustain efforts towards fitness. Joining friends, creating games and goals, and setting reward mechanisms might be the way forward, even integrating rewards that can be used across platforms!
Irrespective of the motivating strategy, while the future will be clad with cool personal trackers and sophisticated devices, let's hope we can achieve our fitness goals in the meantime!
(Disclaimer: This is a guest post submitted on Techstory by the mentioned authors.All the contents and images in the article have been provided to Techstory by the authors of the article. Techstory is not responsible or liable for any content in this article.)
About The Author: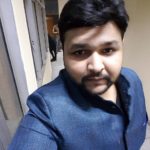 Sachin Gupta, CMO of Code Brew Labs holds an immense love for marketing. A people's person, Sachin he is known well amongst his circles for being the Marketing Moghul willing to get his hands dirty when needed. With a penchant for business strategies and everything marketing, he seems to be on a hunt for challenges. Having worked with companies like YepMe and MobiKwik his knowledge is in no way limited.
While he's making waves in the Marketing universe, Sachin likes to keep an eye out for upcoming ventures and entrepreneurial masterpieces in the making.