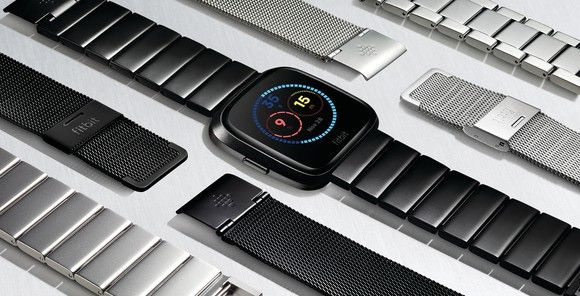 Fitbit v/s the new Apple watch is a fight that keeps getting edgier by the year. While Fitbit is a company that revolutionized wearables for the entire fitness industry, one can't forget that it is competing with the flagship wearable of a trillion dollar company.
Here, we are going to talk about why FitBit is a tough competitor even though the odds are stacked against it and why it is a better investment for the amateur health junkie.
What Is A FitBit

For the unaware, Fitbit is a company that manufactures watch-like wearables that track the wearer's all-day physical activity, exercise, sleep, and also weight. Other additional tracers it includes are a heartbeat tracker, calorie tracker, and a pedometer that also track your weight.
Fitbit also comes with a correlating app on Android and iOS where you can see all your activity over a custom period, see stats, and compare.
In recent years, as a way to compete with smartwatches through some select Fitbit products, you can also answer phone calls, respond to messages, and see notifications.
A primary way in which Fitbit is different from the Apple Watch is that the latter is an extension of one's iPhone. You can do much more with an Apple Watch as it falls under the category of smartwatches because it runs full iOS, while Fitbit still falls under the wearables for fitness category.
They're trying to bring a few smartwatch functions into their system but the primary product is still fitness wearable. So, they are not entirely similar, but still pitted as competitors by the industry.  
Now that we know about Fitbit, let's talk a little about its market performance and how it is faring when compared to the Apple Watch
How Has The FitBit Performed?

Fitbit stocks are on a steady upward graph after a few hiccups in the first quarter of the year. They rose by 7% in late October and then jumped again by 22.4% in early November.
When it comes to sales, Fitbit released a third-quarter revenue report of $393.6 million, which means it is up by 0.3% year over year and about $12.4 million higher than average estimate made by industry analysts.
The per unit sales on devices were down to 3.5 million from 3.6 million in the prior-year period, but a 3% increase in average selling price (ASP) offsets that decline.
That increase in average selling price was driven by a market shift towards smartwatches and away from just regular fitness trackers, which means that Fitbit's move towards relatively affordable smartwatches redeemed the company.
All in all, the company is showing promising growth which is especially commendable when one's dealing with industry giants.
According to CEO James Park: "We are now the number two player in the smartwatch space in the U.S., a category we just entered with zero share only 14 months ago. We also launched our most advanced tracker yet, Fitbit Charge 3, which is blurring the lines between trackers and smartwatches and is already one of the top-selling devices in the U.S."

What Should The Health Nut Buy?

As of 2018, the market share for Apple stands at 17% while Fitbit stands at 9.5%. Fitbit is definitely not the market leader when it comes to wearables by a significant margin. But, gauging its success on the basis of its market share is quite honestly an unreasonable expectation.
The only reason why Fitbit falls after Apple is that it trails second in sales of wearables in the USA. This is because the country has a larger ecosystem of Apple because of its other gadgets which put the watches to an advantage.
Fitbit has positioned itself to perfecting the tech in the fitness industry, unlike the Apple Watch which has an all-in-one approach.
To compare, let's take the example of the Charge 3 – Fitbit's newest device. The Charge 3 is one of FitBit's advanced watches which has all of the fitness functionalities, as well as basic LTE support and notification connect.
But, this phone comes at an affordable USD 150 dollars price point while the Apple Watch comes in at more than a double of USD 330 dollars. Not to mention that the Fitbit UI is much more user-friendly than an Apple wearable, because it connects to all devices – Android or Apple. The Apple Watch limits itself to the iOS ecosystem.
Additionally, the Fitbit is tested to have a longer battery life than the Apple Watch and is known to be built in a more durable manner. Fitbit is also more accurate in tracking and measuring all the user's metrics.
For someone who is buying a wearable as a primary fitness tracker, the Fitbit makes more sense – functionally and financially.
One With Promise

All in all, the wearable does the job and does it well. It is a good investment and definitely, less stressful on the pocket. So, as a device the Fitbit makes sense. But, does the same can be said for the company?
As a company, Fitbit is actually impressive. It is serving a niche device that repeatedly has to deal with undercuts from more expensive and gimmicky devices, such as the Apple Watch or extremely cheap and ill-performing devices like the Mi Bands by Xiaomi. But, the company is trying to stick to its guns, make the best fitness wearables, and so far, no one is beating them at that.
Their growth may be a bit slow, even falters at times, but good things take their while. The market is relatively new and fresh, and consumers are currently taking their time to realize how well Fitbit is delivering at its given market point.
Image Credit: Fitbit