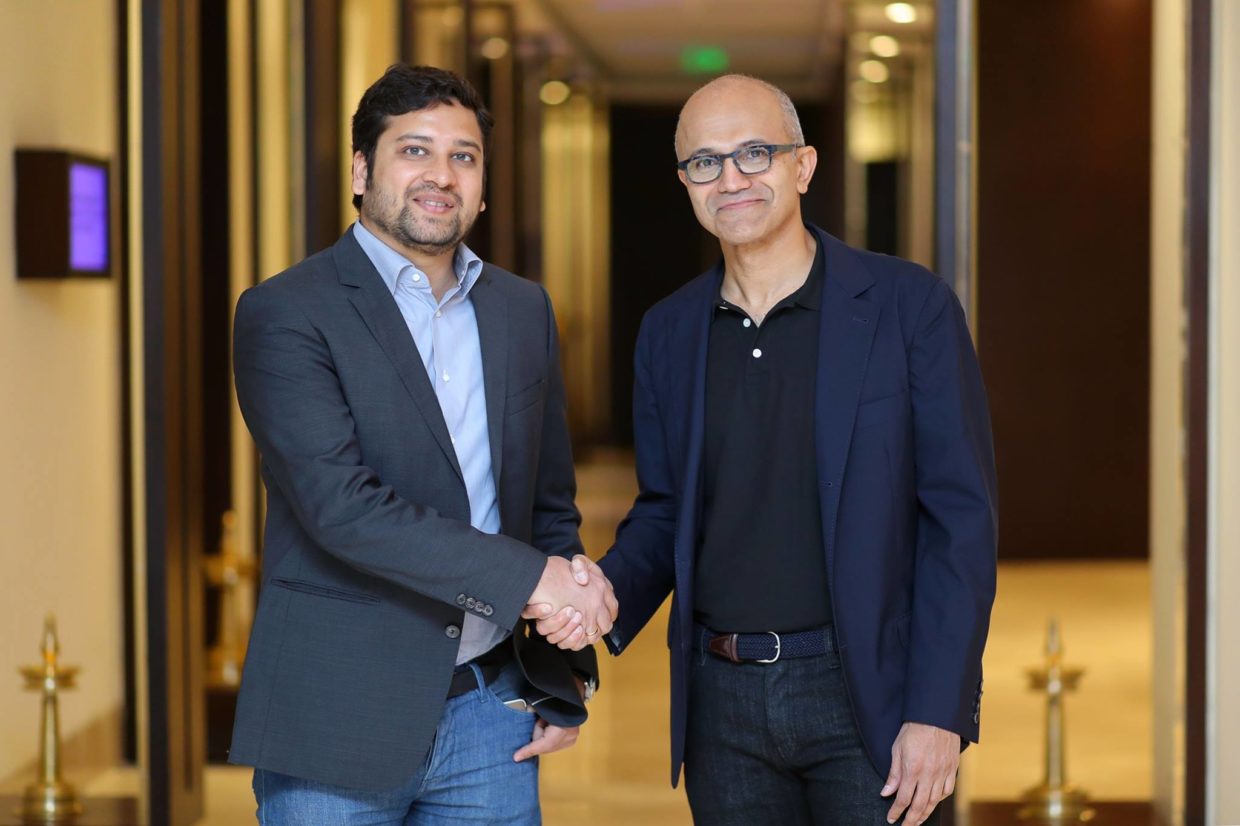 Seattle-based e-commerce giant should be happy, indeed very happy that before even turning four, the company has already emerged as the leader in the local market. From web-based services to the e-commerce platforms, it rules the roost.
The giant player, in its struggle to excel at everything forgot that there is arising rivalry somewhere in the corner and someone is just not happy, due to which a cloud war and an e-tailer war is declared between some of the really big players out there, namely Amazon, Flipkart and Microsoft, both at which Amazon seems to win. But it is just not easy for Flipkart and Microsoft to sink that in, for the two have collaborated to give a neck to neck competition to Amazon.
Just when Amazon has established a monopoly in e-commerce and web-based services and has been making super profits in the industry, its competitors decided to give a googly. This Monday, at an event in Bengaluru, Satya Nadella and Binny Bansal joined hands to give effect to a strategic partnership where the two firms will collaborate to wipe off Amazon, at least from India!
The companies, announced a strategic cloud partnership to provide Indian consumers a satisfaction never experienced before. To give this partnership a kickstart, Flipkart has decided to adopt Microsoft Azure as its exclusive public cloud platform. This is sure to serve a major boost for Microsoft in the war of winning Indian customers that are heating up between the major cloud players Amazon (AWS) and Microsoft (cloud Platform).
Furthermore, Microsoft being a rival of Amazon in cloud services has announced its three major bets. The AI, cloud, and Cortana. Cortana being an addition to the two existing runtimes being operating system and browser. The third one, Cortana being an agent. The firm is working to give it a natural language understanding as for all the advances in human-computer interface, nothing beats language. An Offbeat and clever move, though!
The partnership as one can see is a win-win situation for the two players. Flipkart being an e-tailer is to benefit from the Microsoft's cloud platform and AI capabilities. The company can now redefine customer satisfaction backed with digital transformation, given Microsoft's tough and strong reputation in cloud computing coupled with its scale of operations and degree of reliability.
And as for Microsoft, it is like a dream come true. The dream of empowering and imprinting Indian Organization with a digital touch is now brought close to reality with the strategic partnership. Microsoft Azure will add cloud technologies and analytics to Flipkart's existing data centers and its global scale will allow for continued growth and expansion for both of them.
Well, the strategic partnership aptly conveys how these players are wise enough to understand Amazon's moves and are formulating their strategies accordingly. They do understand that it is soon going to be a battle of relevance and their strategies are sure to give some restless nights to Jeff, Amazon's CEO.
Also Read:
Amazon Vs Flipkart And Uber Vs Ola. It's Not About Capital Dumping – It's About Good And Bad Investments.
Flipkart Vs Amazon: The Dawn Of Ecommerce Leader In 2017
(Disclaimer: This is a guest post submitted on Techstory by Himanshu Jain, CEO of LegalRaasta, an online companion to register logo in India.. All the contents and images in the article have been provided to Techstory by the authors of the article. Techstory is not responsible or liable for any content in this article.)