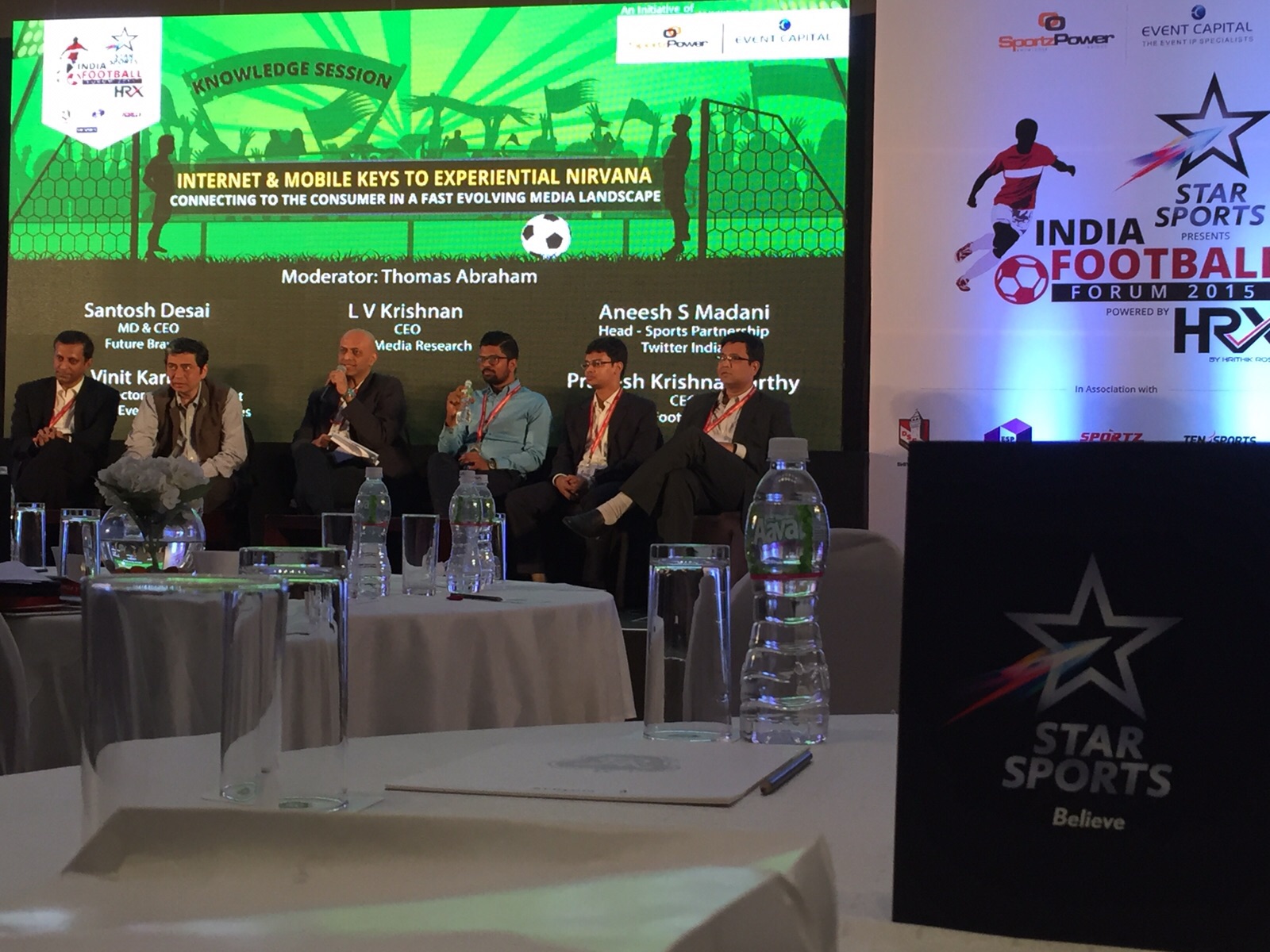 Mumbai, October 30, 2015– Sportzpower.com and Event Capital joined hands to organize the debut edition of India Football Forum 2015 in Mumbai and the Football Mind was given the opportunity to be part of the panel.  The forum presented a common platform for the football fraternity to discuss the business surrounding the sport in India. The topics under the scanner at the 2015 edition included governance and management of the game, maximizing fan experience and corporate social opportunity. The Football Mind, a sports networking firm based in Pune talked about how the internet can create a boom in fan engagement and networking for the Sport.
The one day forum was graced by Nitin Kukreja, president of Sports star India and other keynote speakers Peter Leible, Chief Representative Asia Pacific DFL Sports Enterprises and none other than Ronnie Screwvala, founder of U Sports. Collectively, both the Keynote speakers and the panelists talked about Faster Growth, Higher Visibility and Stronger Management in the game.
"From being a one-sport-only nation, we now have wide viewership of a second, football. This is to me interesting because it shows middle-class interest in a sport that is harmonious. With its passing and teamwork and flowing action, football is less individualistic and less solipsistic than cricket. It says something warming about those who follow it for love. Meanwhile, the playgrounds remain unfit to convert this passion into talent" said Columnist Aakar Patel in Times of India
Other than the keynote speakers, Pranesh Krishnamurthy, CEO – The Football Mind, elaborated how the internet and mobile can be used to tap a wider audience. "We have worked with Mumbai FC, the I-League team, over the last season. We helped them triple their online presence. More engaged community. Match attendance from 200-300 to 1000s, hence showed the success in our initiative. Even after the event we have continued campaigns that helped in continuous growth. This can help other I-league clubs to gain concrete fan engagement. " said Pranesh. The Football Mind is connecting to the Consumer in a Fast Evolving Media Landscape.
Although the performance of the national team in the recent World Cup qualifiers has been dismal, with a host of international players making their way to India for the ISL, optimism for football in India is at an all time high. Only time will tell if initiatives taken by a host of sports tech and media companies, clubbed with suitable steps from the government can turn India into a truly footballing nation.