Ford Mustang Mach-E will get a new update, Update 4.1.2 which will bring an easier adjustment of climate functions. The earlier function of using a know to change temperature, fan, and such changes will now be available for Ford Mustang Mach-E.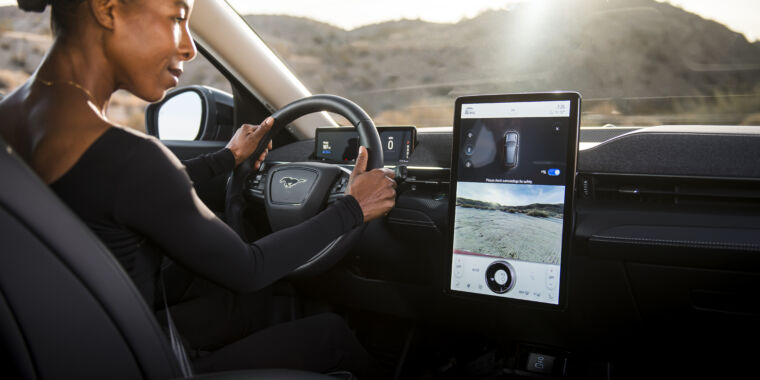 It doesn't just work for temperature. If the driver now taps the icons in the climate panel at the bottom of the Mach-E's big 15.5-inch screen, such as fan speed and the heated seats, these too will be adjustable via the knob. This was demonstrated by Ford North America communications manager Mike Levine, who posted a video as a response to another tweet announcing the recent update. He doesn't actually show either temperature or any of the other functions being adjusted via the physical control, but he does show that you can toggle what the knob controls.
While it may not sound like a big deal, it actually is given how much safer it is for the driver to make these adjustments by twisting a knob than by having to take their eyes off the road for several seconds in order to make sure they prod the screen in the right place. It's one of the things both journalists and car owners seem to dislike, and it looks like the critics were vocal enough to prompt Ford to make this change.
The volume knob can now be used to control the cabin temperature, fan speed and heated seats. To use these new controls, just tap the temperature, fan or heated-seat screen control once, which will enable control of the feature when turning the volume knob. pic.twitter.com/dg0vOggKw6

— Mike Levine (@mrlevine) January 4, 2023
Simplifications
Though it is not like they are going to advance features, one can't rely on muscle memory as all controls are not physical ones. However, the driver would be spending less time looking at the screen and more time looking at the road. Ford says that this new update it also simplified the home screen's layout, changed status bar icons, and added in-vehicle scheduling for software updates. The two new games it added are called Bridge Battle, a competitive bridge-building game, and Parking Lot, which is a puzzle game that should be familiar since versions of it are quite popular on Apple and Android phones.
The manufacturer made it clear that only 2022 model-year vehicles will be compatible with steam, as they got a hardware upgrade along with the refresh that gives them 16 GB of ram and improved processing power. In order to be able to store all those games (as well as dash cam recordings) locally, the manufacturer has also announced the availability of a 1TB SSD that costs $350 and will start shipping as of February 2023. It can be placed in a corner of the glove box, so it doesn't take up too much space, yet it adds virtual storage for dozens of games.
Comments
comments