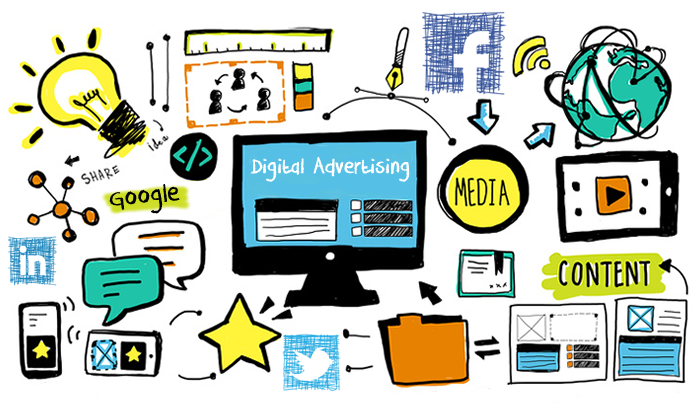 Digital advertising is one of the fastest growing sectors of IT Industry. The digital advertising industry is hardly a decade old and it has created a benchmark in the advertising industry, making every company select it as their primary mode of advertising. It is cost effective and profit-oriented whereas other advertising methods are comparatively expensive. Digital advertising gives consumer-oriented solutions free of geographical and other socio-economical barriers which makes it the ace of the advertising industry. Every day a new trend dominates the industry but there have been few trends which are meant to dominate the future of Digital advertising industry in coming years. Mr. Ashish Bahukhandi Founder & CEO Apps Discover Technologies share few trends that will shape the future of Digital Advertising.
Dynamic and personalized content is the new trend
Nowadays there is a tough competition among ad networks to deliver the best of the audience interest. Serving irrelevant content to the audience interest doesn't pay off well and all your efforts go waste. Do a brief research about the website where you are posting your ad, it will help you to refine the content of your ad as per the interest of your targeted audience. Providing dynamic content always pay off well because it refines your content by viewer's recent search which helps you to cater the desired product in your audience dish.
The Shorter the Better
The shorter ad is always better as it consumes less time and grab more of audience interest. However, lengthy and ambiguous ads incline to be more boring and create a negative image about the brand. Always make sure that your ad is short, precise and deliver the message you are trying to convey to your audience.
Native advertising is the ace of all the trend in digital advertising
Native advertising is said to be more auspicious than any other ad trend as they convey the message of the ad draped in the form of content. Native ads are designed as per the website where they are posted, the design includes ads mixed with editorial content. Such ads can commonly be seen in a form of article and the viewer pays proper attention to it as they tend to be engaging.
Adoption of Local languages
With increasing numbers of internet users there is a vast increase in numbers of mobile ads which are targeting people from all socio, economic and geographical backgrounds.
Posting ads as per the first language of your targeted audience tend to be more eye catchy than using any other language. Local languages are more of audience interest as they add a personal touch to the ad.
Mobile Advertising is the future
After the revolution of telecom industry most and most people are switching towards mobile internet which has opened the gates of opportunities for mobile advertisers.
Especially in developing countries, mobile advertising is now considered as a very promising mode of advertising. Due to its compact size and easy availability, it connects, a maximum number of audience, even advertisers find mobile ads more influential than usual desktops. Companies are now launching their mobile apps because mobile advertising is a burgeoning mode of advertising.
Related Read: Native Advertising and Content Marketing: Do They Have Any Difference?
Outstream Video
Videos that are commonly termed as the native ads, as they are the modified form of CPM video ads. Outstream videos can commonly be seen on every popular website as they are placed between the content and they have the autoplay access once the person navigates the text. These videos have no relevance with the content posted on the page.  They are also known as instream videos because these ads can play before, after or in between any video posted by the publisher.
Provide Chatbots
Providing Chat feature to your website is going to be a leading trend in Digital Advertising, as it enables the person to communicate directly with the brand. Chatbots are considered a very strong medium for advertising as it helps the viewer to clear their doubts and queries. Chatbots are automated replies based on the commonly asked question, every time a person uses a chatbot he gets an instant response from the company. Chatbots are often used to communicate with other users associated with the same website like Facebook, Instagram etc.
Remarketing ads
Remarketing ads are one of the most influential forms of digital advertising as they are modified as per the users recent browsing experience. Remarketing ads work when a person visits a website and navigates on a specific product or page and then logs out of the website, his visit to website and activity helps the advertiser to design the ad. Remarketing ads are posted on different websites and they show specific ads to a specific person, this increases the chances of the sale. Remarketing ads are now the trending form of advertising especially in e-commerce industry where most ads posts are customized as per the like and users browsing history, this method is considered as very persuasive and lucrative mode of promotion in digital advertising.
Also Read: Why Now Is The Time To Double Down On Content Marketing
Programmatic Ads
Programmatic ads are ad posts designed as per the demographics of their targeted audience is also considered as the future face of digital advertising. They divide their audience based on their age, gender, social liking etc. In programmatic ad, user can decide where he wants to post his ad and its frequency. Programmatic ads are designed to cater their targeted audience to convert their ad post in best possible revenue.
Post your ad on Social media
Facebook, Instagram, and Twitter are the most prominent destinations for all sort of ad posting as they have millions of daily visitors which increase the possibility of ads to get noticed. These social media platforms offer an economical and effective outcome with a maximum number of views and reach of the campaign. Needless to say, social media is going to lead the future of ad industry.
Many of these trends have quintessentially delivered an outstanding result in a very short span of time. By emphasizing the potential of these trends, we can undeniably predict the remunerative future of ad industry in coming years. (Image- snapstter.com)
(Disclaimer: This is a guest post submitted on Techstory by mentioned authors. All the contents and images in the article have been provided to Techstory by the authors of the article. Techstory is not responsible or liable for any content in this article.)
About The Author:
Mr. Ashish Bahukhandi, CEO, AppsDiscover Technologies Pvt. Ltd is the visionary entrepreneur behind the concept of AppsDiscover. Under the leadership of Mr. Bahukhandi AppsDioscover has emerged as one of the leading startups in a very short span of time.
Comments
comments