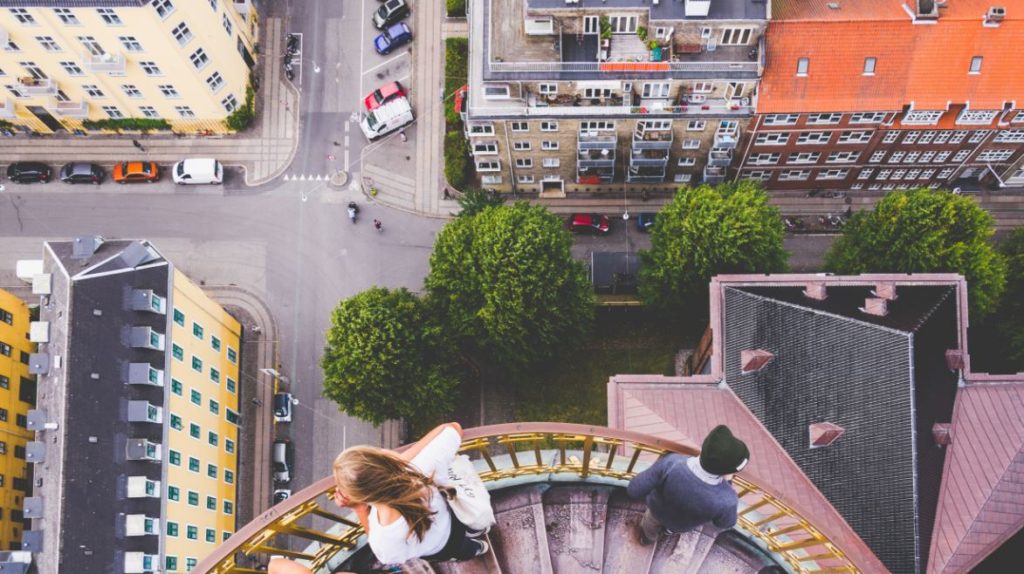 Women being a part of workforce and earning wages or a salary are part of a modern phenomenon, one that developed at the same time as the growth of paid employment for men, but women have been challenged by inequality in the workforce for as long as one can remember.
For a long time, barriers such as legal and cultural practices, combined with the inertia of longstanding educational and religious conventions restricted women's entry and participation in the workforce. However, through the 20th century, the perspective of the society as a whole underwent a gradual change and people have started acknowledging the need of both men and women in the workplace.
Related Read: Work Life Balance For Women Entrepreneurs !
In 2015, more than half of the world's working women and men were wage and salaried workers. To be precise, 52.1% of women and 51.2 % of men in the labour market are wage and salaried workers. There has been a steady change in the employment pattern across the different sectors and organizations have started to see it as a part of their corporate social responsibility (CSR) to address gender equality in the workplace.
However, one of the industries that are still short of gender equality is the Tech industry. When it comes to women in tech, the numbers reveal a continuing challenge. The tech world is still male dominated and the lack of women in technology conversation is nothing new. Over the last few months, people have become more aware about this situation due to events like "Donglegate" and its backlash. This led to an accelerated increase in the awareness of such gender biasness in the tech industry.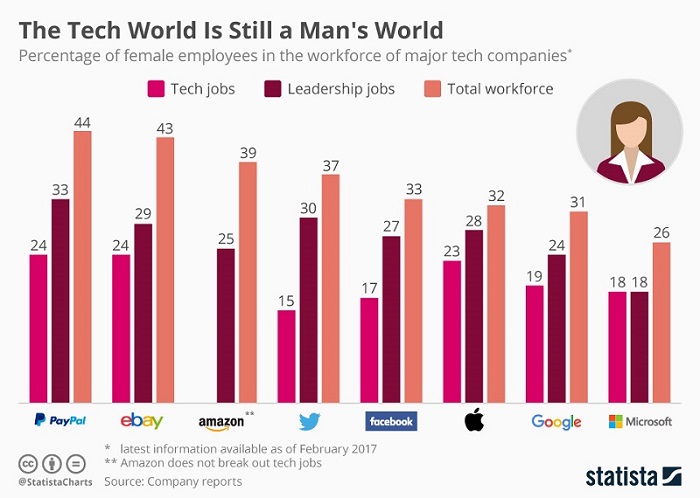 In a competition amongst the biggest tech giants, PayPal, one of the world's largest internet payment companies has the most women employees (44% of total) and with 43% and 39% female employees, the e-commerce platform eBay and the online retailer Amazon come at the second and third place, respectively. Low percentages are recorded in Apple, Google and Microsoft with 32%, 31% and 26% female employees out of the total workforce, respectively.
These are not just figures but an indication that very few women have influence over product development or business strategy- the two rungs at the top of the industry's corporate ladder. This not only points out the gender inequality but also affects the health of the company.
Various studies show that companies with a diversified view point, different market insights and approaches to problems achieve higher sales and have a strong market share as compared to their less-diverse rivals.
Women, with their empathetic skills, emotional intelligence and helpful nature help to create and maintain a healthy working environment. Then, what could possibly be the reason for such employment gaps? Well for starters, pay difference among men and women is still prevalent.
It has been time and again noticed that women are often paid less than men for the same work. Also, in fields of study related to IT, gender disparity is still a problem which further contributes to the gap between male and female employees.
Furthermore, various studies conducted in multiple countries show that both men and women are twice as likely to hire a man for an IT job as an equally qualified woman – a pattern that may be driven by unconscious gender biases.
Women have made great strides in the workplace, but inequality persists.
Gender stereotypes are hard to break and, like it or not, we are all prone to engaging in stereotyping at one time or another. As a society, we need to continue to encourage people to go beyond stereotypes and recognize the contributions that each individual, male or female, can make to the workplace and to relationships at home.
One of the ways of breaking out this stereotypes is proper mentorship for men and women alike to embrace women leadership. In one of our previous exclusives with Belinda Johnson, AirBnB's Chief Business Affairs and Legal Officer, she had quoted, "the more people have begun to join in on conversation about women in leadership, the more I've noticed a positive change. Seems to me that people are taking more action in the ways they're helping to encourage and support women in the workplace and I believe we'll continue to see this shifting trend as more and more women are going after their career goals and taking positions of power."
More women should be encouraged to explore the tech startup market, and discover how their talents, passions, and interests can transform or contribute to the future. After all, tech is the future.