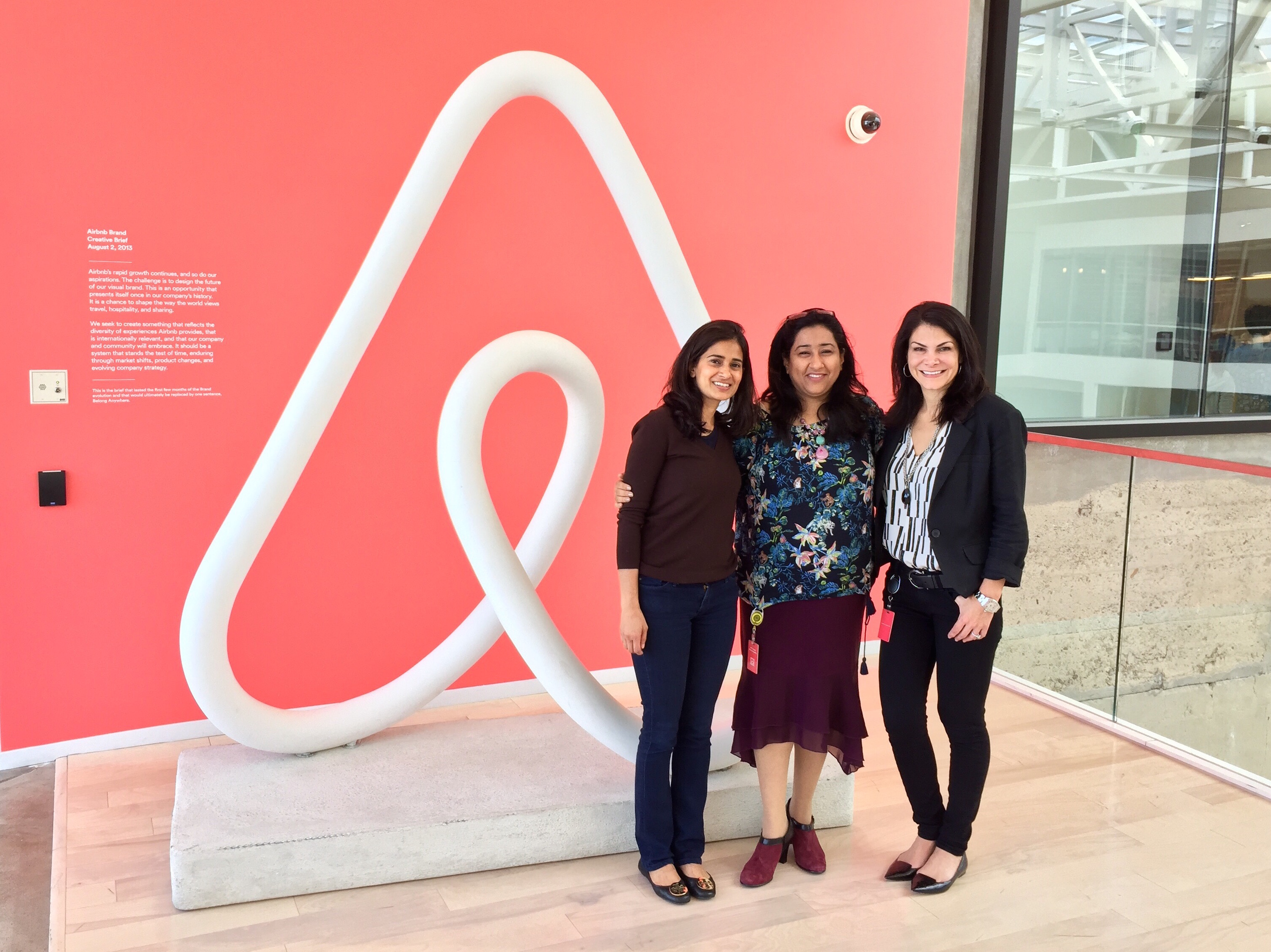 Varsha Rao, Tina Garg and Belinda Johnson at the Airbnb Headquarters

Belinda Johnson, Airbnb's Chief Business Affairs and Legal Officer needs no introduction in the tech and legal space. She has played a key role in Airbnb's success since 2011 and is the first executive hired by CEO Brian Chesky.
She is one of a select group of top women business leaders in the US that is mentoring one of 15  international, talented emerging female leaders with top women executives and their teams. As part of U.S. State Department's Global Women's Mentoring Partnership program, Belinda Johnson mentored Pink Lemonade Communication's founder and CEO Tina Garg, on entrepreneurship and leadership skills.
[box type="shadow" align="aligncenter" class="" width=""]Related Read:
Tina Garg Talks About Her Expectations From U.S. Department's Global Women's Mentoring Partnership ![/box]
TechStory interacted with Belinda Johnson about her take on mentoring talented women entrepreneurs across different nations and being a women leader at Airbnb.
Can you tell us about life as women leader in Airbnb?
Before joining Airbnb, I took time to reflect on my career and think about what my next steps would be. In reflecting, I realized the most exciting times of my career was when I was working in a startups and had the opportunity to wear multiple hats.
I had heard about Airbnb and was really drawn to idea of collaborative consumption. At the time, the sharing economy was just coming out, and I thought this new idea was so groundbreaking and wanted to be a part of it.
[box type="shadow" align="aligncenter" class="" width=""]Also Read:
Parul Bhargava's Learnings From Being A Content Writer To The CEO Of vCommission ![/box]
At a company like Airbnb, where we're scaling at a rapid pace, you get the opportunity to take on new roles, jump in and lend a hand in various projects and really rely on your gut to make decisions that drive the business forward. There's a lot of excitement when having to adapt to quickly evolving and innovative new ideas and really pushes people to think outside the box to find creative solutions.
Could you please elaborate your role in the mentoring program?
The goal of the program is to pair international businesswomen with female executives in the U.S. in order to develop and share for succeeding and solving common challenges in the workplace. The on-the-job mentorships start by connecting the mentor and mentee together to outline her goals for the program and what she was hoping to learn from myself and the various teams across Airbnb.
Given that leadership and motivation were areas that she wanted to focus, we spent a portion of her time setting up roundtable sessions with other women in leadership inside and outside of our organization. Our female Airbnb employee resource group, Women@, hosted a panel session and gathering to welcome Tina and brainstorm areas of focus for the group. We also planned activities with outside organizations including Thumbtack, a local startup, and Goldman Sachs in the course of her visit to expose her to different people and industries.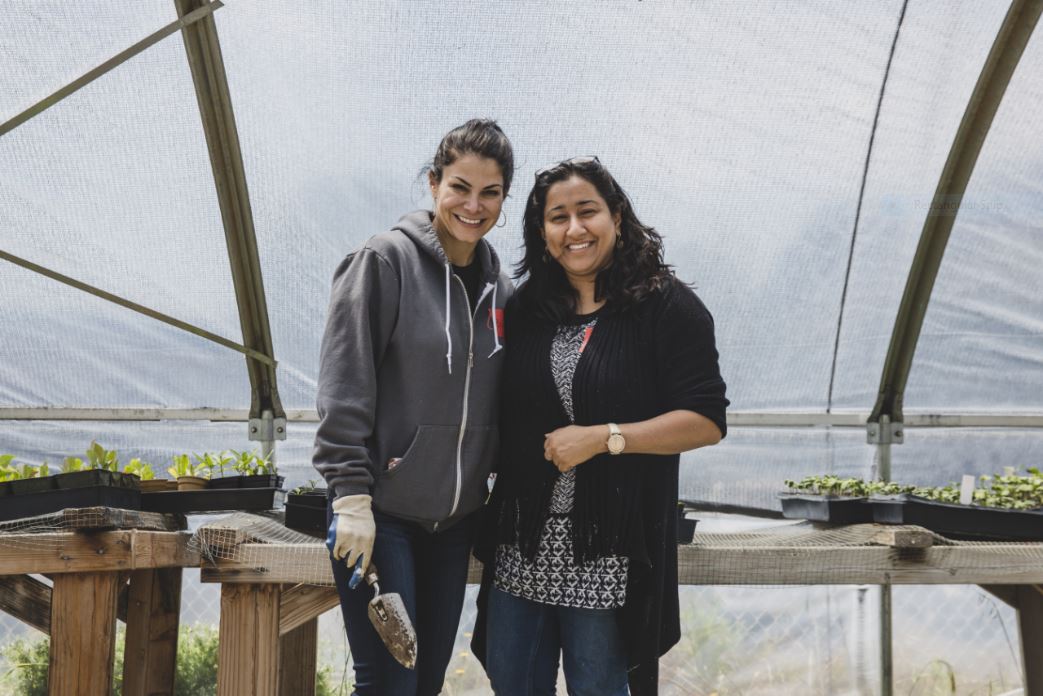 Belinda Johnson
In our time together, we discussed the ways we can support the next generation of women and found that we share similar experiences being in a position of leadership at each of our organizations. I shared learnings from my own career, and we discussed that managing sometimes involves taking a step back and allowing others to lead the charge to build up their confidence.
How has the trend in women led companies shifted in recent years?
The more people have begun to join in on conversation about women in leadership, the more I've noticed a positive change. Seems to me that people are taking more action in the ways they're helping to encourage and support women in the workplace and I believe we'll continue to see this shifting trend as more and more women are going after their career goals and taking positions of power.
Your observations on female entrepreneurs from across the globe attending the program. What should be the Government's role in encouraging women entrepreneurship ?
Programs like these are giving women the tools they need to go above and beyond in reaching their goals. It's a privilege to take part in a program that's changing the lives of so many female business leaders. I believe that as more and more people become involved in mentoring programs, we'll start to see the norms changing and we'll begin to see many more women holding leadership roles.
[box type="shadow" align="aligncenter" class="" width=""]Related Read:
Women Entrepreneurship – Steps Taken By The Government To Promote Women Entrepreneurs ![/box]
What is your advice for the young women entrepreneurs for a successful professional and personal life
I wish I could have realized how important it is to get mentors early in your career. I think in those days when I was first starting, you just went up through your path. But today I get women all the time reaching out, asking to go to lunch. I never did that when I was younger. I wish I would have done more of that.
Sometimes people are afraid of asking for help.  But in my experience, I have found when you ask – people want to help.