The latest season of Fortnite, Chapter 4 Season 1, has brought a lot of excitement for fans of both Doom and The Witcher franchises. The Battle Pass for this season was released with the trailer, revealing that characters from both of these popular games would be coming to Fortnite as part of the Gaming Legends series. The Battle Pass costs 950 V-Bucks and gives players access to these iconic characters as skins as long as they meet specific requirements.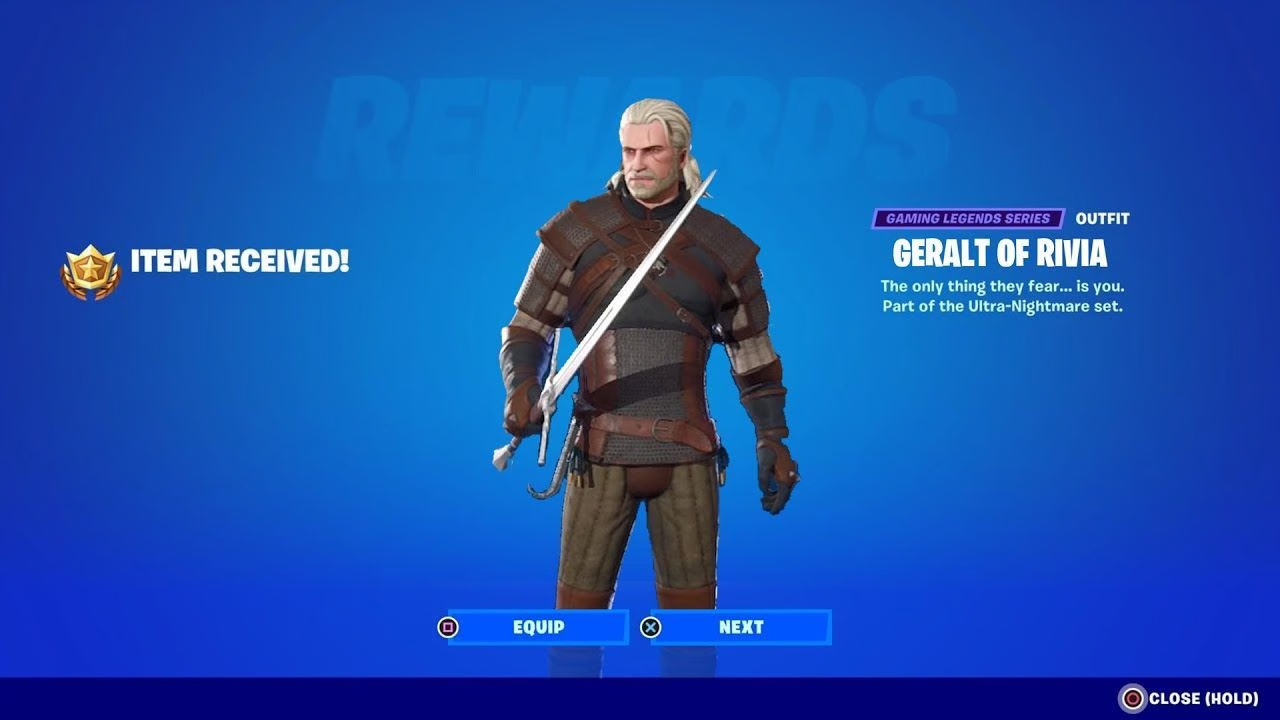 The Doom Slayer was available right from the start and could be unlocked by players once they reached level 26 and completed page six of the Battle Pass. However, the addition of Geralt of Rivia, the protagonist of The Witcher franchise, was kept a mystery, with fans not knowing when or how they could get their hands on the Fortnite skin. But after much speculation and anticipation, the update last week finally made Geralt of Rivia's Battle Pass page available and added his quests to the game.
To unlock the Geralt of Rivia skin in Fortnite, players will have to complete a total of five quests. Each quest completed will reward players with a cosmetic item connected to Geralt of Rivia. Once all five are finished, the skin will be unlocked and added to the player's inventory as soon as they leave the match and return to the lobby. Some quests can be completed naturally through gameplay, while others are more challenging and require some effort from players. For instance, one of the quests requires players to defeat the Ageless Champion boss at the Citadel.
Become the bane of all monsters.

The Geralt of Rivia Outfit is now available to unlock in the Fortnite Chapter 4 – Season 1 Battle Pass!https://t.co/G8kSILyjkc pic.twitter.com/gBJFO7hLkE

— Fortnite (@FortniteGame) February 7, 2023
For those who want even more cosmetic items related to Geralt of Rivia, there is still an unrevealed page with an alternative style for the skin that will only be accessible in three weeks. This makes the season more exciting, as players won't have to go through a dry spell for too long and will always have something to unlock. Fortnite is available on various platforms such as mobile, PC, PS4, PS5, Switch, Xbox One, and Xbox Series X/S, giving players plenty of opportunities to get in on the action.
In conclusion, including Geralt of Rivia in the latest season of Fortnite has been a highly anticipated event for fans of The Witcher franchise. The five quests to unlock the skin will provide players with a fun and challenging experience, while the upcoming alternative style of the skin will add even more excitement to the season. Whether you're a fan of The Witcher or just a Fortnite player, adding Geralt of Rivia will surely bring a fresh new experience to the game.