When we build our homes, we are turning our dreams into reality ! Building our home, decorating our home is something that all of us dream about for years and years. However, when our homes are finally being built, the inability to visualize as to how this would actually look in reality makes all of us a little restless. If only we could visualize the house when it is being built and decorated, we would be fully able to enjoy this home building experience of ours. Ghar360 now helps you visualize your dream !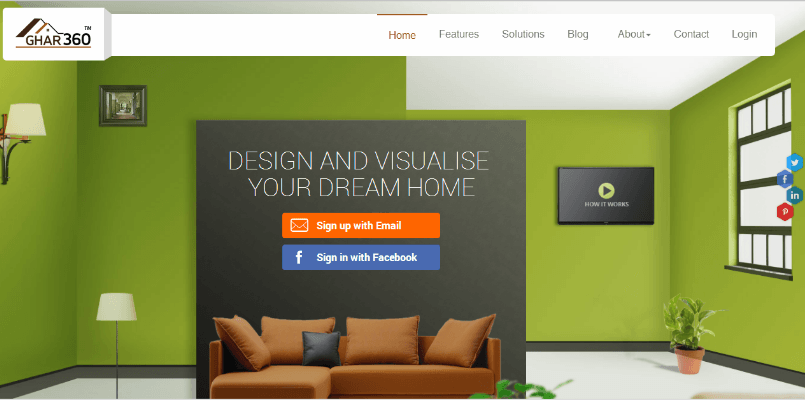 Ghar360 is an  augmented reality platform that is reinventing the interior shopping experience by digitizing the floor plan into an interactive walkable space's. This cloud based 3D product not just gives the aerial view of the floor plans but also gives an option to go inside the house and give a realistic feeling that the person is already in the home even before it is really constructed and more interestingly it's as simple as playing a Counter Strike or an IGI game. This gives a better idea to customers about how their house interiors would look like and helps them in making any further decisions. The company is integrating real products to its product so that the users and try, visualize and play around with how these products would actually look in their homes before they buy them.
The Global market size for the construction and architecture industry is a $78 Billion, for Interior design it's $32 Billion and for Home Renovation its $11 billion. Ghar360  is working forward to create a revolutionary change in the field of architecture and interior design.  What sets Ghar360 apart is their focus on high end product design and simplicity of use.
Ghar360 is a product from TechZag Solutions Pvt Ltd. The company was started by Sanju Thomas and Ajesh Joy in January 2013 .  Ajesh is the CEO  of the company and comes from a marketing background. Sanju is the  CTO of the company and comes from a technical background. The two co founders knew each other since 2005 when they were doing their engineering from Karunya University Coimbatore. the two have also had successfully exited out of a previous startup in 2010 at Technopark, Trivandrum, Kerala. The company now has a 5 member team of developers and designers and operates from Bangalore.
Recently Ghar360 was selected as a portfolio company of NASSCOM 10000 start-ups and was also funded by TLABS a Times Internet initiative. The company has also started business with India's leading real estate portals 99 Acres & MagicBricks . Ghar360 is also in talks with some of the world's largest retailers such as Target Corporation and Tesco Global to partner with them by providing them their product capabilities.
Ghar360 is currently actively looking for funding to expand their operations. At this stage they are in talks with a few investors, a couple of whom have shown keen interest in their product !
Log on to Ghar360 at :http://www.ghar360.com/
Sign up on Ghar360 at: https://plan.ghar360.com/auth/signup
Read articles related to the designs, architecture on Ghar360 blog at : http://ghar360.com/blogs
Comments
comments