Employees working at Goldman Sachs saw a major cut out of their bonuses as the payouts were slashed to as much as 90% of many workers.
Many junior workers who last year got bonuses of six figures, will now receive only $10, 000-15000 as informed on Wednesday. Despite their hard work and countless efforts, they will still receive a bonus of not more than $15000.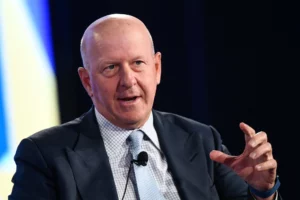 The company previously raised the pay from $85, 000 to $110, 000 for freshers. Despite that, the workers are upset with the slashing of their bonuses which accounted for their hard work in the office.
According to last year's data, the average bonus was $95, 000 while for the vice president level, it went more than $500, 000.
The bonus notice came just after Goldman laid down 3,200 employees from the firm. There were already grieving moments around the company, this added up more.
The slashing of bonuses witnessed a raging emotion around the company as working for hours at the company with exhaustion and stress led to disappointment in the end.
"We all knew it was coming because of how much they are cutting back," one worker told The Post on Thursday. "But it doesn't mean it makes it easier."
"While compensation expenses were down 15% for the year… We always strive to maintain a pay-for-performance culture," chief executive David Solomon said on Tuesday's call. "With revenues down, compensation was lower. That said, we also recognize that we operate in a talent-driven business, and we must continue to invest in our people whose dedication is critical to our world-class franchise."
This year's "comp talk day," was accompanied by an awkward discussion as directors read to workers from writing delivered by Human Resources that sought to assist Goldmanites "understand … the current financial constraints the firm is under in the market environment we are in."
Bonuses around the bank are given by looking at the overall performance of the bank. The bank reported 66% lower year-over-year last week and revenue was down to 16% compared to last year.
Denis Coleman, the chief financial officer, highlighted on the company's earnings call on Tuesday that although overall remuneration was down 15%, there was less money available due to a rise in employment of 10%. The 15 per cent drop was about $2.5 billion less, according to Coleman, giving the drop a "meaningful number."
The poor incentives only came a few weeks before Goldman associates from all around the world gather in Miami for the company's annual associates retreat, when chief executives plan for the upcoming year. The value of the junket could rise into the millions when considering the expense of travel, lodging, and food.
"Don't even get me started," one frustrated employee said.
Another reliable source claimed that this year's gathering would be "scaled-back event" in comparison to previous years.
Workers will be able to anticipate whether or not they will receive a bonus, but institutions frequently keep the workers in the dark until the big reveal.
Alan Johnson, the president of pay consultancy firm Johnson Associates, told The Post that corporations often prevent the spread of disclosing too many specifics early to bonus season.
"Firms try and send general messages but avoid putting out specifics numbers because you don't want people to know that level of detail about other people's compensation."
Financial planning for workers, such as choosing where and how to live or whether to get mates, can be very challenging as a consequence.
"They are so cryptic and never provide anything in terms of ballpark estimates," a source said.
When it is time to pay out incentives, Johnson stated that every company has a tough choice.
"Banks go around and around about how much of a risk is it to lose a person," Johnson said. "You need to figure out the people you need to have been the least unhappy… and you want poor performers to be the most unhappy."
Comments
comments