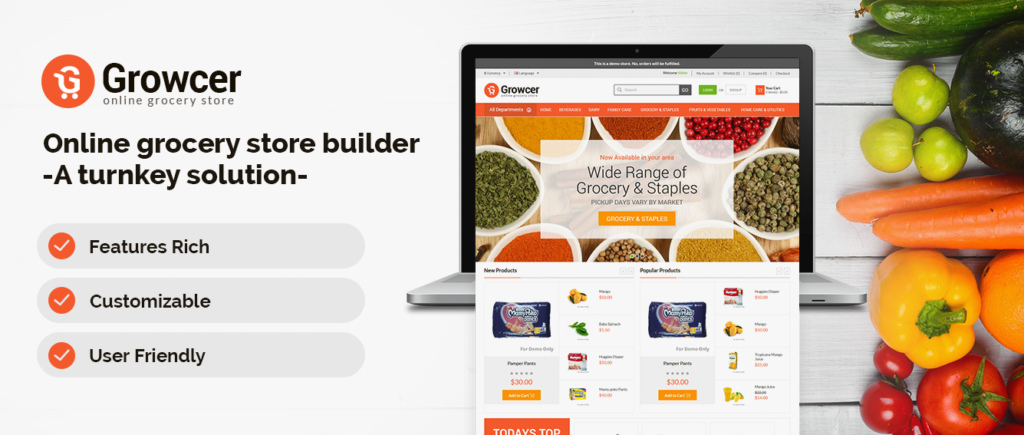 New challenges relating to how consumers shop and buy things, what attracts them and what befuddles are taking the center stage in ecommerce world. Internet has surely changed the whole landscape as online technologies are improving and paving way for new business models to become a part of our society. The biggest talking point in that aspect is online grocery.
The fact remains that still majority of grocery shopping still happens in traditional brick and mortar stores. As of 2016, 5% of US consumers preferred shopping for groceries online. Additionally this sector has seen over 15% growth last year. The overall grocery sector is pegged at $675 billion in US alone. Out of this, online grocery shopping market in US is expected to rise to $18 billion from current $7 billion by 2020. Globally it is expected to top $150 billion by 2025.
Grocery shopping has always been a recurring activity and this is a big reason why grocery e-commerce has seen a huge demand. Faster delivery options and secure payments infrastructure clubbed with advanced grocery platforms have made it feasible for entrepreneurs to think of starting their own online grocery store. All of them come from a different background, have different amount of investments and significantly different business plans too.
Growcer offers them the bang for the buck, with its long list of cutting edge features as well as ease of implementation. It is a powerful software solution with added options for customization that supports entrepreneurs in both phases, the initial period of launching a startup and the time when they want to scale up their business.
Before you delve into the features of this robust platform, let us first understand the dynamics of this sector.
Future of Online grocery stores
Studies have shown that the future of online grocery stores is lucrative. According to a Morgan Stanley research, online grocery stores will surface as the major ecommerce driver in the coming year, setting the stage for the next big ecommerce opportunity for entrepreneurs. Neilson Global ecommerce report states that more than half of the online shoppers will be buying groceries online in the near future. The biggest markets where online grocery shopping will see major boost include Asia-Pacific, Africa, Middle East, and Latin America regions.
This is one sector, which is seeing a uniform growth across the globe.
The idea behind Growcer
Ever since 2015, this sector has seen immense growth. The numbers spiked in the last two years reaching almost one third of online shoppers. However, during this time very few startups came to the limelight. Still this industry is said to be in its nascent stage with a huge void, waiting to be filled. Out of total $795 billion sales last years, online grocery sales just accounted for around $33 billion.
That said, like any other business, there are several challenges in this sector too, which need to be addressed first,
Ease of ordering
On time Delivery
Quality of products delivered
Order Fulfillment
Express Delivery in defined time
Customer Acquisition & Retention
Supply Chain & Value proposition
Most of these issues are related to the business governance. However even after addressing these issues, most of the entrepreneurs find it hard to enter the market. Taking stock of this issue, Manish Bhalla, the CEO of FATbit Technologies launched Growcer. He has few more wonderful ecommerce solutions to his name that help startups secure a foothold in the market. Growcer is based on the same idea of streamlining the process of launching an online grocery store.
What makes Growcer an ideal choice for entrepreneurs
Nowadays entrepreneurs have started to prefer ready made solutions to launch their ecommerce startups. These solutions not only save time but also make the implementation highly seamless.
There are very few dedicated online grocery store solutions in the market that are bankable. You will find both kinds, one that do have all the necessary features but cost a bomb (not ideal for startups) and the other that prove economical but only offer basic features.
Pricing (Perfect Start For Online Grocery Store Owners)
The best thing about Growcer is that it does not put a big hole in the pocket of the entrepreneurs. Starting at USD 499, this formidable product offers user-focused features bundled in an easy to implement package. In addition to it, you can also go custom with its $3999 package. Entrepreneurs who just want to test the waters before going all in, this is an ideal solution for online grocery store development.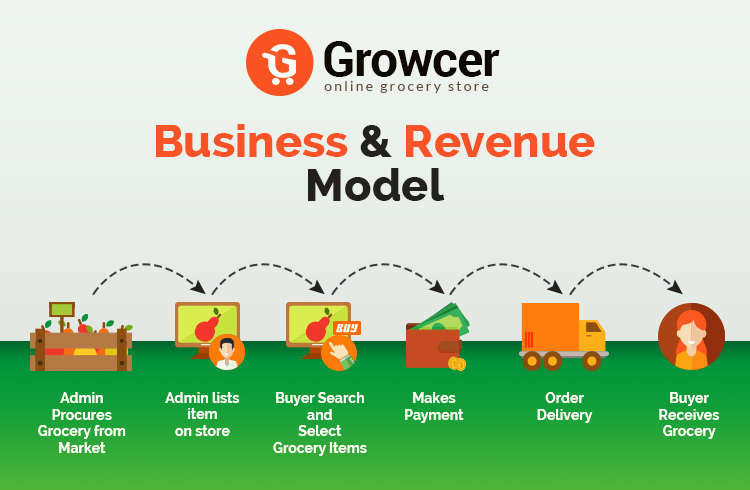 What is interesting to know is the fact that even the basic package has all the features necessary for a robust online grocery store. Rather than having a paywall for more crucial features, Growcer offers all important features in one single package.
Customization
In the current age of competition, everyone wants a unique identity in order to have an edge over the competition. Moreover, startups often expand their operations and add multiple features. This is where Growcer shows its supremacy by giving customization options. Growcer can be customized as per your business needs for as low as USD 15 per hour. This makes Growcer a powerful and complete package.
Other Key Features
As already discussed, Growcer is driven by a long list of features and is built on a secure architecture. It is mobile friendly and responsive. With one third of the ecommerce sales happening on mobile, Growcer makes your online grocery store future proof. Other prominent features include reviews and rating, referral and reward system, repeat orders as well as multi-layer security with ewallet.
How can food tech startups benefit from Growcer
Feature set is one thing, but for an entrepreneur, it is all about return on investment. After going through all these features one question that would still loom over your mind is that how food tech startups can benefit from platform like Growcer.
According to a recent study done by Advisory firm Technopak, the sector is slated to generate revenues worth $1 trillion by 2020, and this number only accounts for the Indian Market. Globally, this sector will see sustained growth of 20% YOY. This figure has also been substantiated by another report, jointly published by The Boston Consulting Group and RAI (Retailers Association of India) titled as 'Retail 2020: Retrospect, Reinvent, Rewrite'.
In order to capture the bulk of the market and minimize the risk associated with it, the best option in front of you is Growcer. This ready-made solution removes the hassle of creating an online store from scratch and offers all the vital features at an economical pricing.
Future Roadmap for Growcer
For every product or service, the biggest attribute is how can they adopt the latest technology and evolve accordingly. Manish Bhalla, being a veteran in the ecommerce sector, knows how crucial it is for a startup to be future ready. This is why all his products are built to ensure that they do not become redundant in the near future. Be it mobile friendly interface or robust analytics baked right into the dashboard, Growcer has some of the unique features that you often do not see in such platforms. Therefore, rather than waiting around for someone else to capture the market, make your dream of launching an online grocery store a reality with Growcer.
Also Read: FunAway, The Tour & Activities Marketplace Solution Is Making Startup's Journey Successful
Comments
comments