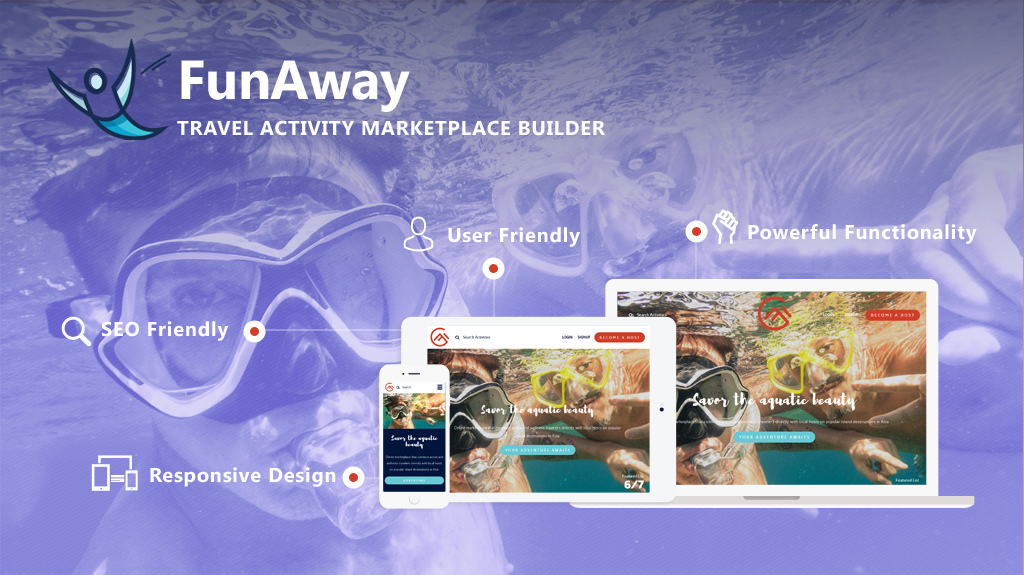 Revenue in the "Online Travel Booking" segment stood at $186,861 million in 2016, while with a market volume of $106,929 million in 2016,the market's largest segment remained "Hotels", which was followed by travel package holiday booking & vacations rentals.
That said- Hotels booking is not all travellers seek online. There are marketplaces, which act as a wide-ranging solution to most of their travel needs (if not all).
Best examples of such online travel activity marketplaces include: GetYourGuide, Peek.com, and Viator. They act as one stop solutions for travellers to compare their options in similar destinations, and are also great mediums for different businesses who wish to advertise their tours and activities on a wider scale. Some of their competitors also include travel discovery sites like –Leezair, govoyagin.com, Thrillophilia,  zozi, Vayable, etc…
Having said that, The Tour & Activity Marketplace sector is still in its nascent stages, the travellersof this day and age are a savvy bunch of techies, who can go to an extent of research, just to find the best deal, destination or packages.
Nevertheless, the businesses are also seen to be evolving but the travel industry demands new players that can offer a more advanced and well thought-out platform. This hints at untapped opportunities in online travel segment for multiple players. A new entrant can lead the industry, provided it gives best to the legwork required before planning a travel based start-up.
Industry Insights about Tour & Activity Marketplaces
Last year, the global travel market reached US$1.3 trillion – most of that coming from the air and lodging sectors. The European tours and activities today stood at around $40 billion. This was an increased number, as compared to 2015 when the tour and activity sector had generated 37,000 million euro from Europe, and had tripled the total market size of car rental (10,000 million euro), but still only managed to come half way to touching the total market for hotel reservations (80,000 million euro).
As a matter of fact, there are approximately 67,000 businesses in the USA collectively that account for a valuation of $20 billion in the travel activity marketplace space, making it the third largest segment of the travel industry after air and accommodation.
Having said that – China is all set to overtake the US as the #1 business travel market in the world, and will further surpass the US in spending by 2017 as well (China Internet Watch, 2016)!
Beginning & Influence of FunAway, the Travel Activity Marketplace Builder
Various problems cited by travel commerce experts, OTAs, offline travel agents, travel activity businesses, etc. combined with pain points discovered by new dedicated travel platforms led to the development of FunAway, a dedicated solution to launch a travel activity start-up.
FATbit sighted the lack of a dedicated solution for travel experience focused system as most of the available travel commerce solutions in the market-focus on booking systems.
The company developed FunAway with major focus on offering best travel experience and enabling travellers to decide on various experiences such as Culinary, Adventure, Fitness, Water Sports, etc.
Also Read: Yo!Kart Checkout For A Multivendor Ecommerce Marketplace !
Most appropriate for entrepreneurs who aim at offering users more than just a pleasant stayand base their business model on disintermediation, FunAway is one level up for offering exquisite experience that attracts the current generation of travellers and make them loyal to a travel activity platform.
For new entrepreneurs and businesses that need advanced solution, it is a marketplace builder devoted  to the unique business-model requirements of a travel activity marketplace. Few facts stated under tell more explicitly how FunAway serves to the most ignored and imminent needs of travel tech start-ups.
83% of tour and activity companies still work with traditional methods for their daily management, which means that digital customers are not able to come across the products in an online channel (Phocuswright, 2016)
To add to that, due to several layers of travel agents, the consumers who are searching to purchase tours and activities always find themselves distant and separated from the suppliers.
Due to several pain-points, marketplace models see a natural emergence, to cut out the middle man and connect consumers directly with the suppliers.
All, this leads to an endless supply of half-measure tools and travel websites, for a tech savvy traveller, who is ready to go on their dream vacation, but is greatly lacking what they need the most!
What the modern age travellers look for is a smarter travel search and a one stop solution to their travel needs. A platform that combined all the information at one place! Something like – a full-fledged travel activity marketplace that offers complete ease and makes travel planning painless.
The CEO, Manish Bhalla says, "Our only aim was to build a marketplace solution that could make travel activity business worth while in terms of revenue as well as competition as for new entrants in the industry the pressure is double; majorly due to two reasons, funds and existing completion. This journey (thinking from the viewpoint of entrepreneurs) led to the formation of – FunAway. We have built a solution that focuses on making travel experiences better for users, turns out profitable for start-ups, is user friendly and scalable at the same time. Our main concern was to make premium quality affordable so FunAway comes with both ready-made and customizable option for travel entrepreneurs"
Features
With FunAway you can build a travel marketplace that favours on-the-go travel related searches and offers a seamless user experience to travellers. Built using a secure architecture, it makes travel platforms highly safe. Some other important features of the FunAway include:
The option to explore trips by category and tips on each activity location
Add activities to wish­list, and view activity location on map
Calendar management for booking and book more than one trip at a time
Send message to activity host
Real-time availability and easy online booking
Free of booking errors, complicated check-ins and long waiting times
Helps marketplace owners in establishing attractive offers for seasonal trips, and offers for the regular buyers, etc.
Marketplace owners can build attractive commission rates for Activity host i.e. based on multiple factors.
Activity host can manage activity listing, booking notification, sales report & payments.
Maintain an attractive community based blog to help marketplace owners inform/engage with the audiences.
Integration of multiple payment gateways
Inbuilt messenger feature for interaction
And many more…
Pricing
For now, FunAway offers two packages for the development of adventure marketplace platform. The first one is – GO QUICK, which can be availed for USD 1,999. It comes along with a default responsive design with non-exclusive rights, a single domain license, editable design template (editable html &css), full source code (excluding framework), and free installation. This comes with a 30-day money back guarantee as well.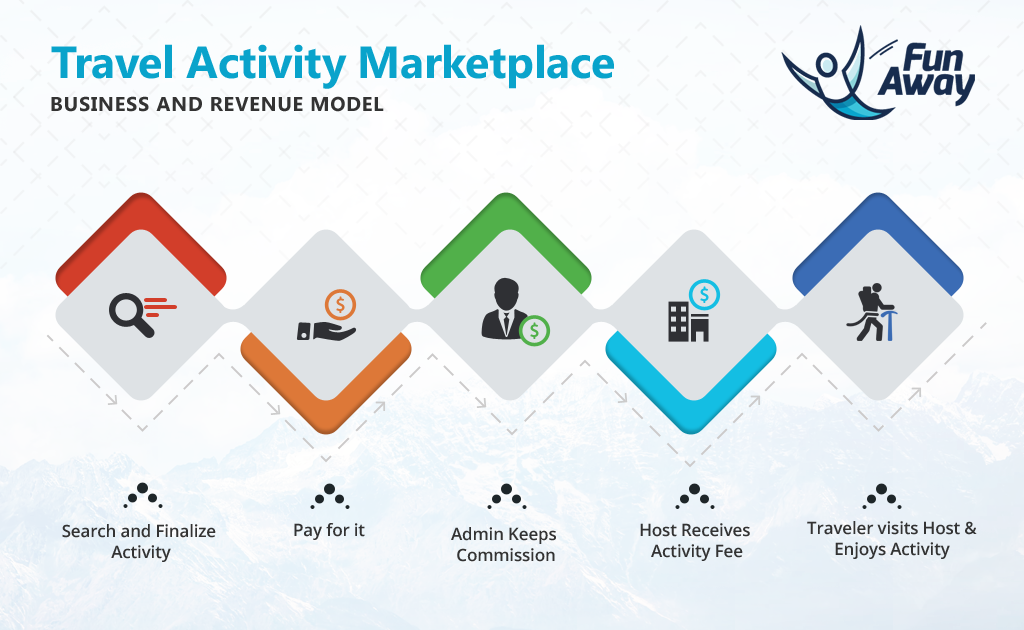 The second package that they offer is – GO CUSTOM, which can be availed at USD 6,999. It comes along with a custom responsive design with exclusive rights, single domain license, editable design template (editable html & css), full source code (excluding framework), free installation.
Conclusion
As a activity marketplace builder, FunAway goes past all glitches that have been hindering travel activity market. It stands out for the business engrossed features, robust technology and impressive user-interface that newly setup businesses usually miss in their platform and take quite a while to come at par with leading brands. So for someone planning on startup, it's the best bet. Check FunAway's Online travel activity marketplace solution