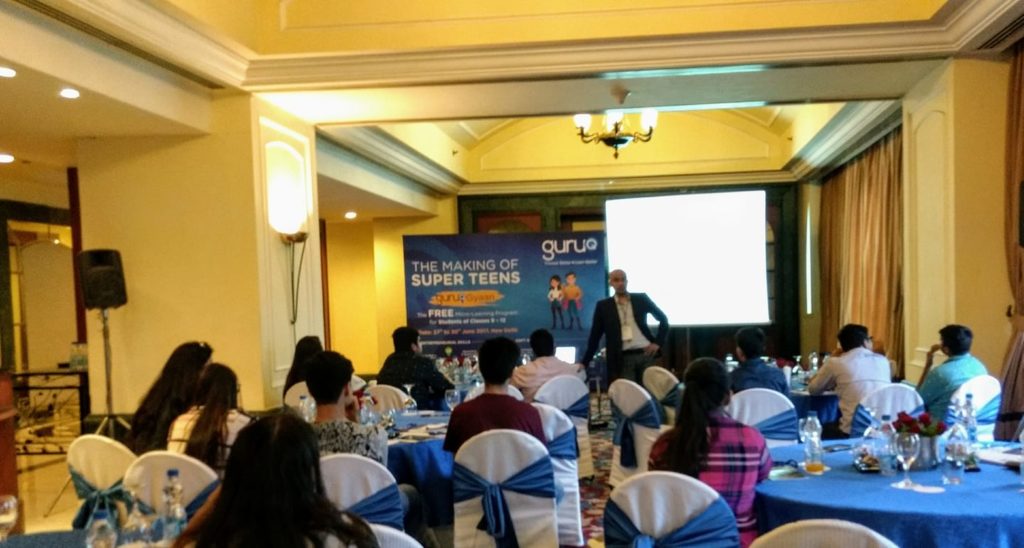 Recent murder of an innocent school boy of a high-profile Gurgaon school has made parents across the country question the safety of their children. With cases of child abuse being on the rise in India most parents worry to send their children to school or tuition.
In such an insecure climate GuruQ – a digital/online platform emerges as one of the perfect solutions to end parental woes. This newly founded education technology (ed-tech) company brings private tuition within the confines of your home where your child is safe and can study online or offline.
Founded in the year 2017 by young entrepreneur Ms. Minal Anand, this Delhi-based start-up aims to revolutionize the way parents and students scout for tutors in India.
Also Read: Online Education And Digital Assessment For A Secure and Credible Future !
Home tutoring though is a huge business in India, is a disorganized industry with no checks and balances in place. It operates through word-of-mouth publicity of the tutors and their whims and fancies. It purely becomes a tutor's choice to accept your ward as his student without any system in place to track the latter's progress.
In this disorganized space GuruQ brings in new age learning methodology along with accountability and safety of tutor and students respectively. This online platform is a brain child of Anand who completed her Bachelors in Business Administration with Boston university, USA.
She noticed the difference between education system and use of technology in India vis-a-vis the United States and decided to bridge the gap through a digital platform.
"We came up with the idea of GuruQ to provide a common platform where students and qualified tutors can meet and have access to unique tools that help organise classes, provide updates on various trends in education, and offer interaction with tutors. But most importantly, GuruQ is a far more secure alternative because all interactions are logged and recorded," says Minal Anand, Founder and CEO (chief executive officer).
As safety of students is one of the guiding factors at GuruQ, one gets to choose reliable certified teachers who have undergone a four-step rigorous scrutiny before coming on board.
This includes a proficiency test, an online and offline interview and a full background check done by external agencies to ensure that students are in safe hands. This is done to ensure that quality tutors are bought on board which in turn benefits the students.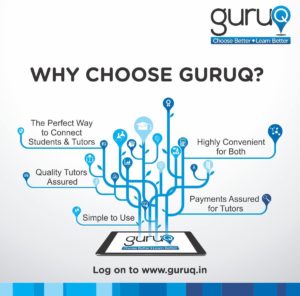 Sharda Sharma, a parent of a Class VIII student, who recently opted for GuruQ's tutor services says, "I had been looking for a good tutor for my son, but I have always been wary of depending on word of mouth or simply choosing through the Internet. With GuruQ, the process has been so much easier because I chose a tutor only after reading up on other people's opinions and reviews. It becomes easier to trust a tutor who is pre-certified and reviewed by a team saving the hassle of doing a background check."
At GuruQ one can find tutor options for primary, secondary, higher secondary and undergraduate courses including CBSE, ICSE, GCSE and IB boards along with SAT, GMAT and GRE.  Students have the option to study online or offline or can have a good mix-and-match of both depending on their requirement.
This gives them the feedom of working on subjects at their own pace and line-up a comprehensive schedule. It also helps them manage timetables and assess progress, thus, teaching them a value-added lesson of time management at an early age.
Gaurav Singh, a Class IX student, who is a registered user of GuruQ for quite some time says, "GuruQ has been of tremendous help to me because I get to choose if I want to take classes online or offline. Also, I get to pick from a wide range of certified tutors with just a click. Most importantly, I have been able to manage and schedule my classes and send and receive assignments online." He adds, "these online assignments save up on my commute time and free me up to pursue sports and other extracurricular activities." 
Rather than sticking to stringent time-table students and the teachers can schedule their class as per their time availability subject to prior intimation. The student can reschedule his class to some other day/time provided he informs the tutor four hours in advance in case of an offline class and two hours prior his online class.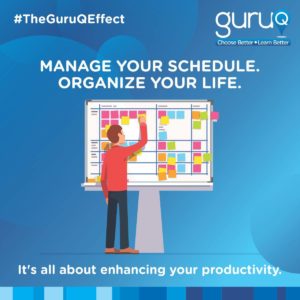 This rescheduling should, however, be approved by the tutor and the student respectively. In the absence of proper approval/intimation the tutor fee will be deducted from the student's account. In addition, students also get to change his tutor if he is not comfortable learning from him/her.
Moreover, even parents get to keep a tab on their wards' progress. They have access to their child's progress report and, thus, keep an eye on the latter's performance. They also get to evaluate tutors through recorded online feedback which is further used by GuruQ constructively to improve their learning system.
And like the progress of their students, GuruQ also aims the betterment of their tutors and likes to keep them up to date in the field of education. Being an ed-tech company, they also ensure that their tutors keep abreast with latest trends, means and modes of learning and education. It provides value-added services that are paybacks for tutors including seminars by reputed personalities, awards and competitions.
GuruQ offers offline coaching in NCR (national capital region). i.e. New Delhi, Delhi, Noida, Greater Noida and Faridabad. While their online coaching is available pan-India. As educational technology (ed-tech) is a $7 billion market in India, the company aims to expand its operations in other major cities of the country soon.
Also Read: 5 Startups From Pink City, Jaipur Making Mark On Education Sector
Comments
comments