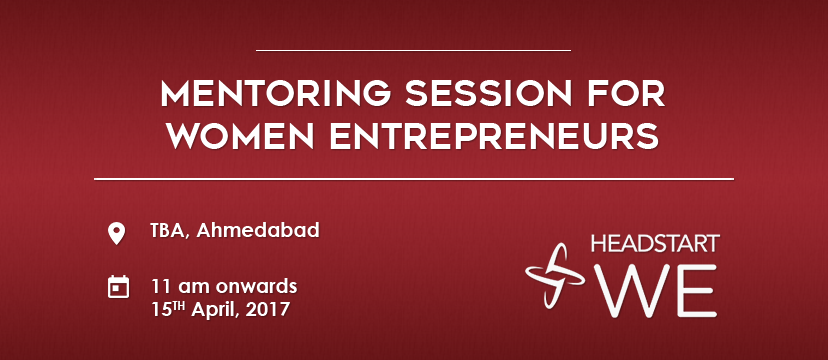 Headstart is organising a free mentoring session for Women Entrepreneurs in Ahmedabad – a unique opportunity for startups to be mentored by industry experts.
Women enterpreneurs in their early and growth stage ventures, preferably in their 1 – 3 years phase, are eligible to apply. Those with a long running small business and looking to scale up can also apply. Those with pure Idea Stage venture, should have done significant market research and should have a clear defined business model.
The entrepreneurs will get access to mentorship from industry/domain experts and potential support for Accelerator and Incubation programs with partner networks
Event Date : 15th April, 2017
Time: 11 AM to 4 PM.
Venue: CIIE Ahmedbad, IIM-A New Campus,
Nearr Vastrapur, Ahmedabad – 380046
Last date for submission of the application : 12th April, 2017.
HURRY, register NOW!
Mentors
Mr. Syed Nadeem Jafri, Founder & Chief Mentor, Hearty Mart
A Graduate from St. Xavier's with a BSc. in Physics and thereafter, a stint with the time-share and tourism sectors broke the ground for a strong structure that was to be, in coming years. This experience gave him a taste of marketing and also drove home the point that he needed more ammunition to create a self-identity in a highly competitive world. This led him to earn an MBA degree from IMS, Indore where true to himself he scored a distinction and went on to secure jobs and build his career with 8 years in the Media & Advertising business. The exposure and experience gained from established and reputed print media houses, production and manufacturing units and last but not the least with a class Ad-Firm, all contributed to the strong foundation on which the brand Hearty Mart today stands tall.
Mr. Milan R. Patel, Joint Managing Director, Troikaa Pharmaceuticals Ltd
Mr. Milan Patel is Join Managing Director at Troikaa Pharamceuticals with demonstrated history of working with Pharamceuticals industry. He is a Chemical Engineer with specialization in process controls and automation. He has in-depth experience of pharmaceutical manufacturing and quality control operations. He also has sound knowledge of the regulatory requirements for Pharmaceutical products in various countries. He's skilled in Pharmaceutics, Business Development, Marketing Strategy, and GMP.
Ms. Namarata Gupta, Co-Founder and COO at Synoverge Technologies Pvt. Ltd.
Namrata comes from a core technology background, and brings over 18 years of experience in technology solutions, delivery management and client relationship management. At Synoverge, she is heading the operations which includes the delivery, practices and HR.
Also Read: Headstart Ahmedabad Chapter Answers The Basics Of Starting Up!