Dogecoin used to be the most popular cryptocurrency, with its popularity being further helped by Elon Musk and Mark Cuban's comments. However, Dogecoin's fame seems to be over, and now investors are more interested in another token: SafeMoon.
SafeMoon has had a very happening April. It increased by 2.15% last week, making the price USD 20,721,000 at exchange markets. Thus, it is not a surprise that traders are quickly figuring out how to buy SafeMoon to take advantage of the constant swings.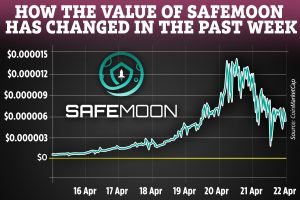 Since SafeMoon has only become more prominent over the course of last month, it has not yet been listed on a lot of major crypto exchanges, such as Coinbase.
What makes SafeMoon unique and attractive to potential buyers is its clever strategy for rewarding long-term owners. If investors sell SafeMoon by imposing a 10% exit fee, they will be penalised. Half of this fee is redistributed between all SafeMoon holders, while the other half is burned. The company promises to use a burn strategy that is rewarding and beneficial for long-term holders.
This essentially means that owners of SafeMoon will see their ownership stakes increase as the exit fee is redistributed among remaining token-holders. Meanwhile, the burn – which acts like a stock buyback program – will decrease the overall amount of existing SafeMoon tokens over time.
How to buy SafeMoon crypto
The most prominent way to buy SafeMoon is through PancakeSwap. PancakeSwap was launched in the second half of 2020 and functions as an automated market maker. It is a decentralized finance (DeFi) application that allows a wide variety of liquidity providing, trading, and yield farming operations.
Users will first have to buy Binance tokens. These should be placed in a secure wallet that supports the technology. According to backers from SafeMoon, MetaMask and Trust are good options. From there, traders can exchange their Binance tokens for SafeMoon through the BSC network.
Another good option is the BitMart exchange. It listed SafeMoon on 5 April and has established decent liquidity for the token as well.
However, there has been widespread criticism of SafeMoon. Prominent crypto thought leaders on social media have condemned the use of the currency, comparing it to Bitconnect, an infamous Ponzi scheme. Some experts have even compared SafeMoon to a multi-level marketing scheme, which works only for only some users. It is also alarming that it was reported that the SafeMoon CEO owns more than 50% of the liquidity. Thus, it is very concerning to see this extent of centralization of the coin's ownership.
Also read:
All You Need to Know About SafeMoon, the New Crypto Sensation
Comments
comments