Pokemon fans have always had a soft spot for evolution lines, and one of the most beloved tri-evolution lines in the Pokemon world features Lotad, Lombre, and Ludicolo. Ludicolo's quirky appearance aside, it's a powerful Water-type Pokemon that any trainer would be thrilled to have on their team. These fan-favorite Pokemon make a triumphant return in Pokemon Scarlet and Violet: The Teal Mask, and in this guide, we'll walk you through how to obtain and evolve Lombre.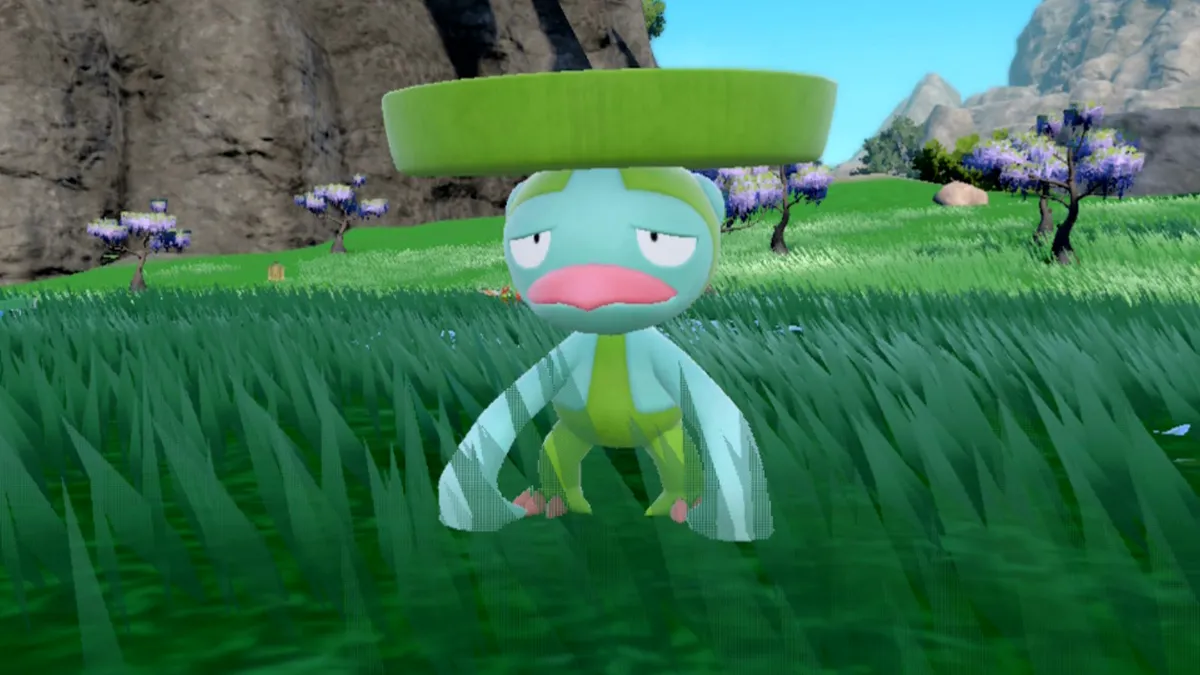 How to Get Lombre
Lombre is the evolved form of Lotad, and finding Lotad is the first step towards getting Lombre. Fortunately, Lotad can be found in many of the same areas where Lombre is located. You can encounter Lotad in various places, such as the northern part of the Kitakami map or all the way to the lower southwest. Our search led us to a Lotad just northwest of Mossfell Confluence, which is another area where you can come across this water-loving Pokemon.
Once you've successfully captured a Lotad, it will be registered in your Pokedex as number 105, following Lotad and preceding Ludicolo. Evolving Lotad into Lombre is a straightforward process – all you need to do is level up Lotad to level 24. But what about taking the next step and evolving Lombre into Ludicolo?
How to Evolve Lombre into Ludicolo
To evolve Lombre into Ludicolo, you'll need a special item called a Water Stone. Unlike some other Pokemon, Lombre's level and skills won't affect its evolution. It's all about using that Water Stone. Here's how you can do it:
Open the Main Menu by pressing the X button.

Navigate to your Bag by selecting it and pressing A.

Inside your Bag, scroll down to the "Other Items" section using the D-Pad or the left analog stick.

Look for the Water Stone in your inventory.

Select the Water Stone by pressing A, and then choose "Use this item."

You'll see a list of eligible Lombres to evolve. It should say 'Can Use' next to them to indicate they can evolve with a Water Stone.

Choose the Lombre you want to evolve, and the evolution process will begin.
Where to Find Water Stones
If you're wondering where to get a Water Stone in Pokemon Scarlet and Violet: The Teal Mask, we've got you covered. The easiest way is to purchase them from the Delibird Presents store in Mesagoza. These precious stones are available in the General Goods section of the store and cost 3,000 Pokédollars. When you enter Mesagoza from the south, head east at the big stairs, and you'll find the store on the left side of the street.
Additionally, you can also find Water Stones at Delibird Presents stores in Levincia and Cascaraffa. However, the Mesagoza store is more convenient and opens earlier, making it a one-stop shop for all your evolutionary item needs.
There's a catch, though; these stores will only sell Water Stones after you've defeated three gym leaders. If you haven't reached that point yet, don't worry. You can still find Water Stones in the wild, although they are quite rare. Keep an eye out for them behind the Cascaraffa gym or near a lake in South Province Area Four. However, purchasing them from the store is the more straightforward option.
Lotad, Lombre, and Ludicolo: Type, Abilities, and Type Effectiveness
Before we wrap up, let's take a quick look at the key details of Lombre:
Type: Water and Grass

Abilities:

Swift Swim: This ability doubles Lombre's Speed during rain.

Rain Dish: Lombre can recover an additional 6.25% of its HP after each turn in heavy rain.

Own Tempo (Hidden Ability): Lombre is immune to confusion.

Weaknesses: Lombre is vulnerable to Poison, Flying, and Bug-type moves.

Resistances: Lombre has resistances to Ground, Steel, and Water-type moves.
Conclusion
Evolving Lombre into Ludicolo is a simple yet rewarding process in Pokemon Scarlet and Violet: The Teal Mask. By following the steps outlined in this guide, you can ensure that your Lotad grows into a powerful Lombre and, ultimately, transforms into the cheerful Ludicolo. Don't forget to explore the game world, capture Lotad, and secure a Water Stone to complete this exciting evolutionary journey. Happy evolving!