In various industries, a PDF is one of the most preferred ways to send over documents to other people. Some of these may contain extremely important information that must remain confidential. In order to ensure that such files do not go into the wrong hands, people may put a password to them. This encrypted file can then be opened only by the person who knows the key or password.
According to experts at https://www.pdf4sure.com, If you do not know the password, opening a password-protected file can be a challenge. It might also be the case that you want a file without a password so that you can edit, copy, etc. at any given time without the hassle of having to remember and enter a password. There is a range of different methods to open the password-protected PDF file. Some of these methods are provided below.
The three methods to unlock a secured password-protected PDF file are by using:
Google Chrome
Google Drive
Adobe Acrobat
Crack PDF Password using iSeePassword Dr.PDF
Google Chrome
It is important to note method only works if there are no printing restrictions on the PDF file.
Right-click on the password-protected PDF file in your library and from the options on the menu, select 'Open with Google Chrome.'
Right-click on the PDF and click on the 'Print' option.
Click on 'Microsoft Print to PDF' and press the print button.
Give the PDF file a new name and save it on your device.
If a PDF file cannot be opened, try using the PDF Repair tool. With a high chance, this software is able to fix the issues quickly and efficiently and restore access to the document.
Google Drive
Login to your Google Drive account.
Click on the gear icon, which can be found in the top right corner. You will see a 'Settings' option.
Click on 'Settings' and then under the 'Convert Uploads,' select the box that reads 'Convert uploaded files to Google Docs editor format.'
You will be asked to upload the PDF file by Google Drive.
Right-click on the secured PDF that you want to unlock and choose the option 'Open with Google Docs.'
Go to the file, click on 'Download as' and choose between the PDF or Docx formats. This will create a new PDF file that can be easily opened.
Using Adobe Acrobat
Note that this is the official way to remove a password from a PDF file.
Open the password-protected PDF file in the Adobe Acrobat software.
Type the password of the file to view it.
On the left side of the window, there will be a lock icon. Click on it. This will open 'Security Settings.'
Click on the 'Permission Details.'
Click on the 'Security' tab. In the box that says 'Security Method,' choose 'No security' and click on the OK button.
Go to the File menu and hit 'Save.'
This will remove the password from the PDF file, which can then be opened easily.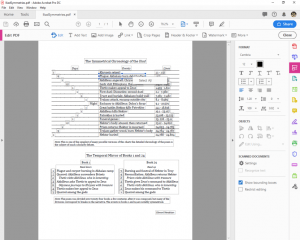 Crack PDF Password using iSeePassword Dr.PDF
iSeePassword Dr.PDF is another simple way for cracking PDF password, it not only recovers forgotten open password from PDF document, but also remove editing restriction on PDF file messing with other unnecessary settings, then you can normally access the PDF for viewing, editing and printing. I found iSeePassword Dr.PDF provides 3 different ways to crack the OPEN password from PDF document – Dictionary Attack, Combination Attack, Mask Attack, and Brute Force Attack, in my test, I think Mask Attack is the best and fast way because it only took 23 min to recover my 6-digit length password.
For PDF OPEN Password
Step 1. Download and install iSeePassword Dr.PDF on your Windows or Mac computer, then launch it.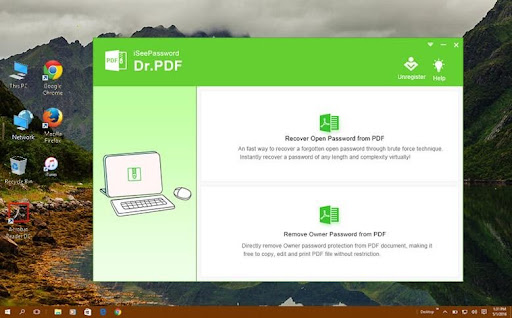 Step 2. Add your password protected PDF files to the Dr.PDF program, then select a suitable atack type.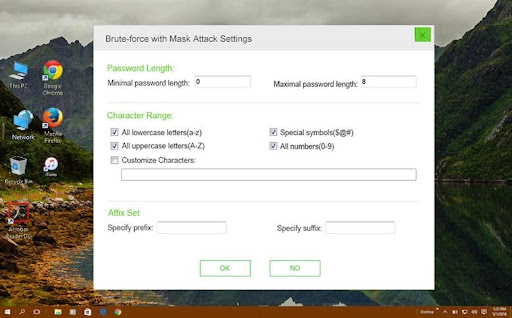 Step 3. After the setting is completed, click the "Start" button and the recovery process will begin immediately. Once the password is found, it will be displayed in the pop-up dialog box, you can use this password to open your PDF file.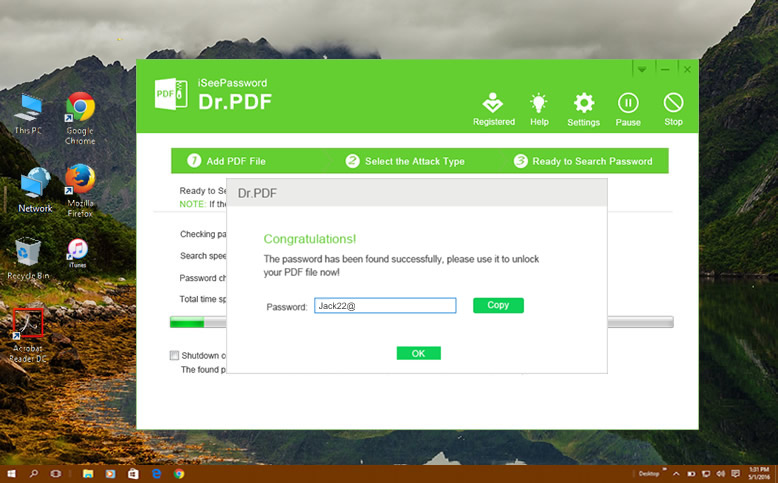 For Permission Password:
iSeePassword can simply remove PERMISSION password from multiple PDF files at a time. Just add your encrypted PDF files to Dr.PDF, then click remove button to start removing editing protection from your PDF files.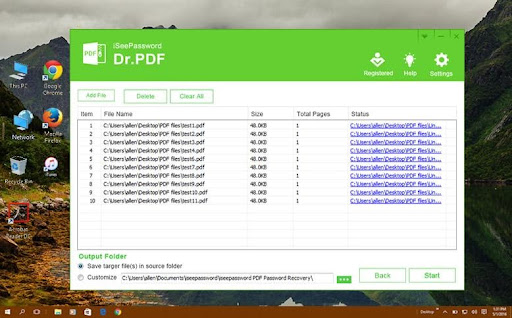 No matter what type of PDF password you forgot and no matter how complicated your password is, iSeePassword Dr.PDF should be your first choice! Helps you remove the restrictions and get full access to the PDF documents. No original data corruption. 100% clean.