As a follow up to previous session by Brain Chesky on "Importance Of Company Culture" in How To Start A Startup, we have Ben Silbermann, the founder of Pinterest, and John and Patrick Collison, the founders of Stripe sharing their general thoughts on culture, building the early team and the changes & evolution in culture while scaling up. Before getting into further discussion, we need to define the culture for individual companies.
In the case of Pinterest, they think on a few dimensions.
Who they hire, what those people value.
What they do every day. Why do they do it?
What they choose to communicate.
How they choose to celebrate.
"In general I think running a company based on what we celebrate is more exciting than what we punish." – Ben
In the case of Stripe it was transparency that played into that. If you are aligned on a high-level about what Stripe is doing, if everyone really believes in the mission, that if everyone has really good access to information, and everyone has a good picture of the current state of Stripe, then that gets you a huge amount on the way there in terms of working productively together. And it forgives a lot of the other things that tend to break as you grow a startup.
"Culture is the invariant that you want to maintain, as you get specifically involved in fewer and fewer decisions over time." – Patrick
Hiring is all about abstraction, when you hire your first ten employees you need to understand that you are actually hiring a hundred people because it is this first ten employees that are going to bring you the next ninety.
"People think of culture as architecture when it is a lot more like gardening.You plant some seeds, then you pull out weeds when it's not working, and they sort of expand.: – Ben
So, it is already obvious that your company's growth depends on your initial employees particularly the first ten employees. Now, the real question is how do you hire your first ten employees? Again, there would be no particular answer for this, but the common goal should be that they must share your common goal.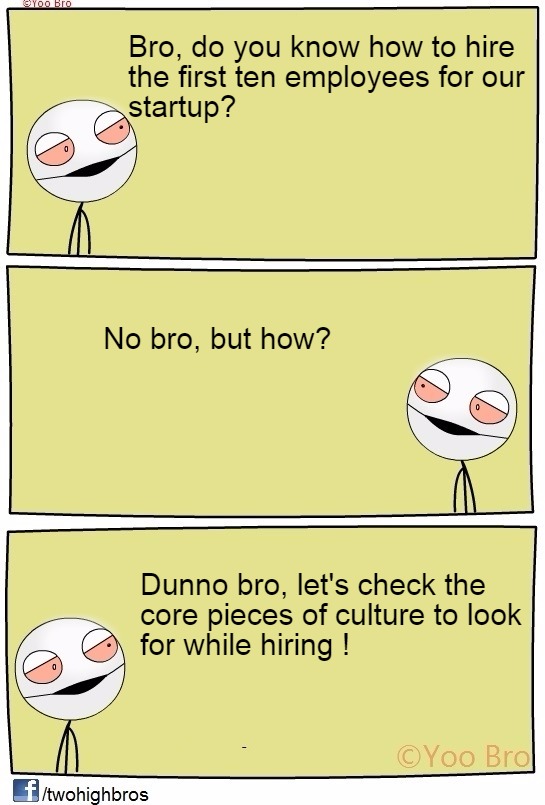 The first ten employees usually are not the ones that can be found on LinkedIn, because it is you that they are unheard of, not the other way round. Hence, it is always better to have yourself be prepared with an elevator pitch not just for investors, but also for anyone you ever meet just to get them excited about your product, they could be your potential customer or your next employee.
Now how do you find that one employee who has the 10x qualities of an ideal candidate? Check out the video for yourself.
How to build an enterprise? Stay tuned for next week, until then check out How To Start A Startup !
Image Source: myptsolutions.com