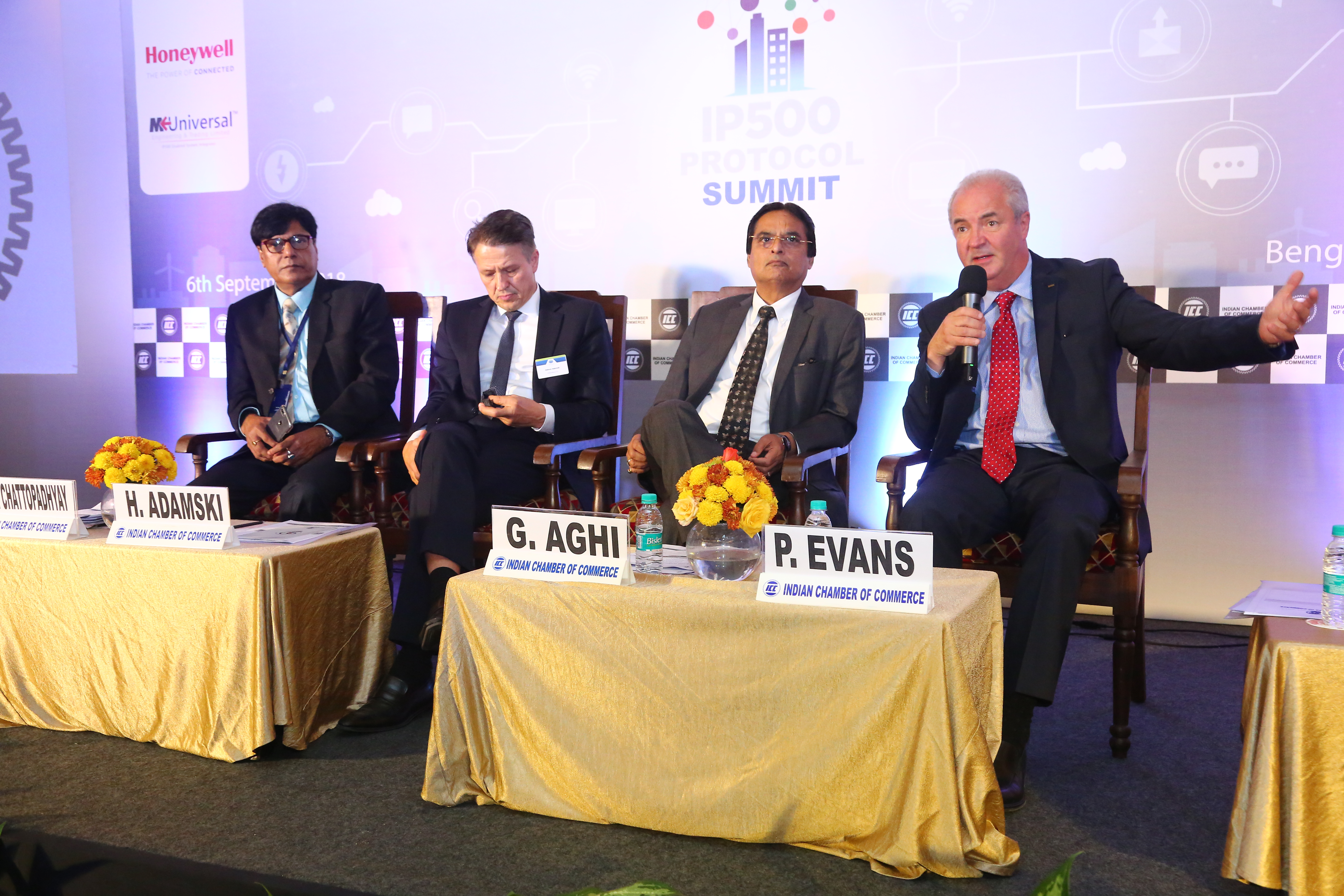 08 September 2018, India:
Indian Chambers of Commerce (ICC) along with IP500 Alliance hosted the "IP500 Protocol Summit" in Bengaluru to explore the usage of IP 500 methodology to enhance the IoT based building automation management and smart city applications.
The event was inaugurated by Mr. Helmut Adamski, Chairman, IP500 Alliance. The event saw the presence of some notable names of the industry including officials from Indian SmartCity Missions, Honeywell, Microsens, Wipro, Bosch, Bajaj Electronics Ltd. and many more. Representatives from Govt. bodies, research institutes, OEMs also attended the one-day event.
Tapan Chattopadhyay on behalf of Dr. Rajeev Singh, Director General of ICC, said, "Over the past few years, building automation and controls market has been expanding at a significant rate. With the government itself coming up with the concept of smart cities, the new generation of India is driving the next wave of technological innovations. As the world's fastest growing economy, we are in dire need of a standard solution. IP500 technology is a wireless network platform that simplifies the servicing and maintenance of smart buildings, commercial places as well as smart cities."
Helmut Adamski, Chairman, IP500 Protocol, said, "The market opportunity in India is endless at this moment. We joined hands with ICC for this event to highlight the potential of IP500 technology. With a diverse scope for application in different sectors, we aim to make as technologically advanced as any other high-tech cities in the world. We are looking to collaborate with the major players to address together the challenges in smart cities, commercial buildings and Indian railways and airports."
Helmut Adamski added, "We couldn't think of a better venue than Bengaluru as it is the Silicon Valley of India. The city is also home to the major influencers of the building automation market."
Gulshan Aghi, President, IP500 India Chapter, said, "Keeping in line with IP500 alliance's commitment to the Indian market, the India Chapter is working closely with the industry to create a sustainable ecosystem of manufacturers, systems integrators and customers. We will provide compete support to all the stakeholders to ensure easy and seamless adaptation of the products on this wireless platform."
The Indian building automation market is expected to grow at a CAGR of over 12.5% until the year 2023. The government and private bodies are transforming cities, based on a smart information layer backed by IoT as well as sensors. India is ready for the next step, with making more technology-enabled choices.
Indian Chamber of Commerce (ICC) was founded in 1925. It is National Chamber of Commerce operating from Kolkata. Its membership spans some of the most prominent and major industrial groups in India.
IP500 is an open, secure and vendor-neutral wireless platform, established in Germany in year 2007 by leading OEMs like Bosch, Honeywell, Siemens, Schindler, Omron, Dorma to name a few OEMs for industrial and commercial. Goal of the IP500 Alliance is it to define with the IP500 communication platform a wireless (Wireless), manufacturer-neutral and safe data transfer for large buildings to develop and make available for it a "turn key module".
(Image – ICC)