India has once again secured its position as the fastest-growing economy, outperforming other major nations in terms of GDP growth rate for the fiscal year 2022-23.
The latest figures reveal that India's GDP grew at an impressive rate of 7.2%, outpacing economic giants such as China, Saudi Arabia, Nigeria, and several developed nations.
The strong GDP growth rate of 7.2% showcases the resilience and potential of India's economy, despite the challenges posed by the global pandemic and its aftermath.
This significant achievement not only reflects the country's robust economic policies but also underscores the determination and adaptability of the Indian workforce and business community.
In comparison, China, often considered a formidable competitor to India, achieved a growth rate of 4.4%, which is commendable but falls short of India's remarkable performance.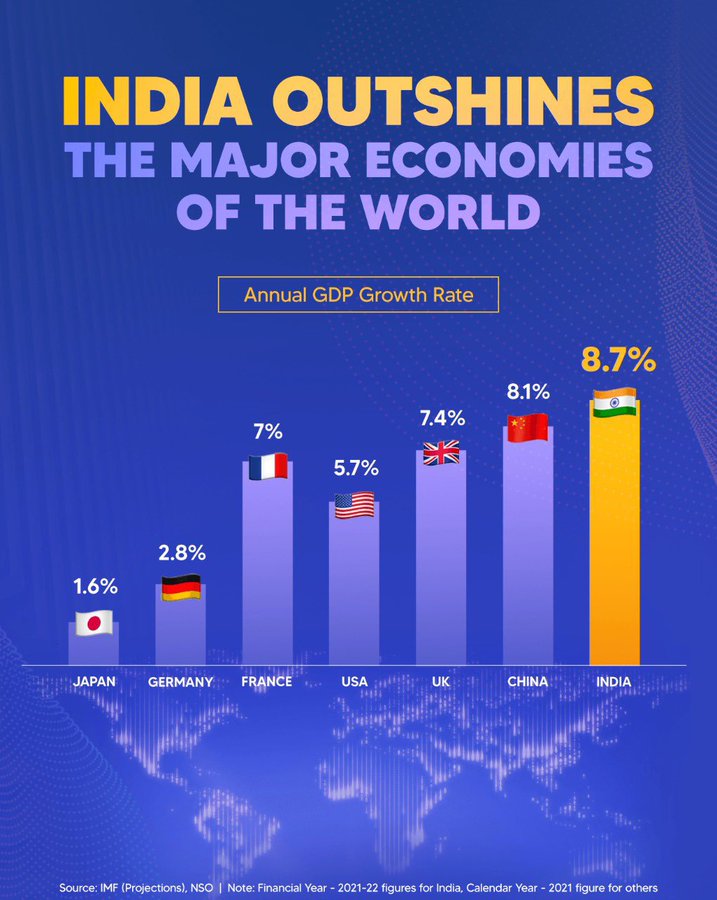 Other notable nations such as Saudi Arabia, Nigeria, and Japan recorded growth rates of 3.7%, 3.0%, and 1.6%, respectively.
These figures highlight India's substantial lead over its peers in terms of economic expansion.
Looking beyond emerging economies, developed nations have also lagged behind India's growth trajectory.
Countries like Canada, Spain, Mexico, South Africa, and Brazil reported growth rates ranging from 1.2% to 1.5%.
The United States and France experienced growth rates of 1.0% and 0.7%, respectively, while the United Kingdom and Italy recorded meager growth rates of 0.3% and -0.2%.
Germany and Russia faced significant setbacks, with negative growth rates of -0.3% and -2.3%, respectively.
India's success can be attributed to several factors.
The country has implemented a range of economic reforms, promoting investment and entrepreneurship, streamlining regulations, and fostering a business-friendly environment.
Additionally, the Indian government's focus on infrastructure development, digitalization, and financial inclusion has played a crucial role in driving economic growth.
India's Robust GDP Growth
Furthermore, India's demographic advantage, with a young and dynamic population, has fueled consumption and contributed to the expansion of various industries.
The country's robust service sector, including information technology, finance, and telecommunications, has continued to perform well, attracting foreign investment and generating employment opportunities.
The agricultural sector, a significant contributor to India's GDP, has also shown resilience, despite challenges posed by the pandemic.
The government's emphasis on agricultural reforms, aimed at increasing productivity, improving market access, and strengthening the value chain, has boosted the sector's performance.
However, it is important to note that challenges remain on the path to sustained economic growth. India needs to address issues such as income inequality, skill development, and infrastructure gaps to ensure that the benefits of growth are shared equitably across all sections of society.
Additionally, the country must continue to prioritize sustainable and inclusive development, leveraging technology and innovation to drive productivity and efficiency. The impact of India's GDP emerging as the fastest-growing economy in FY 2022-23 will be far-reaching and significant.
This accomplishment will have both immediate and long-term implications for various stakeholders, including the Indian government, businesses, investors, and the general population.
First and foremost, this positive economic performance will boost the confidence of the Indian government in its economic policies and reforms.
It will validate the effectiveness of the measures taken to promote investment, ease of doing business, and infrastructure development. This success will likely inspire policymakers to continue implementing reforms aimed at sustaining and accelerating economic growth.
For businesses, both domestic and foreign, India's strong GDP growth will present attractive opportunities. The expanding economy signifies a growing consumer market and increased purchasing power among Indian consumers.
This will encourage businesses to invest in India, launch new products and services, and expand their operations to capitalize on the rising demand.
In conclusion, India's emergence as the fastest-growing economy in FY 2022-23 is a testament to the country's resilience, economic policies, and the hard work of its people.
Surpassing both emerging and developed nations, India's remarkable GDP growth rate of 7.2% highlights its potential as a global economic powerhouse.