As more and more companies and organizations across sectors move towards cloud for business and data management, it becomes necessary that they focus on strengthening their information security and cyber security infrastructure, so that they safe guard themselves, their employees and their customer's data. India saw 59% of cyber-attacks in the fourth quarter of 2022, which prompted The Ministry of Electronics and Information Technology (MeitY) to expressly allocate Rs 625 crores to improve the country's cybersecurity infrastructure.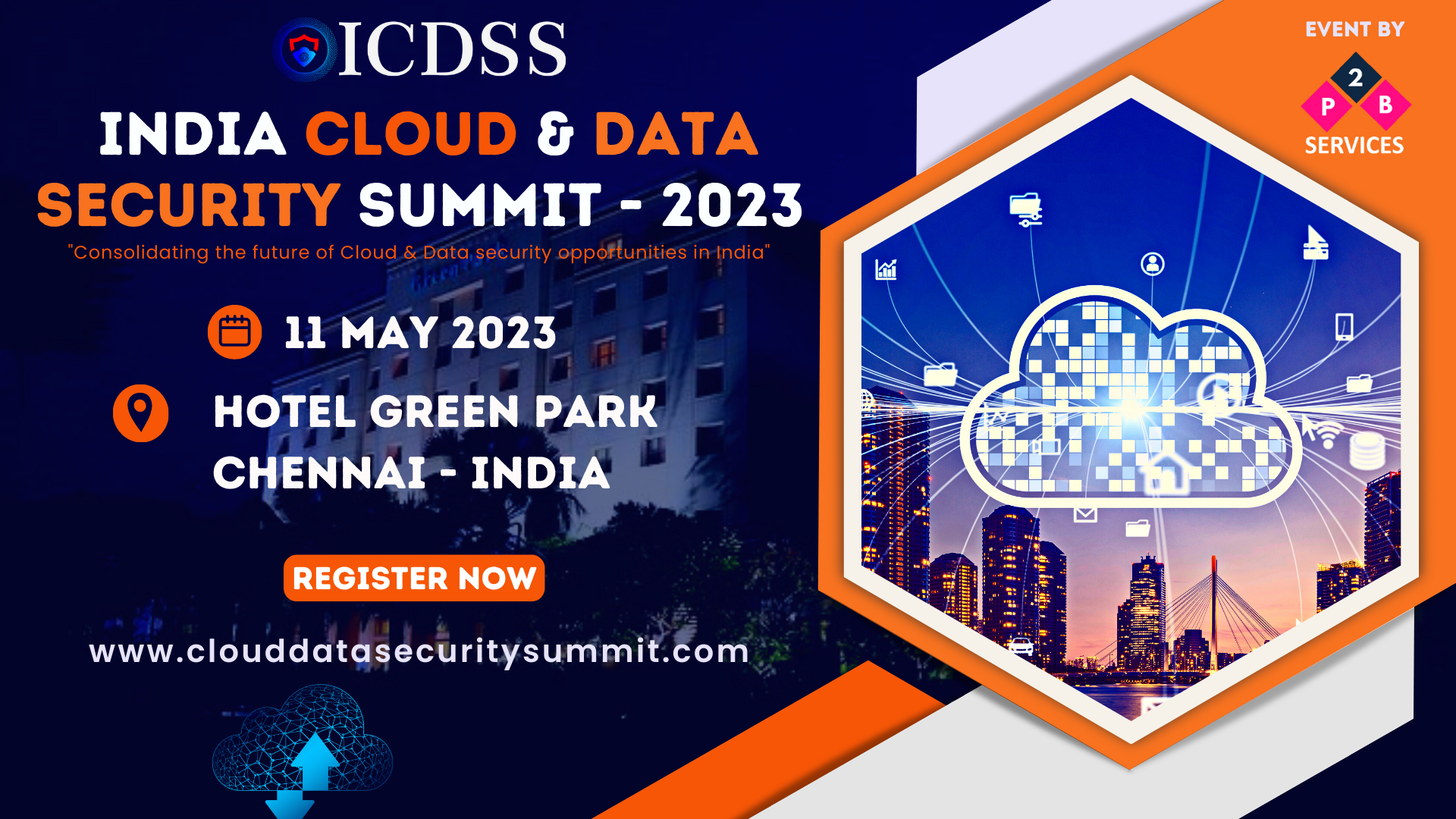 The INDIA CLOUD & DATA SECURITY SUMMIT – 2023, is a strategic event which is designed to explore and consolidate the future of Cloud & Data security opportunities in India. This exclusive one-day summit is held under the patronage of the "Honourable Minister for IT, Thiru T.Mano Thangaraj, Govt of Tamil Nadu", he will also be the chief guest at the summit. The event is organized by P2B services, headquartered in Bangalore, India. The summit will bring together key stakeholders, decision makers, thought leaders and luminaries who are envisioning the progress and growth of Cloud and Data security in the nation. Some of the exemplary thought leaders and prolific speakers participating at the summit are; Vijay Anand, Chief Executive Officer, Tamil Nadu Technology (iTNT) Hub; Yash Dayal, Head Of Engineering, Zepto; A Shiju Rawther , Chief Technology Officer, SBI Mutual Fund; Prasanna Lohar, Chief Executive Officer, Block Stack; Advocate (Dr.) Prashant Mali, Founder & President, Cyber Law Consulting; Mr.T.R.Dua, Director-General, DIPA; Rajgopal Nayak, Chief Technology Officer, Metro Brands Ltd; Prof NK Goyal, President & Chairman, CMAI / TEMA; Kalpesh Doshi, Group CISO, HDFC Life; Arindam Biswas, Co-Founder, ABcDE Advisory; Puneet Tripathi, Head of Data Science, Wakefit; Manikandan Muthaiah, Head of Anaytics CoE, Standard Chartered GBS India; Sourabh Tiwari, Chief Digital and Information Officer, Forbes Marshall; Dr. Lopa Mudraa Basuu, Advisor Cloud Security Alliance  Government Affairs Advisory Council; Basil Dange, CISO, Aditya Birla Sun Life AMC Ltd; Yusuf Ashfaq Hashmi, Global Group CISO, Jubilant Ingrevia Limited; Balaji TK, CTO, Inditrade Scalerator Ltd; Pradipta Patro, Global CISO, RPG Group (KEC International Limited); Dr. Aloknath De , Founder, Cyber-Physical Systems Initiative; Navaneethan M, Senior Vice President & Chief Information Security Officer Ex- PayU; Dr. Rajan, Professor Cybersecurity, BITS Pilani; Dr Vani Gopalan, IT Director-India Center of Excellence, Flowserve Corporation; Kavitha Srinivasulu, Global Head – Cyber Risk & Data Privacy: R&C BFSI, TCS; Panchi S, Founder and Managing Director, YesPanchi Tech Services Private Limited; Rohit Gundale, Country Manager India , Network Intelligence; Barani Kumar, Director of Product Marketing, SearchBlox Software Inc.
This summit is an in-person event, and will open up strategic discussions and deliberations on Cloud & Data Security Trends, Cloud & Data Security strategies for digital Transformation, Rise of Web 3.0 and Data Security, Data Protection Law and what are legal challenges and the strategic roadmap for Cloud & Future of Cloud Security.
This one-day event is positioned to create a conducive platform, to usher in a perception and understanding of key security priorities for Indian CISOs in 2023 and beyond. The event will focus on providing all the key stakeholders and delegates an opportunity to discuss and plan security and risk management strategies with enterprise objectives and how to apply the latest technologies to mitigate cloud and data security risks.
Join us at the premier INDIA CLOUD & DATA SECURITY SUMMIT on May 11, 2023 at the Green Park Hotel, in Chennai, Tamil Nadu. This event is sponsored by and supported by, Protean eGov Technologies Limited (formerly NSDL e-Governance Infrastructure Limited), Crossbow Labs, Prophaze , Seceon, Laya Tech ,  and some of the exhibitors are SearchBlox Software Inc, RiskPro India Ventures Private Limited, Briskinfosec Technology and Consulting Private Limited, Network Intelligence, Indian Cyber Security Solutions (SAVE) – Secure Al-based Vulnerability Assessment Tool (SAVE)), BD Software Distribution Pvt. Ltd, BeyondID – Okta, Auriseg, SysTools.
To join 300+ IT security and Business Leaders from across India for this strategic business summit, drop in your registrations on our website. To know more visit:  https://www.clouddatasecuritysummit.com/registration-form.html