India is experiencing a youth bulge. Nealy half of India's population is under 25 and 2/3rd of India's population is under the age of 35. By 2020, India will be the youngest country in the world with a median age of 29 years. At that time, the median age in China is expected to be 39 years.  India's youth population or the "demographic dividend"  will make India the biggest consumer market and the biggest labor force in the world.
However there is a problem ! According to Aspiring Mind's National Employbility Report for Engineering Graduates published in 2014, only 18.33% of the engineers are employable. Numbers in other sectors are not very different and it is said that of all the students who graduate in India every year, only 18% are actually directly employable. A country where there is a huge youth population and where jobs require skilled graduates, this skill deficiency is a big problem.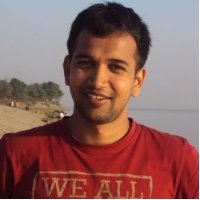 Sarvesh Agrawal was always passionate about creating opportunities for education and employment for everyone who wanted them. Coming from Nawalgarh, a town in Rajasthan, Sarvesh saw the difference education and technology had made in his life (Sarvesh did his BTech and MTech from IIT Madras) and was always driven to make an impact in people's life through education.  In 2011, Sarvesh started a wordpress blog called Internshala where he wrote about education, technology and skills gap related issues. As soon as Sarvesh started writing about various organisations that were giving out internships he was flooded with questions about internships and that is how Internshala- The Internship Portal was born.
In October 2011, Sarvesh quit his job with Aviva to work full time on Internshala. Today the company works in 2 main areas of internships and trainings.
"All the education that is given to us in classrooms is not really useful when you actually get or try to get employed. The real education comes from experience and that is why internships are so important. Indian students are very enthusiastic about working as interns. Interns becomes specifically useful for startups and SMEs where budgets are tight. The big companies too are quickly picking up this culture of hiring interns in India, " says Sarvesh.
The internship portal of Internshala is free for both the employers and the interns. Internshala today has half a million students visiting their portal every month. The company has 250,000 registered interns and 10,000 registered companies on the site. Approximately 80,000 interns are hired through Internshala each year.
"Once the interns go out there in the real world and experience what it is like to work in an organization, career planning and discovery becomes a much smoother process for them. Also it makes them much more employable than before," adds Sarvesh.
Other than internships, Internshala also focuses on online training programs. "After we started our internship portal we realized that a lot of students were finding it difficult to get internships due to lack of skills and that is how we started our training program," says Sarvesh. The Internshala training platform has become quite a hit since it started.

Team Internshala is a 25 member team. Internshala today is India's largest internship portal and is build by interns. When Sarvesh started, like any other startup, he had to keep operations low cost and hired a few interns who laid the foundation of Internshala. Sarvesh urges companies to work with interns and has the following message to share.
"Hiring interns can be the best thing that can happen to your company specially if you are a startup or a mid size company. Interns  are hungry to learn, are ready to put in long hours and come without any baggage. So many times interns have accomplished tasks which professional had labelled impossible. However when you hire interns you have to understand that it is a shared responsibility. You need to handhold these interns and train them correctly. Internship is not for everyone. If you are ready to teach initially then interns can do wonders for your company. The entire team of Internshala is created from the interns I hired. "