IoT in journalism helps provide better context to a story, deliver news with an unprecedented accuracy, and reach out to more people than ever before.
As per a report by Cisco there will be around 50 billion connected devices by 2020. As smart devices are in constant link with each other, news pertaining to temperature, traffic jams, politics, films, terrorism etc. can be collected from and communicated across the world instantly.
Thus, IoT in journalism is all set to help journalists gather more stories and dig deeper into them, like never before.
IoT, with its innovative 'things' and unbelievable connectivity, is redefining journalism altogether. For instance, there are smartpens that can record audios, simultaneously take notes on a paper, and then automatically send it to your Dropbox or Evernote.
What's even more amazing about this 'thing' is that it can also be used to send these recordings and notes directly to the newsroom, straight from the reporting location. Then there are many apps or add-ons to your GPS apps that let newspapers or reporters verify the location of their story.
Related Read: The 7 Top Mobile Apps That Every Professional Must Have On The Go!
IoT in journalism is connecting journalists, seamlessly, from the field to the newsroom
Role of drones in journalism
Drones are paving a new approach for journalism. So, big media giants, like BBC, own multiple 'hexacopters' that not only offer pretty landscape shots but also gather footage for them.
Also Read: Drone Delivery : A Game Changer for Logistics Space?
The capability of drones to gather footage was explicitly seen in 2012 at the time of this really intense drought in Nebraska. Drones particularly help journalists gather data from disaster prone areas.
Role of sensors in journalism
Reporters are now using IoT devices with sensors. Sensors in these devices help reporters pick on data that's rapidly changing, difficult to measure otherwise, and needs to be monitored and compared constantly over a period of time. For example sensors in these devices can be used to report the air quality in a particular area.
Role of 'glass' in journalism
Glass journalism is a relatively new term where a reporter can collect news while wearing glasses. It helps to record news on the go. This news can then be uploaded on social media and can also be e-mailed, instantaneously.
In fact, the future promises such glasses that can provide information about an object, in its line of sight, to the wearer almost instantaneously. What does this mean for journalists? Well, they'd be able to get significant information about, say a historical monument or a government building, just by looking at it, and can then can send it across to the media house.
Related Read: Wearable Devices That Will Be Essential Part Of Our Lifestyle !
IoT in journalism has seeped in stealthily without users noticing it. And this change will prove consequential not just for journalism but a whole lot of other fields, such as marketing and advertising, that are closely associated with journalism.
(Disclaimer: This is a guest post submitted on Techstory by the mentioned authors.  All thecontents in the article have been provided to Techstory by the authors of the article. Techstory is not responsible or liable for any content in this article.)
Image Source: phonandroid.com
About The Author: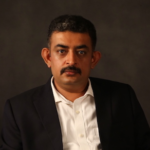 Naveen is currently the CEO at Allerin Tech Pvt Ltd. He is a seasoned professional with more than 20 years of experience, with extensive experience in customizing open source products for cost optimizations of large scale IT deployment. Naveen is a keynote speaker and thought leader in the area of IoT solutions, Machine learning and Block Chain Technology.
Specialties: Solution Design and consultancy , Data Science, Machine Learning, Deep Learning Enterprise Application Planning, Cost Optimization and Block Chain