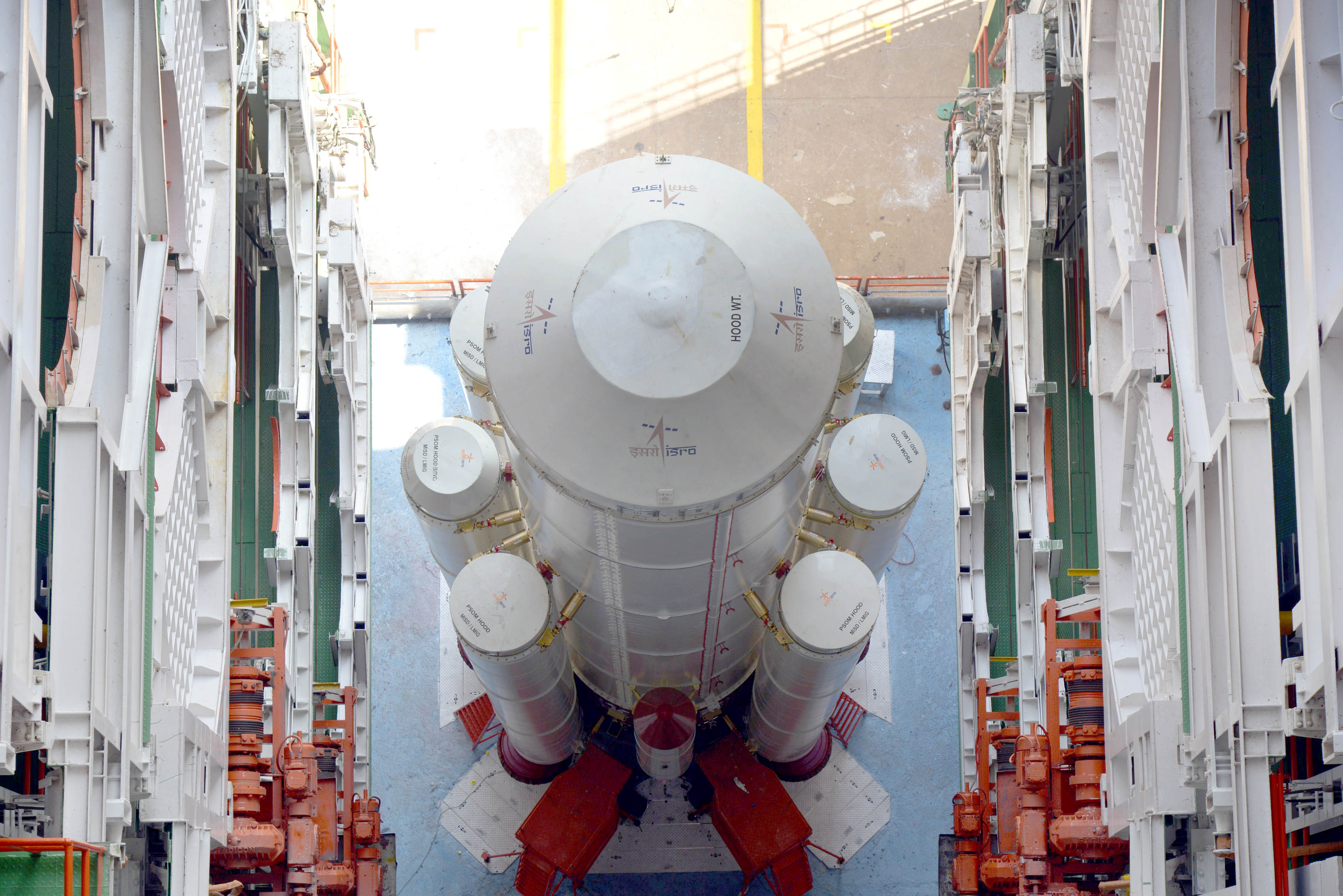 Indian Space Research Organisation (ISRO) is all set to launch Polar Satellite Launch Vehicle (PSLV) C 37 which would carry 104 satellites, the highest ever on a single launch. The ISRO Satellite launch scheduled at 9:28 hrs IST on 15th February from Sathish Dhawan Space Centre in Sriharikota, about 127 km away from Chennai. The 104 satellites include one Cartosat-2 series satellite and 103 co-passenger nano-satellites.
The primary satellite, the Cartosat-2 series satellite which weighs about 714kg will be put into a sun-synchronous orbit at 505km. The imageries from the Cartosat-2 series satellite will be useful for cartographic applications, urban and rural applications and various other Land Information System (LIS) and Geographical Information System (GIS) applications.
PSLV-C37 also carries two ISRO Nano Satellites – INS-1A and INS-1B. Nano-satellites are satellites weighing less than 10kg which can carry a payload of up to 5kg. The objective of launching nanosatellites is to demonstrate its payloads, provide a standard bus for launch on demand services and to carry innovative payloads for universities and R&D laboratories.
The 101 other nano-satellites are being launched on behalf of international customers from Israel, Kazhakasthan, The Netherlands, Switzerland, UAE and the USA. The nanosatellites together weigh about 664kg. The 101 nanosatellites are being launched as a part of the commercial arrangement between the International customer and Antrix, the commercial arm of ISRO.
The focus of the launch is not to create records but to utilise the excess capacity available on the PSLV. The PSLV has a payload capacity of more than 1,500kg, but it's carrying only 1,378kg on this mission. The launch allows ISRO to test its capabilities for multiple launches of small satellites.
There is a huge market for nano and micro satellites in the global market. ISRO sources point out that some 3,000 satellites will be ready for launch in the next 10 years for navigation, maritime, surveillance and other space-based applications. Having a large number of small satellites instead of a few heavy ones makes sense as they could cover the same piece of ground more frequently for collecting imagery.
ISRO's major achievements in the recent past are as follows:
1. Mangalyaan 2014: India successfully launched Mars Orbiter Mission in 2014 that revolved around the Red Planet to collect data on Mars' atmosphere and mineral composition. The Rs.450 crore project was the cheapest one and India became the first country to reach Mars on its first attempt.
2. Chandrayaan 2008: India launched a lunar probe in 2008 and joined the elite list of six space organizations to send an orbiter to the moon. A Tricolour was hoisted on the moon but soon after contact was lost.
3. Indian Regional Navigation Satellite System, 2016: The seven-satellite system created India's very own satellite navigation system on the lines of US's GPS. This will provide services in marine navigation, disaster management, vehicle tracking and fleet management, and navigation aide for drivers. An Indian-owned system will be particularly useful in times of war to gain positional accuracy.
4. Launching 20 satellites, 2016: In June, the ISRO launched 20 satellites in one mission. Apart from ISRO's own satellites and those built by university students in the country, the mission carried satellites from the US, Canada, Germany and Indonesia.
5. Reusable Launch Vehicle, 2016: In May, ISRO successfully tested the Reusable Launch Vehicle — Technology Demonstrator (RLV-TD) that was built for Rs 95 crore. The winged flight vehicle — dubbed as India's space shuttle — that glided back onto a virtual runway in the Bay of Bengal in a 10-minute mission was the first stage of a fully re-usable vehicle, seen as the future of low cost, reliable and on-demand space access.
What's remarkable is ISRO has done all this with fewer funds and fully home-grown technology
The former Indian President Sri A. P. J. Abdul Kalam said:
" Many individuals with myopic vision questioned the relevance of space activities in a newly independent nation, which was finding it difficult to feed its population. Their vision was clear if Indians were to play a meaningful role in the community of nations, they must be second to none in the application of advanced technologies to their real-life problems. They had no intention of using it as a means of displaying our might. "
Also Read: The Companies Fighting For A Space In The Space Tech !
If there are any other records by ISRO that should be mentioned in the article, do let us know in the comments below !