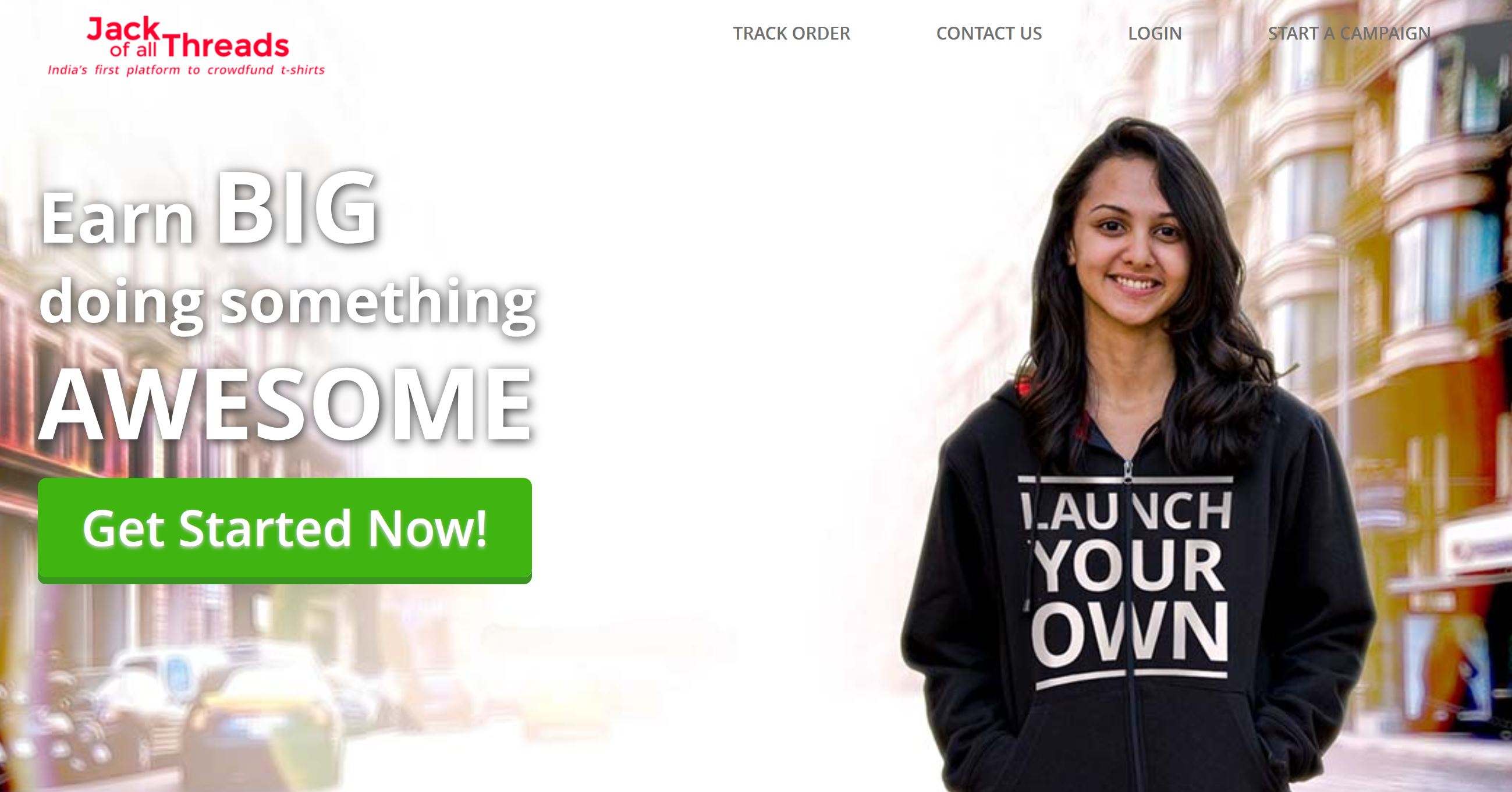 Personalization is one of the biggest trends that the world is witnessing right now. Getting you the exact things that you wish for even before you wish for them is what a large number of technology companies are currently working on. Creativity, spirit of entrepreneurship is on rise in India more than ever among the young as well as the experienced. In times when all technology is working towards giving power to people, Jack of all Threads, one of the very interesting ventures in the e-commerce industry, provides a very powerful confluence of these three factors – personalization, entrepreneurship and creativity. Through their platform, Jack of all Threads plans to significantly democratize e-commerce and provide a way to crowd fund apparel by unleashing the power of creativity and entrepreneurship among the people of India.
Jack of all Threads makes it easy for ANYONE to become a creative entrepreneur via crowdfunding and social commerce, for free. Anyone can create their own merchandise campaigns in minutes on Jack of all Threads and market them online. Jack of all Threads gives users (Raisers as they are called) access to world class technology, manufacturing, logistics, buyer support and payout systems that have insofar been accessible only to large retailers. Further, Raisers – who launch these campaigns – keep the profit. Through its powerful product and systems Jack of all Threads is allowing thousands around India to access entrepreneurship much more easily, by removing every barrier between creativity and result.
How Jack Of All Threads Works !
Jack of all Threads works on the concepts of crowdfunding and social commerce. The Raiser logs on to Jack of all Threads and designs a tee in minutes using the web Design Studio. Based on Raiser's design and product type, a base cost for different estimated numbers of t-shirts sold is immediately shown to the Raiser. The base cost includes production, shipping and admin costs. Raiser then sets his or her own selling price, and adds in campaign details such as title, description, link and end date. Raiser launches the campaign and t-shirts goes live on this campaign link. This campaign page is like a product page of any e-commerce site.
Raiser is then responsible for sharing campaign link via social media and interested buyers visit the campaign page. They purchase the t-shirt like in any typical e-commerce site with online + cod options and free shipping. They are able to select the size and color they want of that t-shirt design. Buyers can keep buying until the campaign end date. Once the campaign ends, the orders are all processed and the tees are produced and shipped to every buyer. Profits are transferred to the Raiser, as per the total campaign sales.
Democratizing e-Commerce
The Indian custom apparel market is projected to touch around $6B and $70B+ worldwide in a few years. The e-commerce market in India is galloping and although a number of SMEs are entering this space, the power still remains with those who have a lot of money to come up with better products and sell their products on a large scale. Jack of all Threads however is changing how custom apparel is made, thought of and purchased.Further, apparels is just the start of custom products, the company has a lot in store, with this being a test bed for what's possible through democratization and crowdfunding.
The company has a unique approach to the traditional e-commerce space and are turning it upside down. The company wants to stop allowing only those with resources and investments to sell online. To stop paying for inventory that is not needed, to produce only on demand and give access to the best production methods to the entire country, and let them show you the possibilities.Jack of all Threads is focused on building an entire ecosystem that makes it easy for every single individual to become an entrepreneur.
The company isn't focused on only artists, or even just charities. Nor do they see themselves as an apparel e-commerce shop as much as a product and systems driven company, bringing powerful access to the hands of millions of everyday users with no specialized skill or knowledge.
The product that Jack of all Threads has build for the Raisers is the main driver of success for the company. For Raisers, the company has build a very strong online design studio for this industry, with a heavy focus on user experience. They have powerful tools to maximize campaign potential like auto-relaunches, similar templates, and a minimum goal as low as 1. For buyers the company makes available 16 color variants to choose from, a thoroughly tested purchase funnel with minimal clicks, cash on delivery and free shipping. The company's understanding or product, technology and systems makes them very strong in their approach.
About The Founders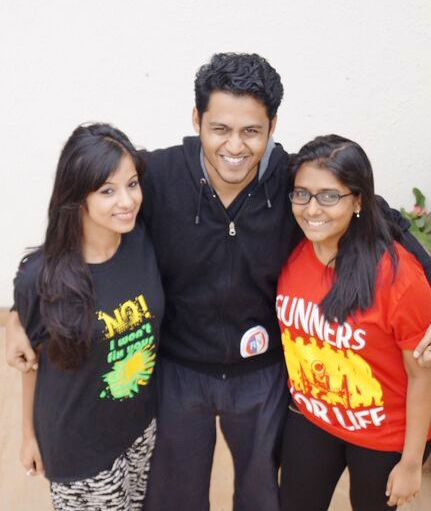 Yash Vardhan Kanoi is Co-Founder and CEO at Jack of all Threads. Yash was an international scholar and a Gold Medalist at National University of Singapore, and studied systems engineering, technological entrepreneurship and liberal arts. He has worked as a management consultant to an international social enterprise in Cambodia and to a government-backed organisation in Singapore, presided over the largest ASEAN-wide entrepreneurship society, and managed the product experience and marketing for a $10M hi-tech company in Israel.
Apoorvaa Agarwal, is the Co-Founder and Vice President, Operations at Jack of all Threads. She is a top international scholarship and domestic corporate scholarship awardee with a strong foundation in Operations. Born to an entrepreneurial family, she has the 'hustle' gene and the smarts to get things pacing at a ground level.
Pratibha Nair, is the Co-Founder and Vice President, Production at Jack of all Threads.Pratibha has had focused experience in business development in apparel and tech apparel companies, particularly strong at merchandising within the garment industry. She declined her Masters at Fashion Institute of Design and Merchandising, a top 5 US university for merchandising, to pursue Jack of all Threads.
Growth And Future Plans
Jack of all Threads has seen 20X growth in 6 odd months to emerge as India's largest crowdfunding platform. The company has been able to reach over 2500 campaigns a month allowing raisers to sell as few as one piece per campaign for it to be successful. They are seeing well over 500 new active raisers every month and have been successful in achieving over 10,000 buyers every month. Raisers across the country and across age groups are earning in lakhs every month using JoaT's technology and systems. The company is on a path to touch 100,000 buyers a month by end of FY 16.
The founders made the initial investments in the company and further raised funds from angel investors. The company is currently seeing a fair degree of interest from investors locally and abroad.
The company is planning to focus on the following factors in the coming few months
Focus on capability building – The company is currently seeing multiple points of explosiveness in their traction, and want to build out their capacity to keep up with what the next level of growth should reach.
Focus on scale & expansion – They are growing at a tremendous pace and yet this reflects not even a fraction of the demand/need that is out there in the market from both sides of the platform i.e. buyers for one-of-a-kind products and creative entrepreneurs to showcase their capabilities.
Focus on delight – Raiser and buyer satisfaction is key to their business and they are currently focused on doing whatever it takes to keep improving that – greater product range, quicker turn-around times, recommendations etc. Essentially, creating the ultimate product experience for creative entrepreneurship, and its explosive output for the buyers.