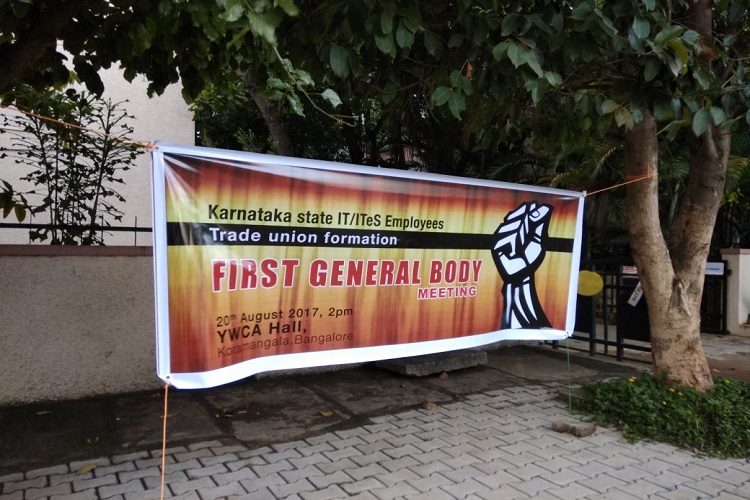 10 November 2017, India :
Karnataka government approved the formation of trade union for Information Technology Industry. This will be a huge change in massive Information and Technology Industry.
Karnataka's labour commission has certified the formation of the Karnataka State IT/ITES Employees Union Act (KITU) under the Trade Union Act, 1926, and Karnataka Trade Unions Regulations, 1958.
KITU welcomed the move and said that the setting up of trade union would help lakhs of IT employees and provide them a platform to put forth their grievances.
"This is a significant moment for us, being the first dedicated IT employee union. The formation of the union was possible because there were enough number of IT employees facing (various) issues. We will be able to address these issues with vigour with the formation of an IT union," Vineeth Vakil, general secretary of KITU told The Economic Times.
KITU claims to have around 250 employees, whereas Bangaluru has 1.5 million IT employees.
Karnataka is not the first state to approve Trade Union for IT Industry. Tamil Nadu had allowed creation of IT Employees Union in June 2017.
IT employees in Karnataka have been demanding setting up of trade union from a long time. According to employees, the trade union should address issues like indiscriminate layoffs and long working hours.
Ganesh Natarajan, chairman, 5F World, told The Economic Times, "Ultimately, any union is the collective voice of the people. IT companies have been the best paymasters and there has been no need for one,". He further added "The only companies that should be concerned are the ones that haven't been giving a fair deal to their employees. Companies should be transparent and communicative while letting go of employees."
This is a big change in IT Industry. Until now, all that mattered was skills in manipulating binary digits, the power to learn & innovate, and education qualifications. Now, with the formation of Trade Union, we need to wait for results. Generally, Investors become wary of Trade Unions.
(Image – The News Minute)