Speaker of the U.S. House of Representatives Kevin McCarthy declared on Sunday that lawmakers would go forward with a bill addressing concerns regarding TikTok's effect on national defense, including allegations that China's government has access to user information.
Increasing stress is being put on Congress to approve bipartisan legislation to grant President Joe Biden's government the power to pursue a restriction on TikTok, which is controlled by the Chinese corporation ByteDance. Recently, the application was forbidden from being downloaded on any devices belonging to the United States government.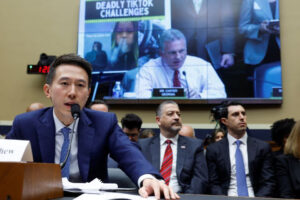 "The House will be moving forward with legislation to protect Americans from the technological tentacles of the Chinese Communist Party," McCarthy said on Twitter.
On Thursday, for approximately five hours, TikTok CEO Shou Zi Chew stood before a U.S. House Committee. Lawmakers from both sides interrogated him over issues of national security as well as other matters related to the application, which now has 150 million American users.
The TikTok CEO was interrogated during the session on Thursday regarding if the platform had spied on Americans at Beijing's demand. Chew offered a "No" reply.
Neal Dunn, a Republican congressman, then brought up the firm's December announcement that certain ByteDance personnel residing in China had illegally obtained the TikTok user information of two journalists who were no longer working for the company. He questioned once again about ByteDance's possibilities for spying.
"I don't think that spying is the right way to describe it," Chew said. Before being interrupted, he continued by stating that the reports involved an "internal investigation."
McCarthy, a Republican, said in a tweet on Sunday, "It's very concerning that the CEO of TikTok can't be honest and admit what we already know to be true — China has access to TikTok user data."
The company claims to have committed more than $1.5 billion on data protection measures under the term "Project Texas," which comprises approximately 1,500 full-time staff as of right now and has an agreement with Oracle Corp (ORCL.N) to hold data from TikTok's American users.
Chew's presence before Congress on Thursday did not ease members' fears; instead, according to Wisconsin Representative Mike Gallagher, the Republican leader of the House Select Committee on the Chinese Communist Party, "it actually increased the likelihood that Congress will take some action."
When he tried to outlaw TikTok and also another Chinese-owned app, WeChat, a division of Tencent, in 2020, former US president Donald Trump suffered a number of court decisions.
Many Democrats have expressed their worries as well, although they have not come out in support of the U.S. ban.
Comments
comments