Lead School is India's Largest school Edtech company powering 2000+ schools. Lead reportedly raised funding of Rs 160 crores, a day after the company announces its layoffs. The funding round was mix of long-term debt capital from Venture debt firms Alteria Capital and Stride Ventures and working capital finance from banks such as HDFC banks, Standard Chartered Bank, and ICICI Bank.
Lead has reportedly fundraised to meet company's organic and inorganic growth. However, fundraising of company Lead occurred at a time when another Edtech startups are looking for cost reduction as they expect slow growth due to uncertain economic conditions. Meanwhile Sumeet Mehta, founder and CEO of the company said that "traditionally, startups have had limited avenues for raising capital beyond equity. However, with our strong unit economics and a clear path to profitability, we have been able to attract non- dilutive, traditional capital from India's biggest banks and largest venture debt funds, which is value accretive to our shareholders.
Mehta further added that "Lead is poised for 2x growth and this latest round of funding will help us fast-track our mission of providing high quality, integrated school Edtech solutions to cover 60,000 schools across India by 2026.
layoff's
The company reportedly laid off 60 employees on Tuesday. however, the company denied calling it a layoff. The company said that it was part of their annual strategy, and the company has grown 2x this year and they are hiring for growth. Lead has experienced it's first round of layoffs when the company laid of 100 employees in august 2022 after evaluating annual performance and in order to cut down expenses due to some uncertain economic conditions.
Edtech's startup 'Lead'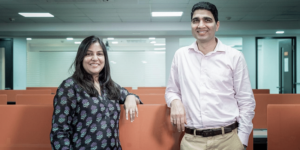 Lead was started by Sumeet Mehta and his wife Smita Deorah in the year 2012 with a simple motive of providing international level education to as much as students in India. The Initiative was reportedly started by Smita Deorah by inaugurating Lead school in the form of an NGO in Maharashtra.
Lead is basically a platform that collaborates with schools in order to provide valuable education to students. Lead collaborates with schools and provide them with integrated package such as modern courses, international level curriculum, teacher's training etc. Lead deals with parents, teachers and students separately. Lead school provides teachers trainings, infrastructure, digital mode classes, hardware such as ERP etc. to the schools collaborated with Lead school. Whereas Lead student deals with interactive classes, homework, assignments, projects, interesting and creative way of learning etc.
In a span of time from a simple initiative of an NGO Lead became India's largest school Edtech company. The company reported its revenue of 28 crores in 2020 and 57 crores in 2021 however the company losses jumped to 3.1x to INR 397.1 crore in 2022 from INR 126 crore in 2021.