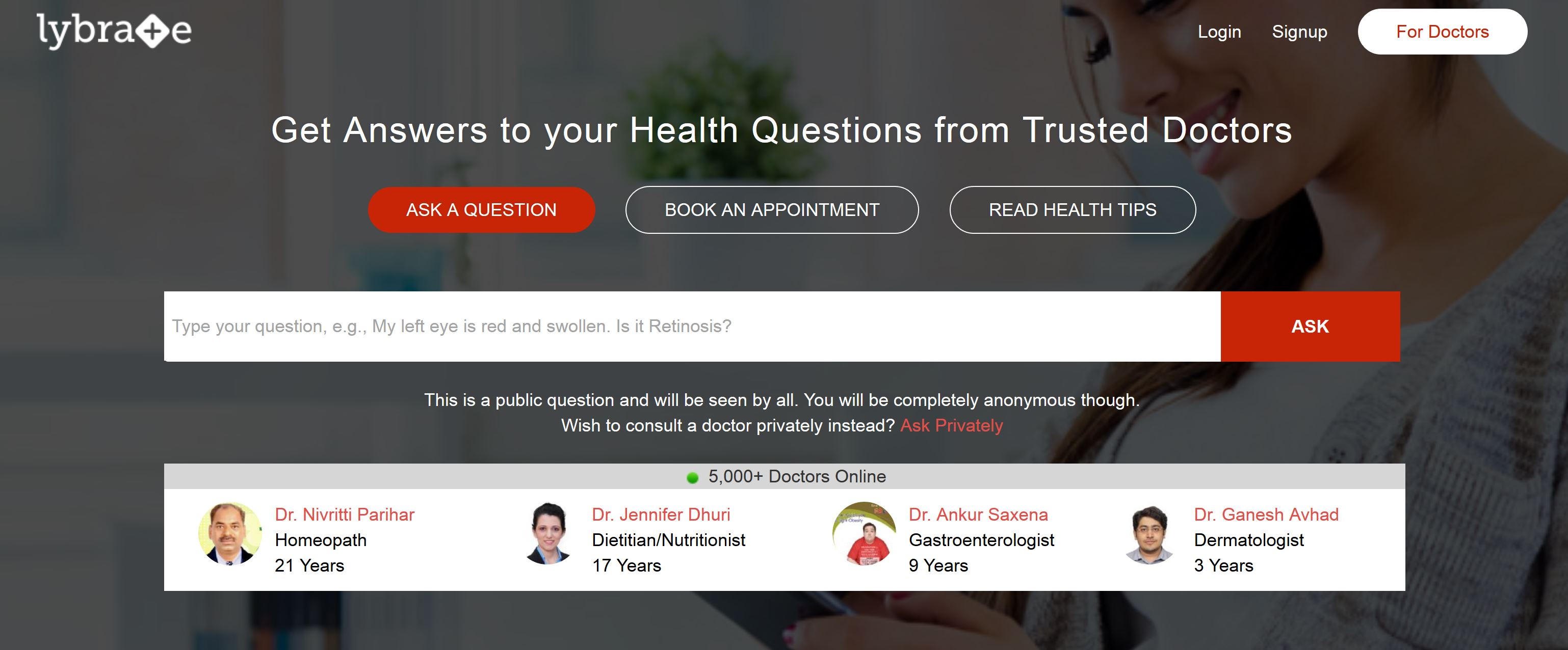 Medical consultation forms one of the most important parts of a human life. In spite of the criticality of this aspect, medical consultation and treatment remains one of the most unorganized sector in our country. This sector also remains far away from technology adoption and hence, we see a number of ventures working in this area today. Lybrate is one of India's leading firms working in the space of connecting doctors and patients.
How Lybrate Started
After finishing his MBA from Columbia Business School, Saurabh Arora was working with Facebook handling their Ads and connecting businesses to users. During one of his visits to Delhi, he saw that people were being given medicines directly by chemists who were not really qualified to give out such medicines. "If this is the case in a city like Delhi, what would be the case in tier 2 and tier 3 cities," was a thought that struck with Saurabh. Saurabh began his research about this industry and realized that getting appointments with doctors was one of the reasons that was fueling such behavior. In 2013, Saurabh released the first version of the product – a practice management product for doctors – where users could find doctors and book an appointment.
Taking the appointment system online did make it easy for customers to book appointments, however doctors could fit in only a limited number of appointments and Saurabh felt that the core problem was not getting solved as effectively as he had imagined. This is when he decided to come up with the next version of the product.
The Lybrate Product
Saurabh decided to build what would be more of a communication platform with Lybrate version 2.0. This platform was launched in January 2015.From users point of view, the primary use cases of the platform can be divided into 3 parts.
Users can simply open the Lybrate system and post a problem that they have. Doctors can then respond to these questions based on their expertise. In this case, users do not have a choice over which doctor is responding to their questions.If they find response of a particular doctor helpful then they can upvote this response which works like a feedback about the doctor.
Lybrate system also allows users to directly get in touch with doctors of their choice through a whatsapp like interface. Users can share their medical records , images and other information that they want with the doctors.  Fees and how the doctor and patient choose to go ahead (weather through the app only or by the patient visiting the doctor's clinic ) is totally left to the two parties involved.
Healthfeed is an important feature of the system where users can view health related tips created by doctors on Lybrate network. Currently, there are 400 different topics about which health feed is being generated and shown to the users as per their preferences.
It was after the company decided to come up a communication platform that they received funding of $1.23 million in August 2014 in an Angel round from Nexus Venture Parters. The company is also backed by Gokul Rajaram, popularly referred to as the Godfather of Google Adsense.
Lybrate app today has more than 80,000 doctors registered on the platform. Everyday more than 100,000 users use their platform for health related queries and updates. The company today is  a team of 35 people led by Saurabh Arora who is the CEO of the company. The company was founded by Saurabh Arora and Rahul Narang.
How Lybrate Solves Problem For All Stakeholders
Early Diagnosis
It is quite typical to not go to the doctors for a checkup when we see early symptoms. It is only when we feel that there is a serious problem that we actually make an effort to get a medical consultation from doctors. A lot of times, the delay in getting the right treatment makes the case more severe.
Also a lot of times, patients in Tier 2 and Tier 3 cities do not have access to good doctors.With the Lybrate platform, users can get right information from doctors by sending a message. Lybrate  therefore helps users to diagnose problems at an early stage.Patients from any corner of the country can reach doctors via Lybrate.
User Privacy & Doctor Authentication
Privacy of medical information is one of the most critical factors when it comes to healthcare industry.No personal information regarding patients is revealed anytime during the use of the system. Only first names of patients are made available even during private conversations with the doctors. This makes sure that all personal information of users is protected at all times during the use of this app.
All the doctors registered on the app are authenticated by Lybrate team. Beside, users can always give a feedback about whether a doctor's suggestion was helpful or not. If there are too many non helpful suggestions by a particular doctor then the team makes sure that the doctor is informed about the same. The Lybrate algorithm also makes sure that the opinion that you get on your screen are given by doctors whose reviews yo find most favorable.
Doctors making most of their time
"There are 2 kinds of doctors. One who are extremely busy and other who are not so busy. Our app is useful to both these categories. The busy doctors keep getting phone calls from patients for the same type of queries. By using Lybrate, doctors are able to answer all questions in one go. For the not so busy doctors, Lybrate is a good opportunity to build their brand and create a customer base," says Saurabh.
The 'Ease Of Use' Metric
Heathcare is a huge opportunity globally and specially in India where the healthcare market is so widely fragmented with no use of technology. "The technology penetration in healthcare is very low. The mobile penetration is India is however growing at a very fast rate. That is how we decided to come up with a mobile app in the healthcare space along with an existing web based system," says Saurabh.
Saurabh and team researched their user base very thoroughly and that is how they decided to come up with a whatsapp type application. "Doctors are extremely busy and would be reluctant to use a complicated app. The Patients demographic on the other hand is so diverse that we had to make sure that we create an app that will appeal to this varied demography. Ease of use has led to the huge popularity of whatsapp. That is how we decided to create a simple app just like whatsapp," says Saurabh.
Lybrate in the future.
The company is working on a number of product features that will help patients get a better customer experience. Lybrate is planning to come up with a voice solution where patients can directly talk to doctors via Lybrate. However, calling up will mean sharing numbers which might affect the privacy policy of the company. Also, doctors might not like the fact that they can be disturbed anytime. "There are a few challenges that we are dealing with right now to come up with a voice solution, but we are confident that we will come up with one very soon," says Saurabh.
The company is also planning on increasing their array of service to include psychologists. "We see that a lot of people have started accepting these problems and need help," says Saurabh.
Lybrate is also coming up with a local language strategy where people who are comfortable talking in a certain language will be able to communicate in that language via Lybrate and will be connected to doctors who understand this language.
The company is also looking for funding from someone who is extremely passionate about making a difference in the healthcare space in the country.