Layoffs at McKinsey are allegedly beginning this week. The consulting firm may slash up to 1,400 jobs as part of such an unusual series of employment reductions, according to sources.
McKinsey's cutoffs occur at a period in which the organization has witnessed a dramatic increase in personnel over the last ten years, according to a Bloomberg report.
As a consequence of a serious worldwide economic crisis, McKinsey is currently reorganizing and carrying out all these massive layoffs. Almost 3 percent of the McKinsey staff have claimed that they were laid off altogether.
"The painful result of this shift is that we will have to say goodbye to some of our firm functions colleagues, while helping others move into new roles that better align to our firm's strategy and priorities……. Starting now, where local regulations allow, we will begin to notify colleagues who will depart our firm or be asked to change roles" Bloomberg quoted Bob Sternfels, global managing partner, as saying in a note to McKinsey staff.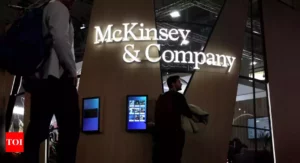 The company may cut as many as two thousand workers, according to claims of McKinsey layoffs that first emerged around a month earlier. Even while it remained unknown when the adjustments might happen or which positions would be affected, it was obvious that McKinsey, like numerous other businesses, was not spared.
According to sources, employment positions without direct interaction with employees may be impacted by McKinsey layoffs. Regretfully, more details cannot be obtained until the initial round of reductions.
Earlier, the "reorganisation plan" impacted at least 100 employees and had seen the termination of the whole engineering faculty at the open-source software development platform GitHub in India, which is home to the second-largest coding ecosystem after the United States.
The whole GitHub team in India has reportedly been dismissed, according to tech writer Gergely Orosz, who keeps records of tech layoffs all around the world, notably in the development and engineering areas.
"We're talking of 100 engineers. This was done as the team was smaller than other locations, owning fewer and lower priority stuff," he said in a tweet. Orosz said he confirmed the layoffs after "talking with (now former) GitHub India engineers".
About McKinsey:
James O. McKinsey, a professor at the University of Chicago, founded McKinsey & Company in 1926. This multinational management consulting firm provides professional services to businesses, governments, and other organizations.
The earliest and biggest of the "Big Three" management consultants (MBB), or the third largest strategic consulting company in the world, is McKinsey. The company's primary areas of interest are its clients' finances and business functions.
Comments
comments