Stratolaunch, a company renowned for constructing the world's largest airplane, has emerged as a significant contender for the assets of Virgin Orbit, the bankrupt space company owned by Sir Richard Branson. With a wingspan measuring 385 feet, Stratolaunch has developed an extraordinary aircraft designed to transport rockets to high altitudes, offering a unique approach to space launches. The company's recent bid of $17 million (£13.6 million) for the remains of Virgin Orbit, once valued at $3 billion when it went public in 2021, has garnered attention and sparked speculation within the space industry.
The bankruptcy proceedings surrounding Virgin Orbit have taken an exciting turn, with Stratolaunch's offer being described as a "stalking horse" bid in legal documents. This type of bid serves as a reserve price, providing a benchmark for other potential bidders to surpass. Notably, Stratolaunch's offer has received the endorsement of Virgin Investments, an entity owned by Sir Richard Branson himself. This endorsement could carry considerable weight, given Branson's involvement in the space industry and his success with companies like Virgin Galactic.
Virgin Orbit's financial struggles leading to bankruptcy stem from its ambitious goals to establish a commercial space launch business. The company utilizes a Boeing 747 aircraft named "Cosmic Girl" as its launch platform. Cosmic Girl carries rockets to an altitude of 35,000 feet before releasing them from beneath its wing.
The Setback and the Auction for the Future of Virgin Orbit 
This innovative air-launch approach aims to provide flexibility in launching payloads into space. However, Virgin Orbit faced a setback during its most recent mission, which aimed to launch the first orbital satellite from British soil. The launch, taking place from a spaceport in Cornwall, was unfortunately cut short due to a rocket anomaly, resulting in the rocket crashing into the sea.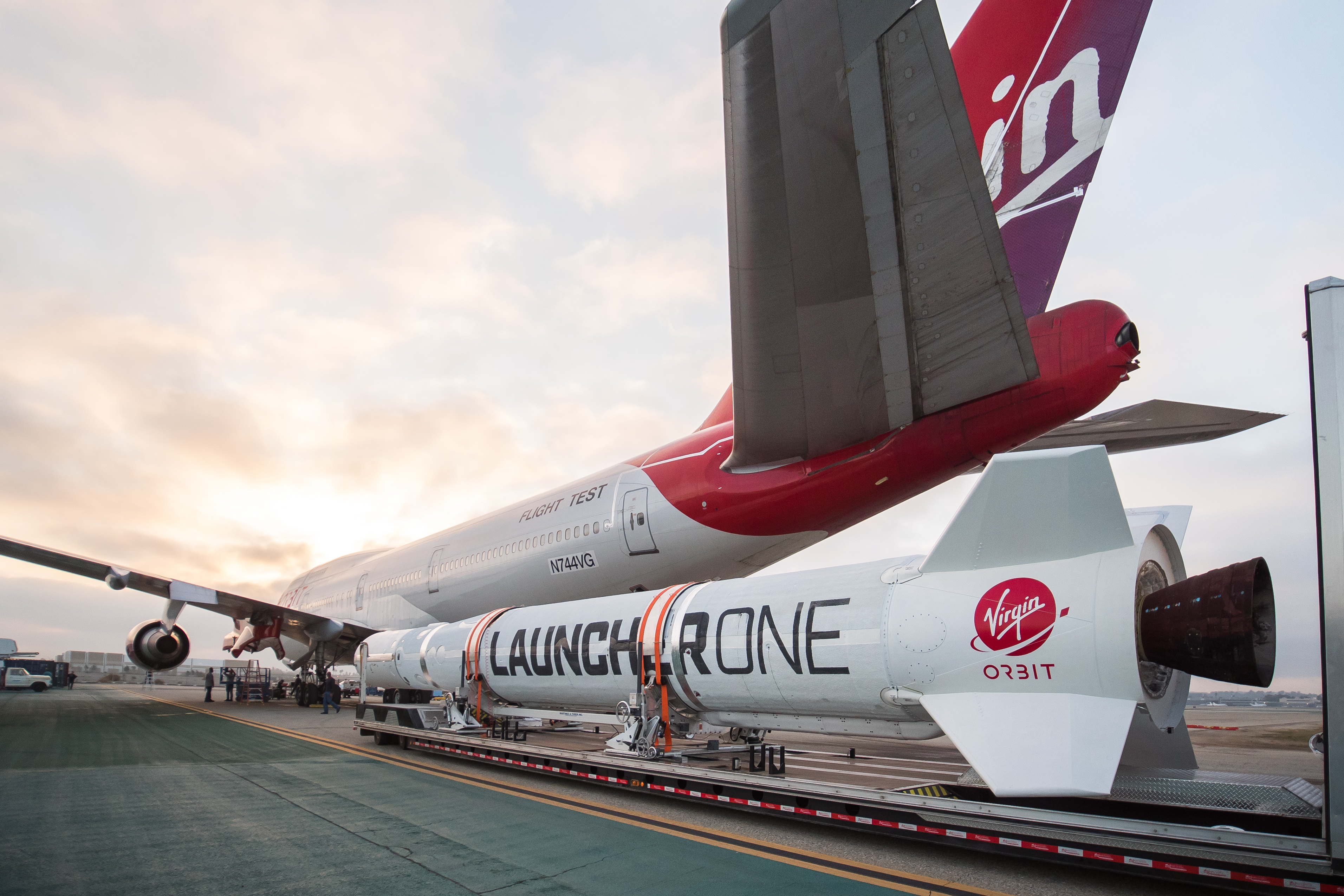 The bankruptcy filing has attracted significant interest from potential buyers, with Virgin Orbit reportedly receiving 30 expressions of interest for the company or its assets. While Stratolaunch has emerged as a prominent bidder, the bankruptcy filings suggest that other offers may still be considered. An auction is scheduled on Monday, which will determine the fate of Virgin Orbit's assets and potentially reshape the company's future.
Stratolaunch, founded in 2011, shares a common objective with Virgin Orbit: utilizing an aircraft to transport rockets to high altitudes for launch. However, Stratolaunch takes this concept to an unprecedented scale with its aircraft named "Roc." Weighing a staggering 500,000 pounds and boasting a wingspan more significant than the famous Spruce Goose plane built by Howard Hughes, Roc has attracted attention for its potential to revolutionize the launch industry. Although Roc has completed ten flights, it has yet to undertake a full-fledged space mission. Instead, the company has shifted its focus towards providing test launch services for hypersonic aircraft, showcasing its versatility and adaptability in the evolving aerospace landscape. In 2019, Stratolaunch was acquired by private equity firm Cerberus Capital Management, further solidifying its position within the industry.
Auctioning Assets and Shaping the Commercial Space Launch Sector
While Stratolaunch's bid has received significant attention, the bankruptcy filings emphasize the possibility of other potential offers. The upcoming auction will be the ultimate determining factor in deciding the future of Virgin Orbit's assets. As the space industry eagerly awaits the outcome, industry players and enthusiasts alike remain captivated by the potential implications of this significant development. Whether Stratolaunch emerges as the successful bidder or a different suitor enters the scene, the outcome of this auction will undoubtedly shape the trajectory of Virgin Orbit and the commercial space launch sector as a whole.
The Roc, a colossal aircraft renowned for its size, has taken flight on ten occasions, albeit without embarking on any space missions. Instead, it has primarily served as a test launch platform for hypersonic aircraft. In 2019, the private equity firm Cerberus Capital Management acquired ownership of the company.
Court filings reveal that Virgin Orbit and its banking partners have expressed willingness to consider alternative offers. As part of the bankruptcy proceedings, an auction of the company's assets is scheduled for Monday. This presents an opportunity for potential buyers to participate in bidding and potentially acquire Virgin Orbit's assets.