After suspending Donald Trump's accounts from different social media, Meta is firm to allow the former president to come back to Facebook and Instagram after Twitter.
"As a general rule, we don't want to get in the way of open, public and democratic debate on Meta's platforms — especially in the context of elections in democratic societies like the United States," Nick Clegg, Meta's president of global affairs, wrote in a blog post announcing the decision. "The public should be able to hear what their politicians are saying — the good, the bad and the ugly — so that they can make informed choices at the ballot box."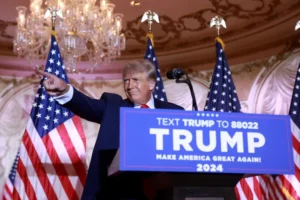 Reason for suspension:
Social media such as Facebook, Twitter and YouTube decided in 2021 to restrict the account of Donald Trump after his involvement in the riot of 2021 in the US Capitol. The platforms in order to stop further risk and incitement of violence permanently ban his account.
It was the time of the election. A large mob charged into the Capitol on 6 January 2021. Though Trump instructed the mob to remain quiet at one point, on the other he called the election to be "stolen from us" tweeting at one point during the day that Pence "didn't have the courage to do what should have been done to protect our country and our Constitution," likely by blocking the election results that rejected Trump a second term.
"The suspension was an extraordinary decision taken in extraordinary circumstances," Clegg wrote. "Now that the time period of the suspension has elapsed, the question is not whether we choose to reinstate Mr. Trump's accounts, but whether there remain such extraordinary circumstances that extending the suspension beyond the original two-year period is justified."
As Clegg stated, the decision that Meta took at that time was to assure the security and safety of the people. Now that the risk is reduce, the company concluded: "that the risk has sufficiently receded, and that we should therefore adhere to the two-year timeline we set out."
However, a condition has been made. The company is set to "heightened penalties for repeat offenses," if the former president is seen doing the thing again. The company is applying this rule to any other figure who tries to pose a threat to civilians or violate any company's community guidelines again and will be suspended for a month or two, depending upon the severity.
The updated protocol "addresses content that does not violate our Community Standards but that contributes to the sort of risk that materialized on January 6th, such as content that delegitimizes an upcoming election or is related to QAnon," Clegg wrote.
The company will also remove the "reshare" button on posts that may violate the guidelines and for repeated offenses may limit access to ad tools.
"We know that any decision we make on this issue will be fiercely criticized," Clegg wrote. "Reasonable people will disagree over whether it is the right decision. But a decision had to be made, so we have tried to make it as best we can in a way that is consistent with our values and the process we established in response to the Oversight Board's guidance."
Comments
comments